Donald John Trump – one of the most prominent and controversial figures in contemporary United States politics. His name has become synonymous with ambition, wealth, and determination. In this article, we will explore the biography, political career, and legacy of Donald Trump, as well as his impact on the world of cryptocurrencies.
Contents:
D. Trump's Biography
Donald John Trump was born on June 14, 1946, in Queens, New York. He grew up in a family of real estate magnates and was familiar with business from a young age. After graduating from the University of Pennsylvania, he joined the family business and began expanding the Trump empire.
Starting in the early 1970s, Donald Trump actively developed real estate in New York and other cities, including famous skyscrapers such as the "Trump Tower" and "Trump Plaza." He also ventured into the casino business and was known for his ambitious projects.
Trump's Political Career
Donald Trump's political career began with his registration as a Republican Party member in 1987. He expressed his political views at various events and talk shows, often drawing public attention. However, the real turning point came in 2015 when Trump announced his candidacy for the U.S. presidency as a Republican.
His election campaign was marked by scandals and controversies, but Trump managed to gain the support of a significant portion of the American electorate by promising to "Make America Great Again." In November 2016, he won the election and became the 45th President of the United States.
During his presidency, Donald Trump implemented a series of reforms and changes in various areas, including tax policy, regulation, and immigration. He also engaged on the world stage, conducting negotiations with leaders of other countries and altering the course of foreign policy.
Influence on Cryptocurrencies During Presidency
During his presidency, Donald Trump was known for his comments on cryptocurrencies via Twitter. He expressed various opinions on the matter, and his stance often changed. However, some key moments can be highlighted:
In 2019, Trump published a series of tweets expressing doubts about the reliability of Bitcoin and other cryptocurrencies. He argued that cryptocurrencies had no intrinsic value and could be used for illegal purposes.
In the same year, Trump floated the idea of creating a digital version of the U.S. dollar, which, in his opinion, should be a more reliable and long-term alternative to cryptocurrencies.
Despite his questionable statements about cryptocurrencies, Trump changed his rhetoric in some cases. In 2020, he said that he was not against cryptocurrencies and considered them a part of the financial future.
Thus, Donald Trump's stance on cryptocurrencies was ambivalent and changed during different periods of his presidency.
Impact on Regulation
Regulation of cryptocurrencies and blockchain technology remained relevant during Trump's presidency. His administration did not make significant changes to cryptocurrency-related legislation, but some steps were taken:
| Event | Description |
| --- | --- |
| ICO Regulation | During Trump's presidency, the Securities and Exchange Commission (SEC) tightened oversight of Initial Coin Offerings (ICO) – a method of fundraising for startups using cryptocurrency. This was done to prevent fraud and protect investors. |
| Creation of Cybersecurity Group | In 2017, the Trump administration established the National Cybersecurity and Communications Integration Center (NCCIC), which also closely monitors cybersecurity in the cryptocurrency space. |
| Sanctions and Restrictions | The Trump administration imposed sanctions on countries using cryptocurrencies to circumvent international sanctions, such as Venezuela and Iran. |
Donald Trump's NFT Collection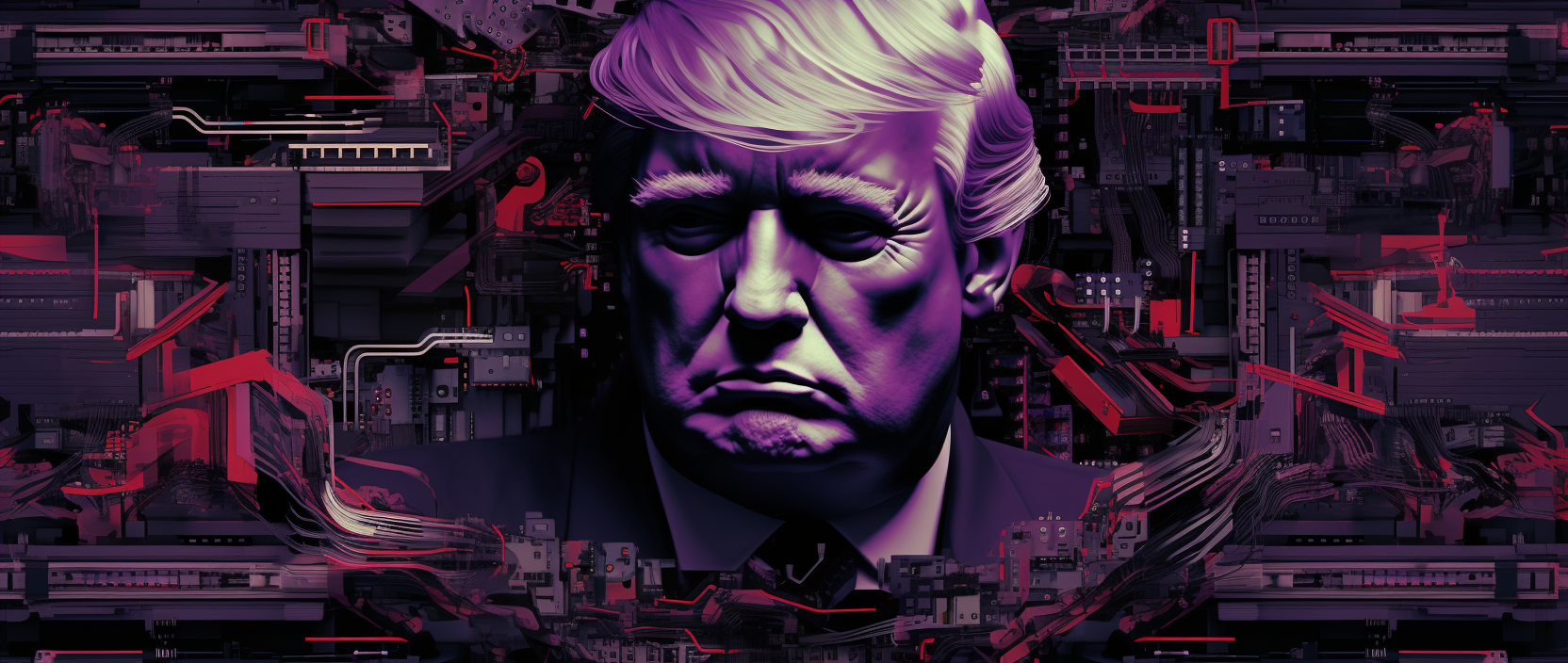 Donald Trump had an NFT collection released in December 2022. The collection consisted of 45,000 NFTs depicting Trump in various forms, including as a superhero, astronaut, and NASCAR racer. The NFTs were sold on the TRUTH Social platform for $99 each.
The collection received mixed reactions, with some criticizing it as an attempt by Trump to profit from his popularity, while others viewed it as an innovative way to engage with fans.
Despite the criticism, the collection proved to be financially successful. All NFTs were sold within a few hours, with total sales reaching around $4.5 million. Trump also received royalties from secondary sales, adding another approximately $100,000 to his earnings.
In April 2023, Trump released a second NFT collection consisting of 47,000 tokens. The collection sold out within hours, with total sales reaching around $4.6 million.
Thus, Donald Trump's NFT collection was successful both financially and in terms of drawing attention to his persona. It demonstrated that NFTs can be an effective tool for celebrities to interact with fans and generate income.