Big Tent — an ongoing giveaway, where surplus funds from a Guaranteed Prize (GPG) help to fund the next one and act as an advertising partner.
Contents: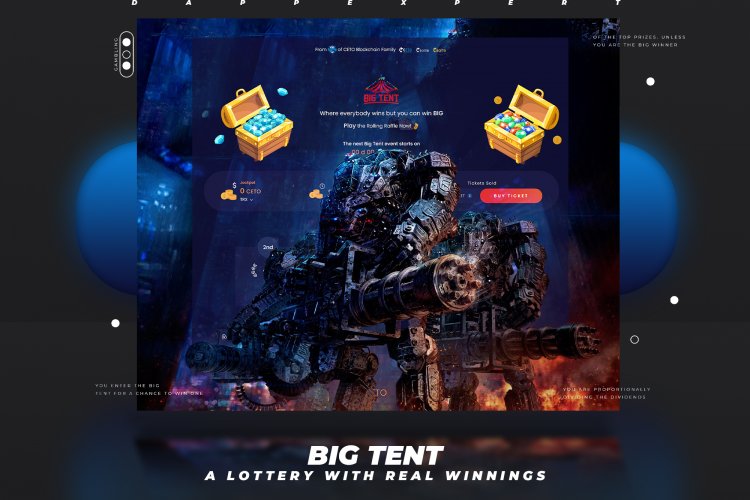 About the Big Tent project
All Big Tent events have a start date and GPG goal. After reaching GPG, the drawing is held in 24 hours.
All GPG entrance fees are divided:
| | |
| --- | --- |
| 1. | 50% to the advertising partner. |
| 2. | 25% back to the prize pool. |
| 3. | 25% for a seed for the next BigTent event. |
Advertising Partners receive 33% GPG, with the remaining 67%, paid to Event ticket holders. Those bids that do not win any of the top prizes will proportionally split the dividends, earned by the CETO wallet. If unsuccessful, the CETO Foundation will provide full coverage of 67% of the declared GPGs that help to pay out prizes. Any funds in excess of 67% but less than 100% of GPG go to the ad partner.
Existing CETO holders can buy a BigTent ticket without penalty: this is the same as transferring to another wallet. The developers set the entry requirements very low in order to have a draw with enough randomness to give participants a chance to win prize money.
Additional information
The site has an "About" section, as well as answers to questions. Read this information before starting work.
If you want to stay up to date with all innovations, subscribe to the community on these social networks:
Send an email to the mail and a representative will contact you to schedule the Big Tent Event. The smart contract has not been audited.