Binary Cat - a prediction protocol with a rapidly growing decentralized betting market where people place bets on the outcome of future events.
Contents: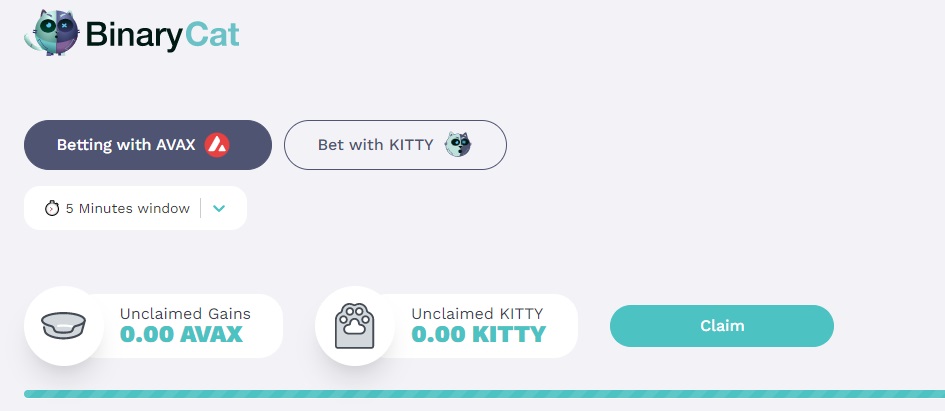 How does the Binary Cat blockchain project work?
Binary Cat - a decentralized platform, running on the Avalanche network. On Binary Cat, users can bet on the price of crypto assets and the relationship between them, such as whether the price of an asset goes up or down, starting from an initial price in the middle of a 10-minute window that is updated by a powerful decentralized oracle (Chainlink).
The main goal of Binary Cat - to provide content that can be enjoyed by those who are already interested in virtual assets and generate interest from users who are not familiar with them yet.
BinaryCat
In addition, with Binary Cat, users can earn a KITTY token as an in-game reward by predicting behavioral relationships between assets. Thus, if a player makes a bet, for example, on the movement of ETH upwards, and the result of the movement of the price of an asset contradicts his bet, users will receive KITTY tokens for participating in the bet, regardless of whether it is successful or not. Binary Cat has a user-friendly interface that allows you to make the best prediction about the future behavior of a particular asset (long or short).
Each window has 3 stages:
| | |
| --- | --- |
| Open for bets | formation of a group by collecting rates for a time interval. |
| In the process | rates are pending approval. |
| Ready | rates have been settled. |
Bets are cyclical. In each cycle, bets on the next time window are open while the results of the last window are decided. After the 10-minute time has elapsed, the current bets are settled and the players proceed to the final stage. Prices are calculated by using Chainlink's built-in oracle to automatically determine winners through the execution of smart contracts. Winners receive their rewards, based on their hits in proportion to their stake in the pool.
Benefits of forecasting
Based on blockchain technology, the BinaryCat platform offers a range of benefits, including transparency, decentralization and fair reward for all bets, placed on asset price predictions.
In addition, by winning or losing a bet, users can receive rewards in KITTY tokens for betting. The amount of KITTY they receive is proportional to the size of their bet in relation to the entire group of bets. As a decentralized platform, BinaryCat has the ultimate goal of empowering users by holding their KITTY tokens.
All those users who stake by using the KITTY token will receive a percentage of the fees received on each stake, proportional to their stake amount. The commission is set at 2% of the amount of placed bets. At least 60% of all KITTY tokens will be distributed as a staking incentive to all users, regardless of whether they bet correctly or incorrectly when predicting the price of an asset.