"Star Explorer" P2E ROI GAME — an investment blockchain game, where you have to build solar system research stations and develop a space coalition. You will earn Silver and Golden Stars and exchange them for BUSD.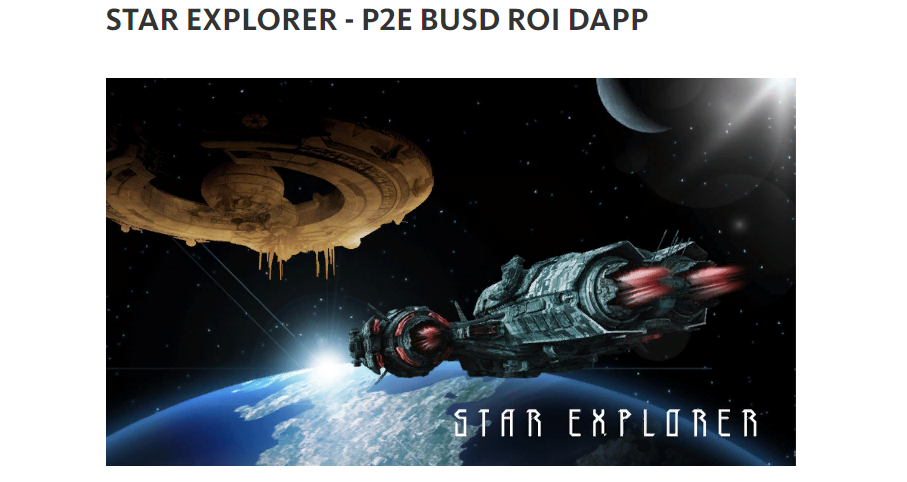 There are 5 different parts of the solar system with a star in the middle, on each of which you can build a Star Station and explore it. Each station has 6 upgrade levels, the higher the level, the better the research performance it provides to the owner.
All income of the researcher is accumulated in the Star in the center of the solar system. The capacity of a star is not unlimited, and you need to claim your income daily to keep it from exploding.
You can also increase the capacity, allowing you to store more Stars (Silver and Gold) there. The treasury will replenish slowly and you will be able to collect income less often.
Star Explorer
There are two internal currencies in "Star Explorer" P2E ROI GAME - Silver Stars and Golden Stars. You can buy Silver Stars for BUSD, you need them to buy and upgrade towers. 1 Silver Stars = 0.2 BUSD.
You get Golden Stars by destroying other explorers. You can exchange them for BUSD at any time. 1 Golden Stars = 0.002 BUSD.
You can invite your friends to join the defense of the kingdom, thereby forming a defensive alliance. Protective alliances allow you to receive additional income. Each union will give you 8% in Silver Stars and 4% in Golden Stars from the amount of investments of the invited member.