Airnfts — an NFT marketplace, built on Binance Smart Chain with a focus on usability and ease of use for creating, buying, selling and using NFTs.
Contents: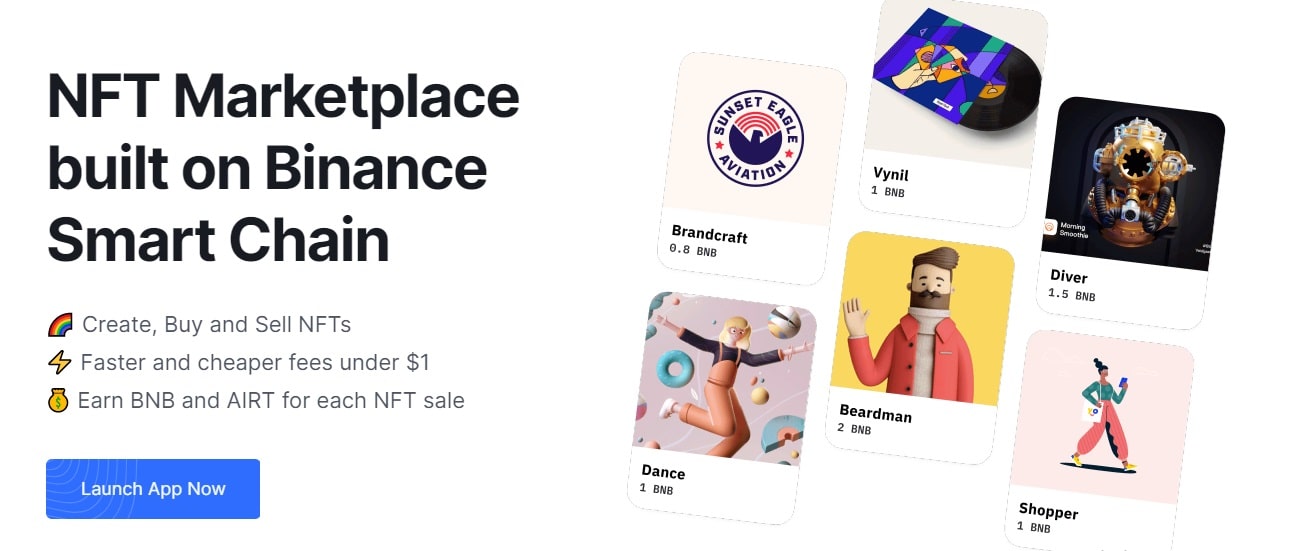 Description of the AirNFTs project
AirNFTs — a future NFT marketplace on the Binance Smart Chain that has appeared to be the fastest and easiest to use, even for less experienced NFT artists.
The platform combines the advantages of BSC in transaction speed, low fees and an extremely easy-to-use user interface to bring NFT to everyone.
AirNFTs
One click and your NFT is created. Set a price and start earning, there will be an NFT auction. You will be able to receive income at the rate of the AIRTEL token. For those artists who don't have a lot of fans, there will be a launching pad to show them off. The token economy runs around the AIRT token, which allows its holders to use applications on this platform, participate in the management of the network and earn additional tokens. Lower fees, faster transactions and greater scalability.
Future plans:
| | |
| --- | --- |
| 1. | Issue the AirNFT token - a proprietary utility token, used to incentivize users, for distribution and through which holders will be able to propose and vote on plans to promote the project. |
| 2. | Supporting digital content creators with NFT launch pads. |
| 3. | Create an auction where users can bid among themselves. |
You won't even notice that you are paying a commission, compared to your competitors. NFT sellers and buyers will be able to receive additional rewards for participating in the platform. The creators of the project are also committed to helping creatives grab the attention of the public by offering to sell the NFT Launchpad to artists on the platform.
What else should you know about the project?
There is no WhitePaper document on the site. Instead, a large section with answers to questions is presented.
From social networks, the community leads:
Subscribe to stay up to date with all news and updates. The smart contract doesn't have aan audit.