APEmove — a Web3 health app with built-in Game-Fi and Social-Fi elements.
Contents: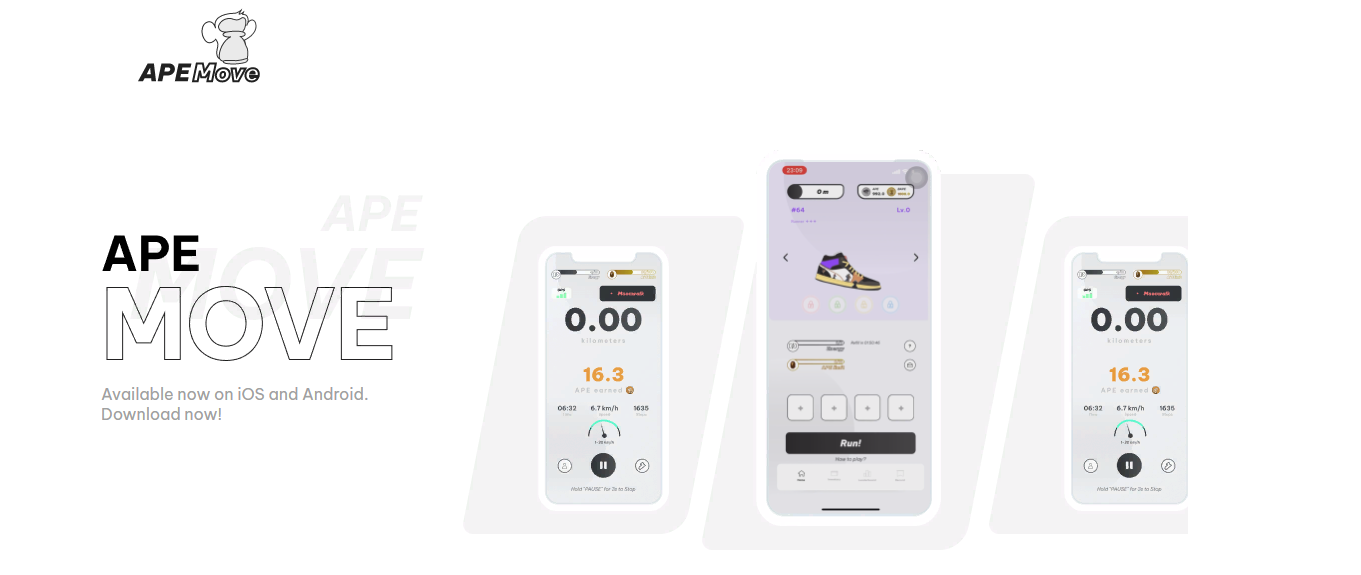 About the APEmove project
APEmove is built around the core daily activity for most people - getting around. This is a project that effectively implements the current "move&earn" concept. Users are armed with NFT in the form of sneakers. By walking, jogging or running outdoors, users will earn in-game currency that can be used in-game or cashed out for profit.
With Game-Fi, APEmove aims to push millions of people towards healthier lifestyles, combat climate change and connect the public to Web 3.0 while building on its Social-Fi dimension to create a long-term platform that facilitates Web 3.0 user-generated content creation.
APEmove
Users can unlock Gem Plugins once their sneakers reach a certain level and can improve their sneaker attributes by inserting the appropriate Gems into the unlocked plugins.
There are four types of gems, each representing an attribute:
| | |
| --- | --- |
| Red | Power |
| Yellow | Luck |
| Green | Agility |
| Blue | Armor |
Users start the game with a daily limit of 5/5 APE. The daily token limit reaches a maximum of 300 APE. Users can increase their daily token limit by leveling up their running shoes. The marketplace - a place where users can rent/rent or sell/buy their running shoes, badges and NFT gems. The Marketplace has a simple filtering and sorting feature for easy navigation.
Rules for using defi app
To get started, users need to download the APEmove app from the App Store or Google Play. Once you have accessed the app on an eligible device, you will be able to register with APEmove by providing your email address. You will receive a confirmation code that you must enter. Transfer BNB to your Marketplace wallet to mint your free shoe NFTs on the "FREE MINT" page and always keep some BNB for gas. You can use the "Filter" tool to find the right type of running shoes. Move your NFT shoes from your Marketplace account to your in-app account.
Level up your NFT sneakers to level 10 to start earning $APE. After the sneakers are transferred to the account in the application, energy will be restored at a rate of 25% every 6 hours. You can start your journey in APEmove as soon as you recover the first 25% of your energy.