Bitibots — an experimental game that combines the fun of NFT with the yield. 10.000 unique generation 0 bitibots are waiting to go to their new owner.
Contents: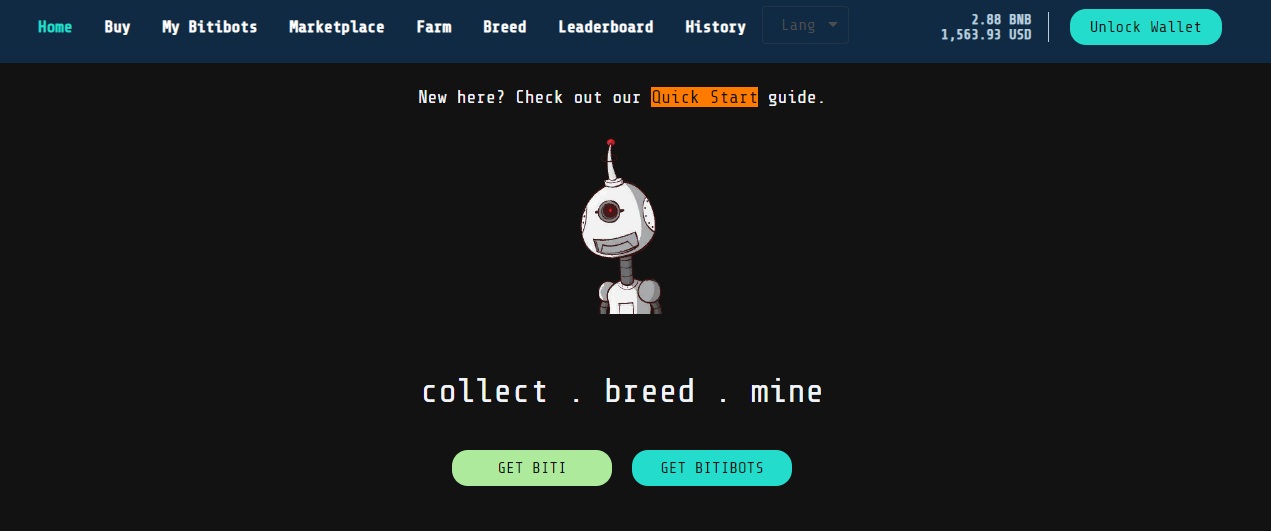 Description of the project
Bitibots can combine and breed new generation Bitibots with the ability to earn BITI tokens through mining, donating their shares in the process for the common good. Each Bitibot's unique set of DNA attributes determines their mining hashrate and the overall success of Biti City.
Season 0 - the first season of Biti City, where the magic of Bitibot begins.
Bitibots
With continued breeding and mining, Destrobots will besiege Biti City from time to time, disrupting Bitibots by planting bugs. This makes it possible to explore and tweak the mechanics of Biti City for future seasons, with the hope of extending the lives of both humans and robots.
The Bitibot DNA sequence consists of 5 digits. Each digit represents a separate bar and corresponding attribute point:
| | |
| --- | --- |
| Eye | The eye sign is identified by the first digit in the DNA sequence. |
| Body | The characteristic of the body is determined by the second digit. |
| Head | The characterization of the head is determined by the third digit. |
| Mouth | The data is identified by the fourth digit. |
| Abilities | A mental trait is identified by the fifth digit. |
The Bitibot generation number (Gen #) is calculated by adding the minor Gen # of its two parents to one.
The Season 0 Bitibots Marketplace only supports the following features:
sell: owners can put their Biti bots on the market by submitting the offer price;
buy: users can buy Bitibots off the marketplace by matching the bid price, set by the current owner;
cancellation: owners can remove their Bitibots from the marketplace by canceling their offers.
The proceeds from the commission go to the Price Controller.
Additional data
The site has a separate document with a description of all features and a roadmap. Study it before you start playing. Also, there is a blog on the Medium platform.
From social networks, the community leads:
twitter;
telegram;
discord.
Join to stay up to date with all news and updates. The smart contract doesn't have an audit.