BounceNPlay or $BNP — the first BSC coin to operate on a Triple-Play protocol that promotes significant income potential and a healthy lifestyle for everyone.
Contents: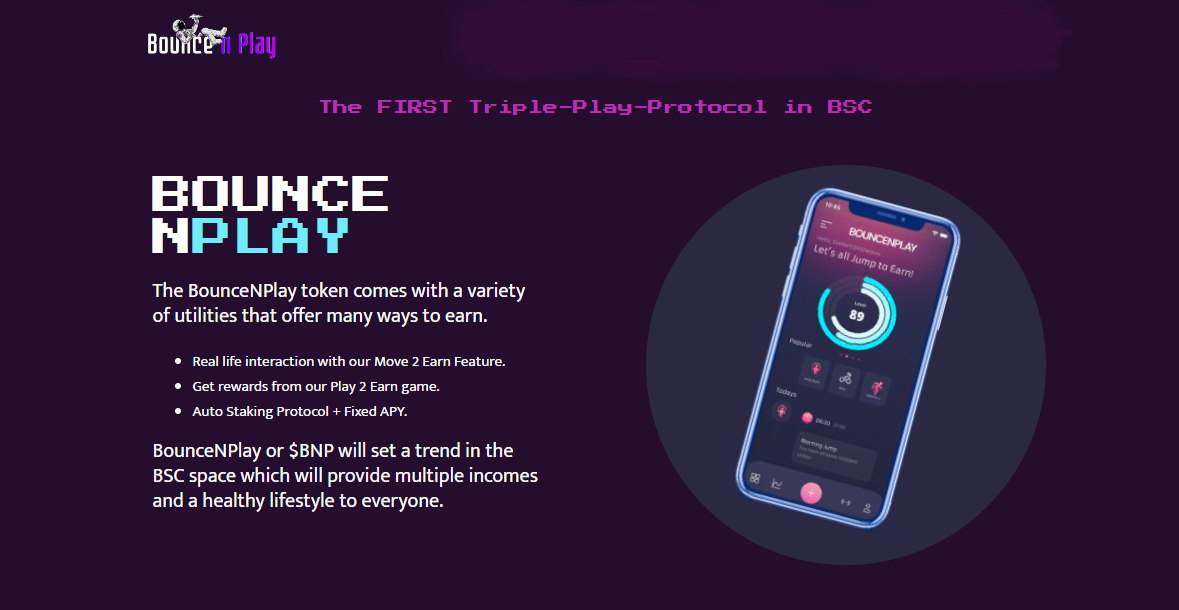 Description of the BounceNPlay platform
BounceNPlay or $BNP will set a trend in the BSC space that will provide multiple income and a healthy lifestyle for everyone.
The progressive design of $BNP combines the following three applications and use cases:
| | |
| --- | --- |
| 1. | Move-to-Earn (M2E). |
| 2. | Play-to-Earn (P2E). |
| 3. | Automatic bidding and rebasing system. |
$BNP — a BEP20 token that rewards holders with automatic passive interest payments every 15 minutes for 13.5 years until the maximum supply of 3.25 billion tokens is reached.
The $BNP tokenomics are designed on a competitive basis with a buy-hold-earn structure, a minimum initial supply and a low 15-minute epoch for near-linear APY progress.
BounceNPlay
$BNP introduces a Web 3.0 lifestyle application that encourages users to move. With tokens, users can earn money by doing any of the following forms of exercise: jumping rope, walking/running, cycling.
A working P2E blockchain game is available after the launch of $BNP. In addition, two more games are in development. With a minimum storage requirement, BNP holders can earn more and have more fun.
Through a carefully crafted contract, $BNP provides holders with long-term asset stability. The Rebase system periodically adjusts the circulating supply in response to price fluctuations, and the Auto-Staking + Auto-Compounding feature eliminates the need to connect to external dApps.
For the first 12 months after issuance, $BNP will have a high fixed APY of 382,945.41 percent. The BounceNPlay Triple-Play protocol has appeared to provide everyone who invests in this project with multiple long-term income - through exercise, gameplay or even just holding $BNP tokens. The $BNP ecosystem supports the best use case in the decentralized space and is open to everyone.
What is BSF?
BounceNPlay Security Fund (BSF) — a separate wallet in the $BNP protocol. BSF supports Rebase Rewards with an algorithm, backed by a percentage of the buy and sell fees that accumulate in the BSF wallet.
Simply put, the BSF parameter maintains rebasing rewards that are distributed every 15 minutes at a rate of 0.02355 percent, providing a high and constant interest rate for $BNP token holders. BSF receives 5% of all transactions, which serves to support the staking profit, generated by the positive rebase.