FarmGator.online — a farming simulator and simple blockchain game. The more alligators you have, the more eggs they find (each alligator finds 1 egg per day). Hatch more eggs to increase production or cash them out at BNB.
Contents: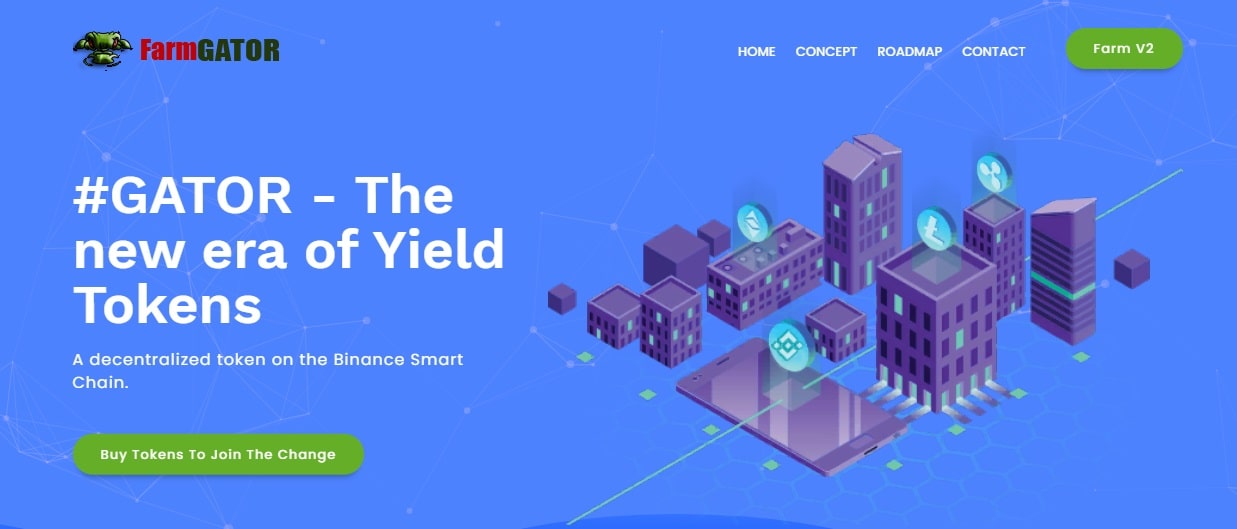 About FarmGator.online project
The goal of FarmGator.online - to collect eggs to raise your Gator family or sell eggs for BNB. The purchase limit - 5 BNB per transaction. Egg sales limit - 2.5 BNB per day.
If you are a member of version 1 and have not recouped your investment, the developers will reimburse you for an additional percentage of production over the next few hours after launch.
FarmGator.online
Earn tokens just by holding them. $ GATOR - the main project token that users are rewarded with. In a smart contract, the commission for each transaction - 7%. 2% burns out forever, increasing the value of the token by reducing its quantity. The remaining 5% goes to all existing holders.
Why should you trust this project:
| | |
| --- | --- |
| Income | A smart contract allows you to recoup your investment quickly. Holders, who do not sell their benefits, will have the opportunity to multiply them. |
| Decentralization | Market manipulation is over. Investors control the currency. Due to its capitalization, $ GATOR is protected from large organized manipulations. |
| High growth | This project was created for all types of investors. The roadmap starts in the medium term and does not end in the long term. |
FarmGator.online - a business opportunity for you to earn a 200% increase in tokens, thanks to a smart contract. Earn 5% of all eggs, used by anyone, who starts playing, using your link.
Additional information
At the moment, there is no White Paper on the site. The developers provide only a short description on the main page. There is a RoadMap, where the stages of project development are marked.
If you want to stay up to date with all innovations, subscribe to the community on these social networks:
The smart contract has not been audited.