One of the main differentiators of In-Dex Sale is that it is not limited to a specific block chain. Instead, it can support projects from a large number of chains by centralizing the highest quality projects from all chains on one launchpad.
Contents: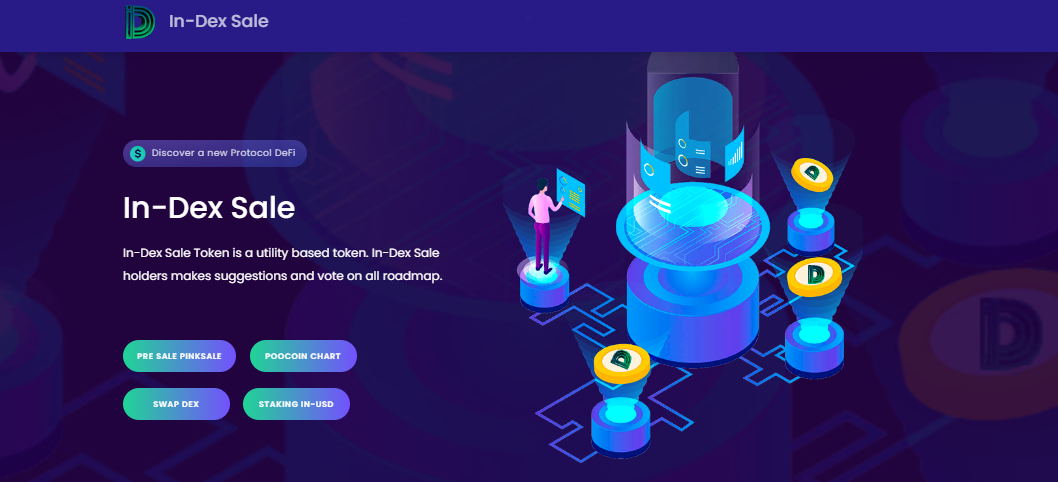 The work of the In-Dex Sale project
In-Dex Sale — a multi-chain compatible decentralized exchange aggregator protocol, focused on enabling zero-fee transactions. The team aims to make online trading simple and easy by providing access to multi-chains such as Ethereum, BSC under one roof. The main product has appeared to operate without gas and is focused on the aggregation of liquidity from several protocols.
The value proposition of the In-Dex Sale is that it is built and maintained for marketing professionals and influencers, resulting in wider distribution, much better project visibility and more accurate marketing.
In-Dex Sale Coin — a utility based token. Holders of coins for sale make proposals and vote for the ecosystem, and also have the opportunity to participate in the launch of projects.
In-Dex Sale
Given this increased demand for the concept of decentralized finance, In-Dex Sale has developed a start-up platform that prioritizes simple, fast and secure fundraising opportunities with strong community support.
Static rewards solve a lot of problems. Firstly, the amount of reward depends on the volume of the sold token. This mechanism aims to ease some of the selling pressure on the token, caused by earlier users, selling their tokens after making crazy high returns. Secondly, the reflection mechanism encourages holders to cling to their tokens in order to get more. This ensures that the liquidity pool is always fuller during buy/sell transactions.
Using NFTs
The In-Dex sale creates a new NFT game and introduces crypto NFT as a new feature. Users can play NFTs with unique characteristics and different rarities (by depositing IDXS tokens) and place bets. In a regular staking pool, users deposit tokens into a contract and are rewarded with the same or a different token in the form of rewards. The NFT staking pool is different and a bit similar to farm pools.
As a user, you:
| | |
| --- | --- |
| 1. | Contribute IDXS tokens to the contract. |
| 2. | You will be rewarded with NFT cards with different rarities and characteristics (the better your NFT, the higher your mining power will be). |
| 3. | Deposit NFT cards to the NFT pool. |
| 4. | Earn IDXS Div. |
NFTs can be decomposed back into IDXS, but this will require decomposing time. This means that the tokens will be locked for a certain time in NFT cards. The decomposition time is also chosen randomly and is set in the range from 25 to 45 days.