SEED.Photo — a platform for photographers to create NFTs. Users can edit and upload various photos and turn them into NFTs to join the Web3 space.
Contents: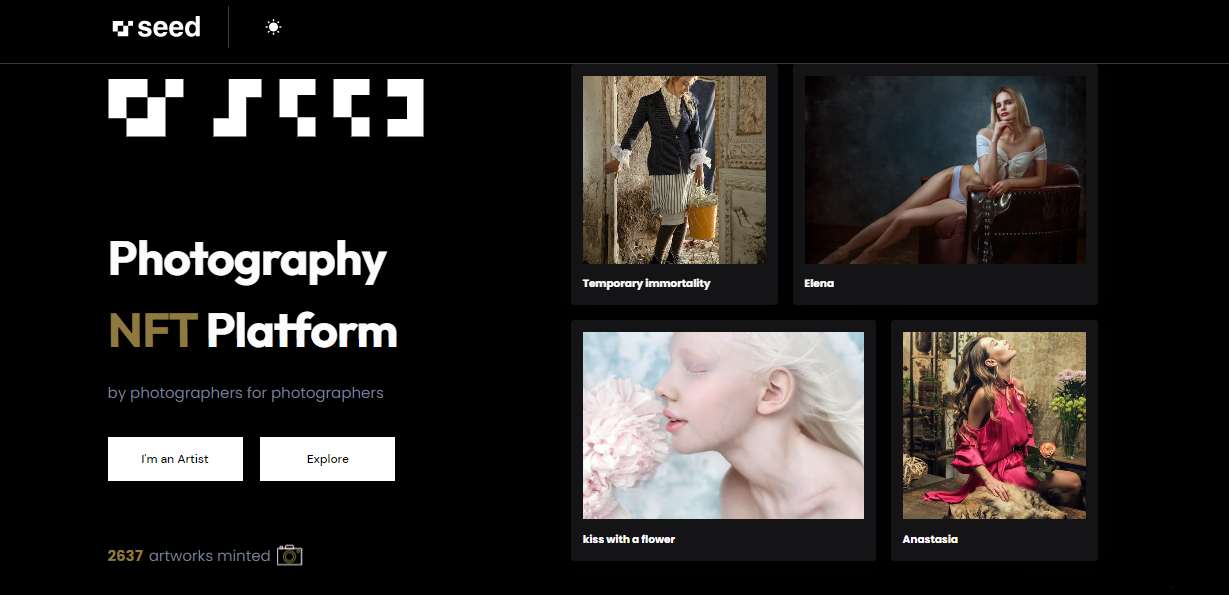 What is SEED.PHOTO?
SEED.Photo allows you to upload and share RAW files without having to convert them to JPEG or any other format.
Proxy.Photo — a medium through which photographers from all over the world can connect to the Web3 space. It offers resources for photographers to easily adapt to Web3. Even if you don't know anything about Web3, Proxy.Photo will help you.
SEED.Photo uses Binance Smart Chain with authority consensus proof and smart contracts. This is necessary to ensure long-term sustainability and easy scalability for users around the world.
How to mint NFT on SEED.Photo:
| | |
| --- | --- |
| 1. | Upload original photo. |
| 2. | Issue an NFT by paying the coinage price. |
| 3. | Submit a listing to the NFT. |
| 4. | Select the price style (fixed price or auction). |
Photographers who want to join Web3 or submit their photos to NFT can join SEED.Photo. Creatives who join a joint venture (models, make-up artists, photographers, editors, designers) also create NFTs and join SEED.Photo to share the profits.
SEED.Photo has Smart Police features and strict policies to prevent copyright infringement and other types of fraud. The project team is committed to providing a better experience and eliminating duplicates, illegal use of photos, etc.
Why was the project created?
The user must and can upload photos, belonging to him. The platform will collect metadata from the file for NFT authentication. You may not use any image, found on the Internet or anywhere else unless it belongs to you.
Visitors have access to a form to fill out and submit. It will be reviewed by SEED.Photo and once approved, you will be able to access SEED.Photo. However, some photographers (with harshness) may require KYC.
SEED PHOTO
You can upload any theme or type of photo like portraits, landscapes, macro photography, drone, aerial photography, models, nature, sports, etc. You just need to make sure they are original and belong to you.
NFTs have opened up new horizons for artists around the world, especially for visual works of art such as photographs. You can post your work after converting it to NFT and choose either fixed price or auction option. Accordingly, interested people will offer or buy NFTs. You will also keep the royalties flowing.