TRUMPSWAP — a financial instrument on Binance
TrumpSwap — a new financial instrument that plans to launch its own exchange, which leaves the token in short supply.
Contents: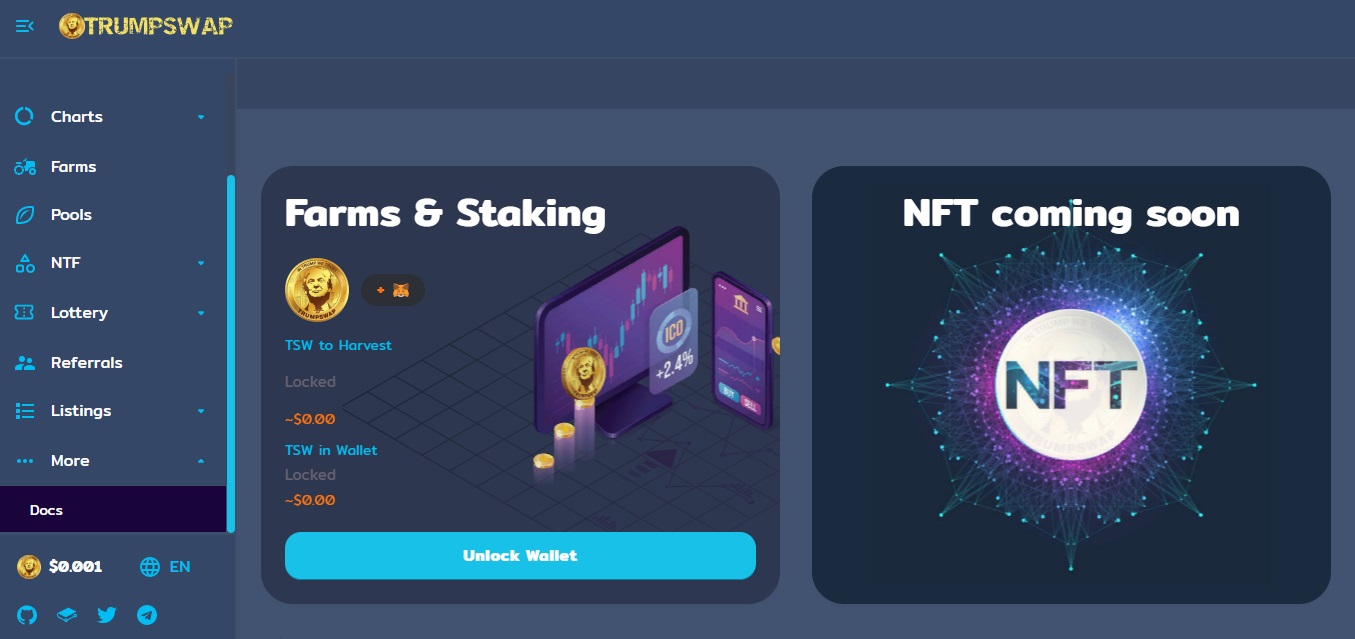 About the crypto coin TRUMPSWAP
With the launch of the airdrop, the TRUMPSWAP ecosystem is gathering an army of fans to launch its own crypto exchange in the future with the aim of accelerating the internal burning of tokens. The goal - to make the token scarce. After the airdrop, the listing price of the token will be set at $ 0.0005, but after the launch of the exchange, the developers will accelerate the internal burning of TRUMPSWAP tokens. The price can go up to $ 5 or $ 10. Trumpswap - a decentralized exchange platform in the marketplace with a referral system and the lowest platform transaction fees (0.1%).
The advantages of the exchange:
| | |
| --- | --- |
| 1 | Projects, launched at Trumpswap Launchpool, will be listed and have high trading liquidity. |
| 2 | Your token will be instantly distributed to the large user base that stores your token. |
| 3 | Your project will be available on all platforms in social networks with an audience of over 50 thousand people. |
Trumpswap Launchpool allows the user to stake TSW tokens to earn free tokens from other projects. The number of received tokens depends on the number of tokens that the user has subscribed to the pool and on the total number of TSW tokens, allocated to the pool.
A user can earn a new token over a period of time, usually around 30 days. The tokens, that the user earns, are calculated every 3 seconds and the user can receive the expected rewards at any time.
TRUMPSWAP
When you add liquidity to the pool, you receive LP tokens. When someone exchanges tokens, there is a transaction fee - 0.1%. 0.05% will come back to liquidity providers as a reward. The liquidity pool will also allow you to stake your LP tokens to earn TSW tokens on farms.
More information about dapp
At the moment, there is no White Paper on the site. Instead, the developers provide an introductory document. It contains general information, answers to questions, token data and a RoadMap.
If you want to stay up to date with all innovations, subscribe to the community on these social networks:
The smart contract audit is available here.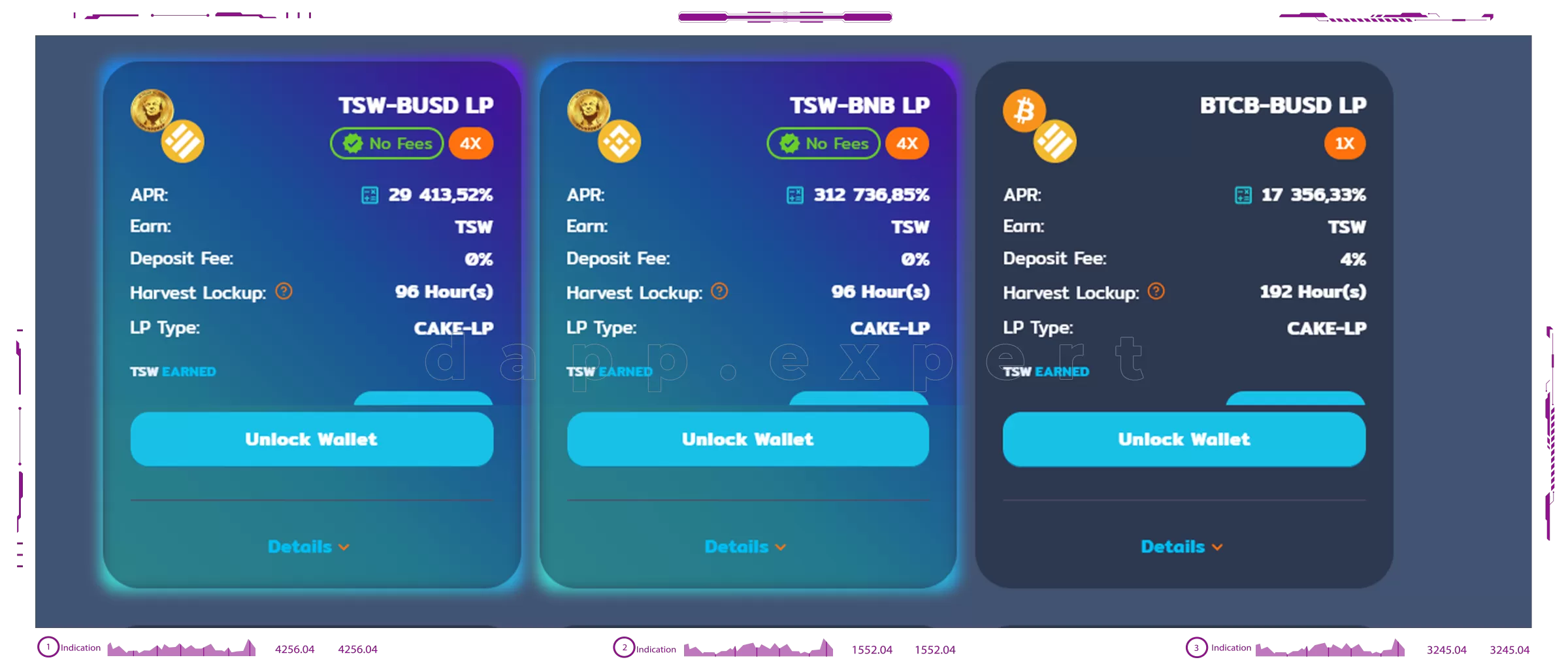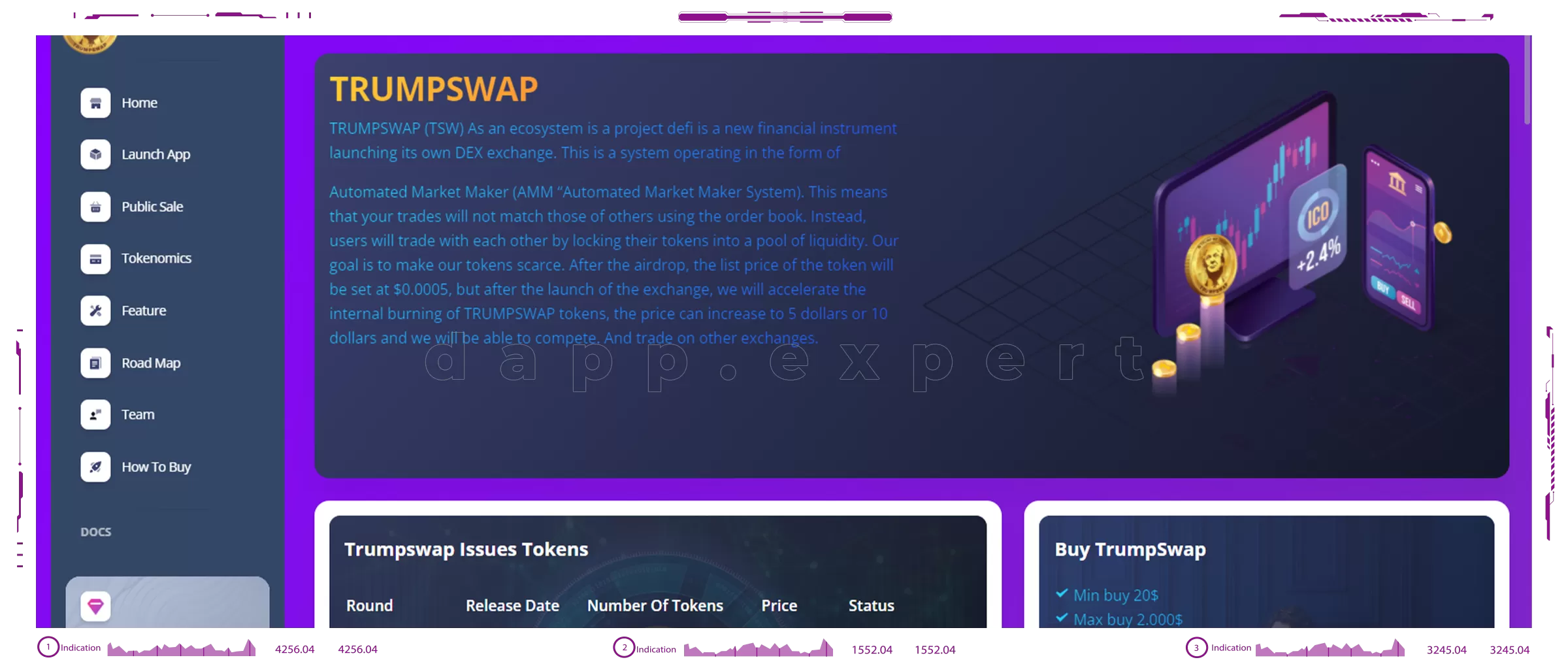 TRUMPSWAP — a financial instrument on Binance Statistics
Users
ATH: 5.595
(Dec 19, 2021)
Volume
ATH: 186.463
(Dec 19, 2021)
Transactions
ATH: 12.151
(Dec 19, 2021)