TrustFi focuses on early crypto asset issuance, liquidity management, community activities and DAO governance to unleash the potential of DeFi.
Contents: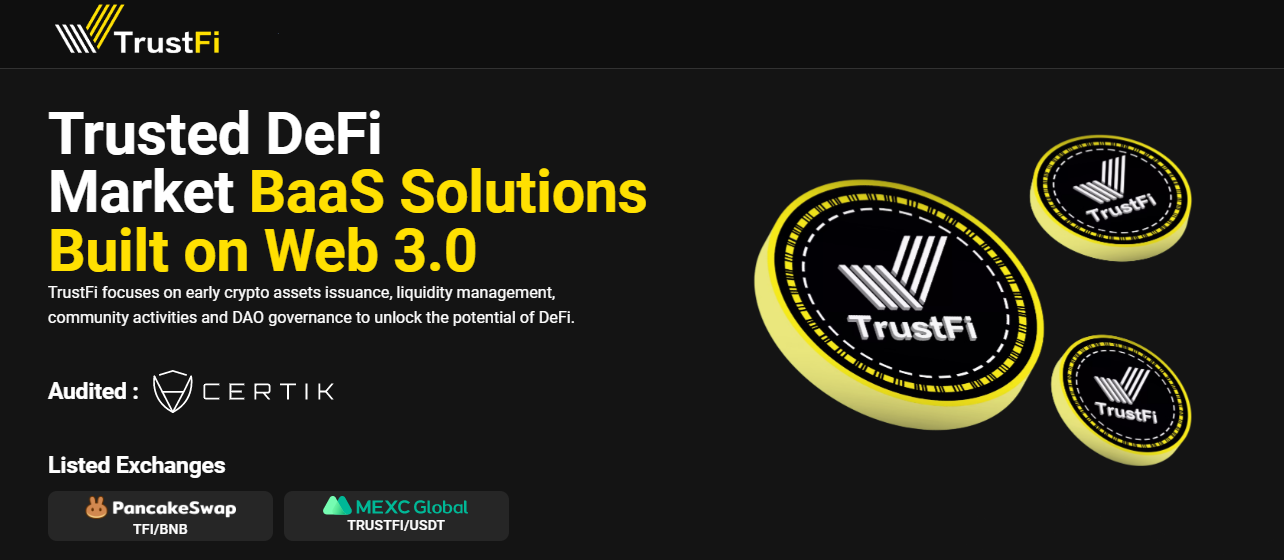 Components of the TrustFi system
TrustFi provides the technical infrastructure for projects through its frontline development team.
Trust Fi Booster — an original IDO prep platform, based on the TrustFi BaaS ecosystem that acts as a community-driven incubator and network sponsor to help to build and fund cryptocurrency startups, build the community and warm up the market before their official launch.
Trust Fi Launchpad is powered by Flash IDO + Main IDO with an insured mechanism, built on Web3, based on a layered Strong Holder system and loyalty management. All allocations can be fairly distributed among real holders on the TrustFi Launchpad. The reimbursement mechanism protects investors by making the project more reliable.
TrustFi Farmer — a liquidity mining and farm pooling platform, based on the Automated Farm Pooling (AFP) algorithm and Decentralized Farm Protocol for Web3. All crypto startups can create utility tokens and protect price volatility with staking rewards by creating farm pools on Trust Fi Farmer without permission.
$TFI — the Trust Fi Network's native utility token, which has the following benefits:
| | |
| --- | --- |
| Management (DAO) | $TFI token holders can stake to participate in community governance. |
| Rewards | Product revenue will help to buy back, burn and reward $TFI stakers. |
| Farm | TFI token can be deployed in contracts for additional profit to increase the income from farming tokens in incentive programs. |
As common base components for DeFi, the BaaS ecosystem will be integrated into and support assets on Ethereum, BSC, Avalanche, Polygon, Polkadot and other blockchains. Trust Fi provides decentralized modular fundraising and liquidity management tools for crypto startups, living in the Multichain ecosystem.
Staking contract
The external product, based on the decentralized staking contract, is called TrustFi Farmer and there are two categories of TrustFi Farmer users. One involves project owners (pool creators) and pool members (stakers)
Pool members can participate in TrustFi Farmer to farm Reward Tokens, which represent powers and rights in the TrustFi ecosystem. They can provide users with a stable asset income to invest in new features and get more benefits.
Trust Fi
TrustFi Farmer will be the last link in the value chain as it offers advanced liquidity management solutions for virtually any project that successfully meets the participation requirements and verification process; creating value for both pool members and projects. Pool members can participate in Trust Fi Farmer to farm Benefit Token, which means powers and rights in the Trust Fi ecosystem. They can provide users with a stable return on assets to invest in new opportunities and get more benefits.