4K Protocol is a decentralized protocol that enables anyone to tokenize physical assets on the blockchain in the form of physically-backed tokens. The assets are securely held by custodians, who guarantee that the asset owner can redeem their physically-backed token for the corresponding physical asset at any time. Custodians are accountable for their actions through chain audits and staking pools. At its core, the protocol acts as a coordination layer between the digital and physical worlds.
Contents: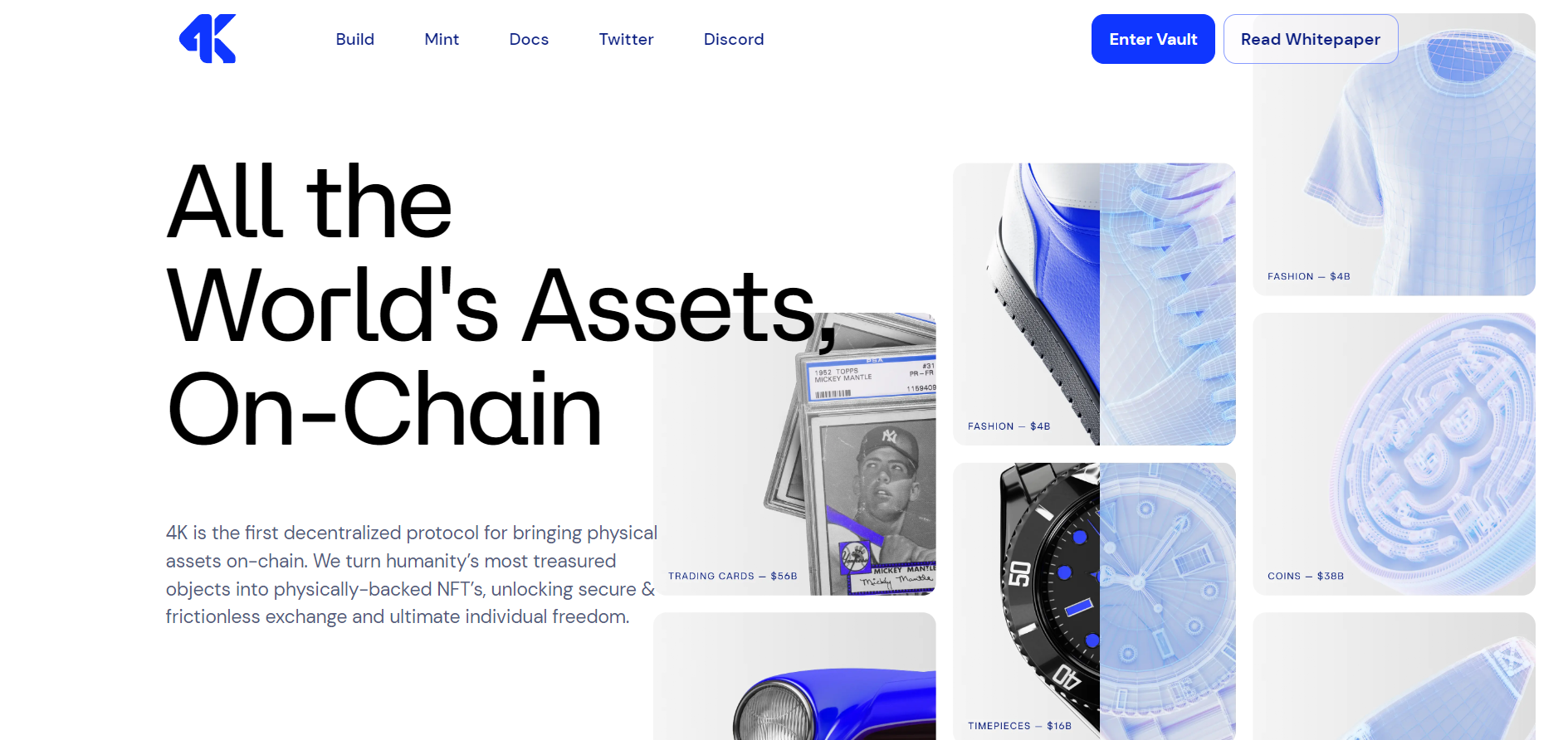 Key Components of 4K Protocol
4K Protocol is a platform that creates physically-backed tokens. The team introduces innovation to the Web3 ecosystem, allowing humanity to utilize physical assets in unprecedented ways. By representing physical assets digitally, token holders backed by these assets can transfer them with fractional ownership and without the traditional constraints associated with regular transactions. Anyone can use physically-backed tokens as collateral in loans and even as a basis for stablecoins.
The 4K protocol is built around the following key components:
| Term | Description |
| --- | --- |
| Physically-backed tokens | Tokens that can be exchanged for the corresponding physical asset by burning the token. These tokens typically adhere to the ERC-1155 standard, although they can also comply with ERC-721 and ERC-20 standards. |
| Physical guarantee protocol | Describes the protocol that ensures the physically-backed token is genuinely backed by a physical asset. |
| Asset proofs | Describes the system through which the decentralized network of guarantors proves they hold the physical asset and are responsible if the asset is lost or damaged. |
| Staking pools | Introduces a mechanism that financially holds guarantors accountable for lost assets, damaged assets, or protocol breaches. |
| Physical oracles | Describes the system for regularly recording the state of physical assets on the blockchain. |
Responsibility and Staking
The 4K Protocol implements a novel staking pool functionality, which ties staking rewards to the core economic driver of the protocol - curator fees. This functionality is inspired by veToken Curve and Tendermint validator, and the features are designed to achieve the following objectives:
Building trust: A mechanism for immediate compensation by asset owners if the DAO determines there are losses or damages.

Creating accountability: Guarantors must have skin in the game, and they are held accountable on-chain for losses, damages, and process violations.

Aligning incentives: Long-term stakers are rewarded with both higher emissions and governance rights and shares of the protocol's fees.
Organizations can set up a staking pool and receive payouts in 4K Protocol platform tokens.
4K represents an innovative approach to bridging the gap between the physical and digital worlds. It is a new step in the development of Web3, allowing people to interact with physical assets as easily as they interact with digital assets.