Champions Ascension — one of the world's first next generation AAA blockchain games, developed by Jam City, specifically for Web3.
Contents: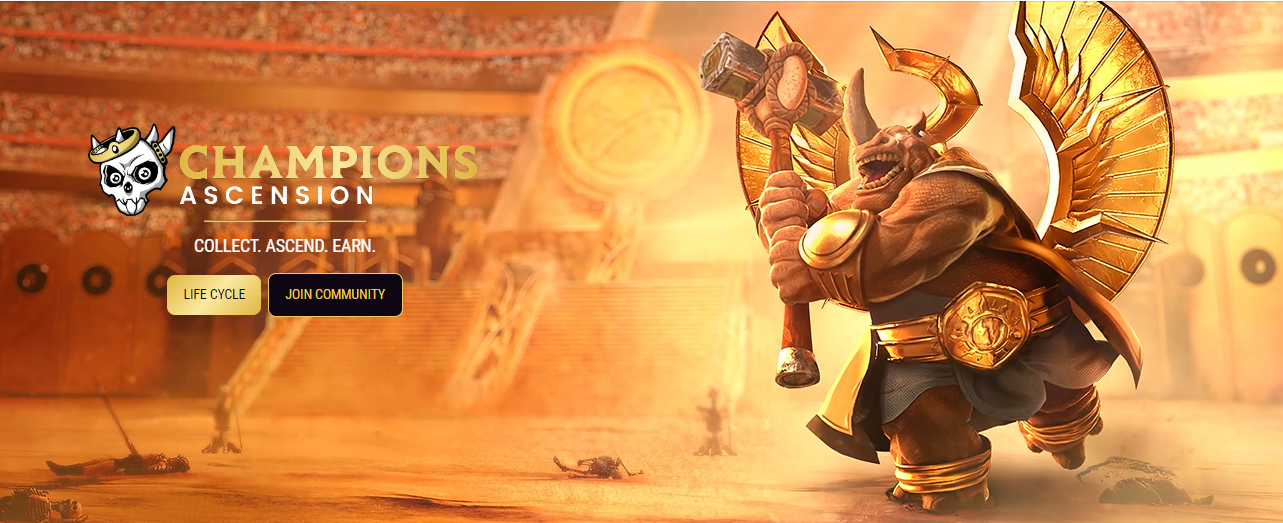 About Champions Ascension
Champions Ascension — an adventure, set in a fantasy universe, controlled by players.
In the world of Massina, engage in gladiatorial combat as your chosen champion strives to bring glory to his house. Violent clashes between the very entities will determine your fate, whether you will be forgotten or you will ascend and prosper.
Game features:
| | |
| --- | --- |
| 1. | Collect, train, equip and manage your own team of brave and cruel gladiators. Create your own story and influence the world of Massina. |
| 2. | Grow your champions to create new gladiators. |
| 3. | Aim to take them to higher levels to access more features and even more power. |
Experience fierce combat across a variety of battlefields and dungeons in a variety of game modes. Use your champions to explore and defeat monsters for fame and fortune.
The team plans to introduce and maintain various combat modes in the crypto game. Some of these will be AI-controlled auto battles, while others will require players to command their own champions on the battlefield in order to move, attack and use abilities.
Champions Ascension
Your champions won't always fight with the default weapon. There are many different types of resources that can be won from PvP and PvE battles, as well as from other sources such as mining and quest rewards.
Forged Gear
Forged Gear — limited edition player-created NFTs that can be equipped by the player's own champions or traded to other players.
To craft gear, players will need to access the gear forge, blueprints,and spend $ESSENCE tokens to craft gear from those blueprints. The player owns this equipment and can use it in battles to increase their chances of winning, or sell it on the market so others can use it.
Project tokens
$ESSENCE can be won by winning battles and completing quests. It can be used in many ways, including breeding new champions and crafting new gear.
$MASSINA is earned gradually when staking Prime Eternal. It accumulates daily as long as the player places a bet on Prime Eternal.
Like $MASSINA, $DIAMOND is also earned gradually when betting Prime Eternal and accumulates daily as long as the player bets Prime Eternal. It can help to purchase Diamond Gear items such as the Diamond Gauntlet, which can only be obtained with $DIAMOND.