CryptoDozer - a coin and doll collecting game, powered by the Ethereum blockchain. Drop coins and collect cute CryptoDolls dolls. Use them in a series of Dozer games, such as DozerBird and DozerTreasures. It will allow you to get the best rewards.
Contents: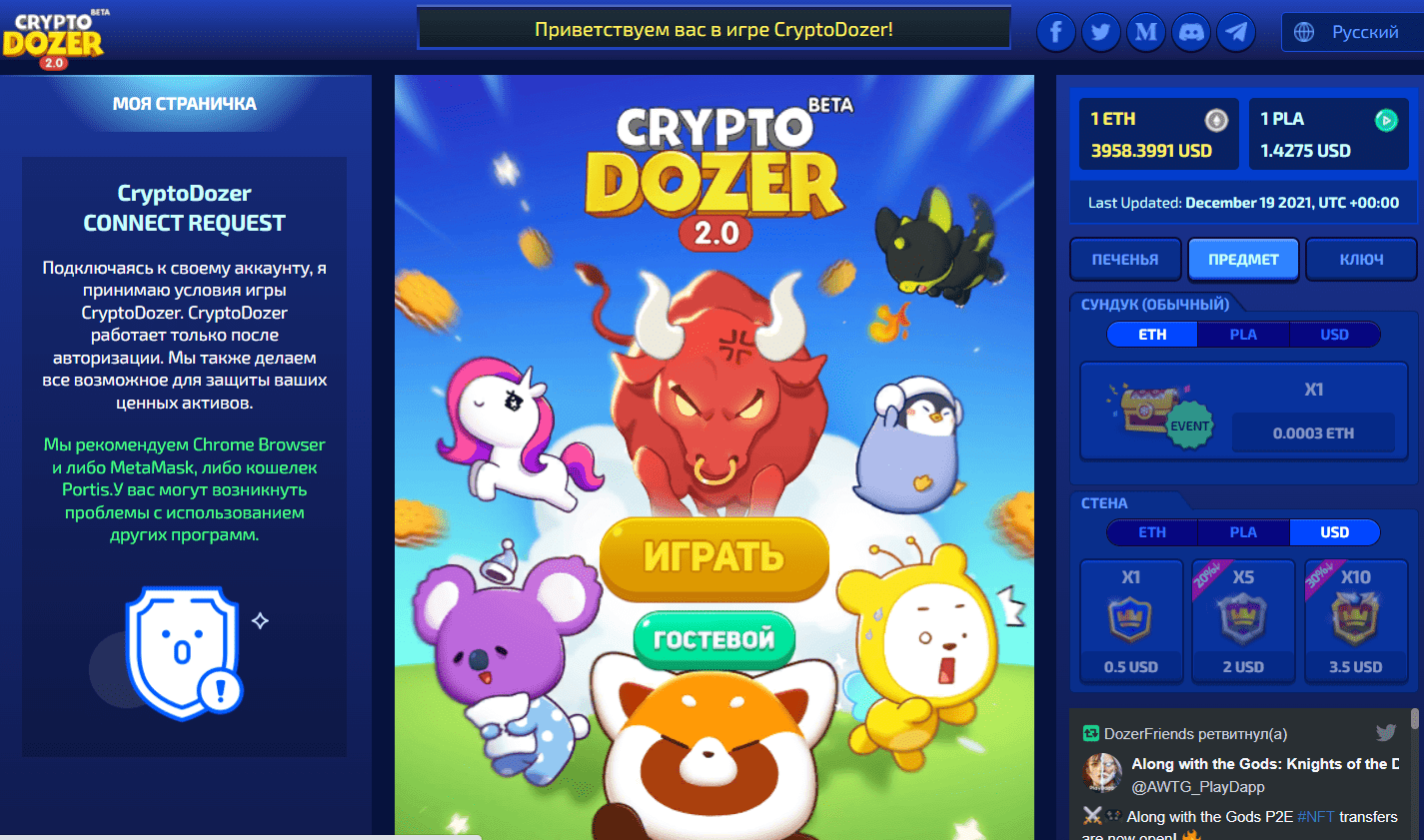 CryptoDozer game description
CryptoDozer — an arcade game on the blockchain, its purpose - to gather a collection of various CryptoDolls. All of them are rated in ETH. Making money is very simple here, just tossing coins is enough. To become the best, use special game items, such as:
"Wall items";
"Fever Time";
"Fancy Chest Grades".
Raise your rating to increase your chances of collecting valuable CryptoDolls.
Why should you choose CryptoDozer?
The blockchain game doesn't exist for long, but it demonstrates a record high level of NFT transactions. The average number of weekly operations is 30,000. Moreover, these results circumvented the well-known blockchain game CryptoKitties. Since the launch of the game, thousands of users have already successfully withdrawn the prize ETH.
One of the most expensive CryptoDozer dolls, which worth is 70 ETH ($ 11,000), was won by a user from Spain. The second largest prize was received by a student from Vietnam, his cryptocurrency doll cost 30 ETH.
CryptoDozer
The Cryptodozer turns many gamers into cryptocurrency proponents. From the four winners who won the largest sums, only one had experience with blockchain games before starting to play CryptoDolls. The project doesn't provide a White Paper document. Документ White Paper проект не предоставляет.
Other blockchain game features
Before starting to play, users need to get a MetaMask wallet. It serves as a safe place to store game items. The table shows some features of the gameplay:
| | |
| --- | --- |
| Game without an account | You can play without a MetaMask account, as the "Guest game" mode works. However, the "Guest Game" doesn't support additional coin purchases and the exchange of CryptoDolls for ETH. |
| High level benefits | If you reach a higher level, the chances of finding more expensive CryptoDolls will increase. In addition, you will receive specially generated Fancy CryptoDoll chests. At the moment, the highest level you can reach is 100. |
| Inventory | Once your inventory is filled with CryptoDolls, you can no longer save new characters. Manage your inventory to make units available for storing more CryptoDolls. |
The platform uses the PLA cryptocurrency (ERC-20 token), which is used to purchase various in-game items. There are 8 special coins as bonuses. In addition, a reward is given to each user, who activates own account (30 coins). There are no other bonuses here, as well as a referral system.
Having successfully launched CryptoDozer on the Ethereum blockchain, the team is also developing other platforms, based on the already famous traditional games. Starting with crypto-dolls, the startup will unite various blockchain games and their resources on one channel - the open PlayDapp service. The active social networks of this game: facebook, twitter and telegram.