CryptoFlowers — the game about collecting and breeding digital colors. The game allows you to collect, cross and share unique digital colors. It's possible, thanks to the use of the smart contracts and an Ethereum network. As the CryptoFlowers isn't a digital currency, it has the same high level of protection.
Contents: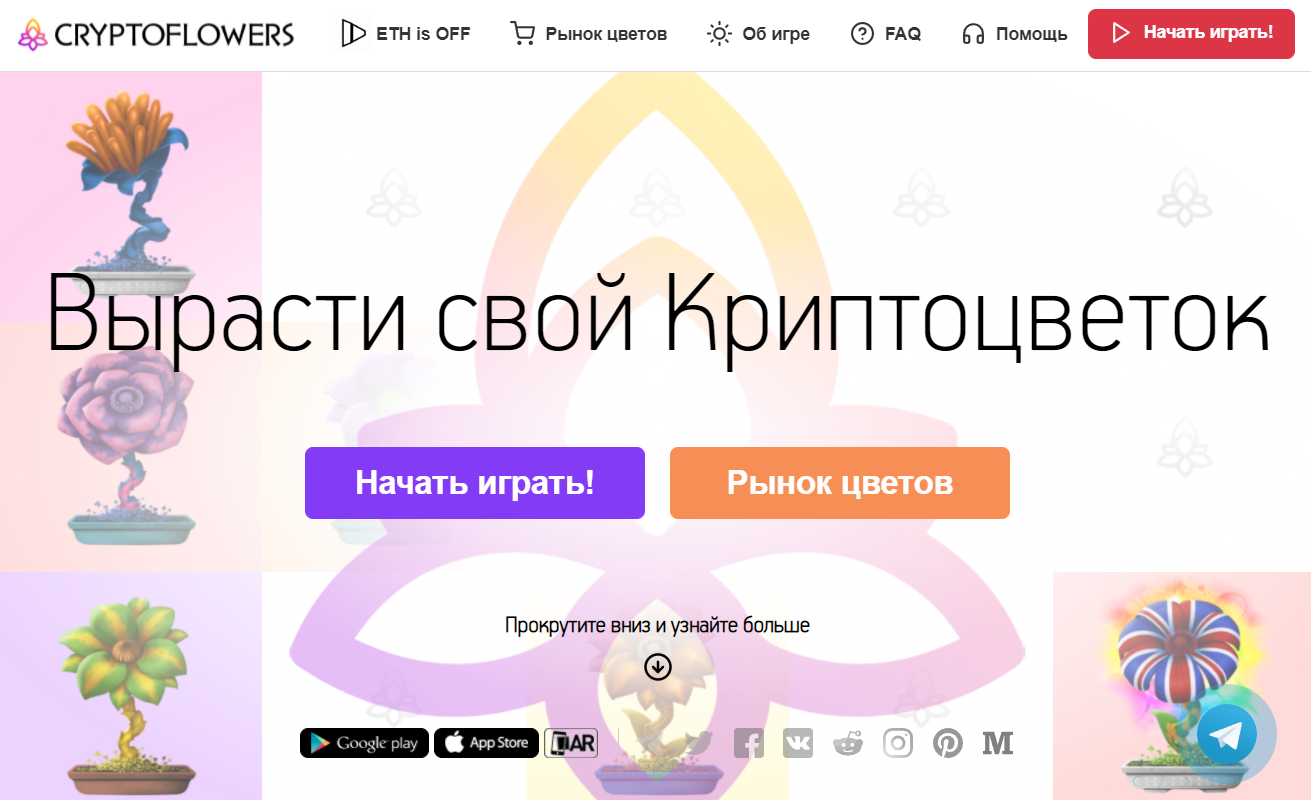 About the CryptoFlowers platform
Here, users have the opportunity to choose from a huge variety of colors. In addition, each object has a unique genome, it can't be destroyed, picked up or cloned. Flowers can be either multi-colored, plain and with completely different patterns. In addition, plants constantly bloom.
Digital flowers don't require a constant care, don't cause allergies. You don't have to rush about each time in search of a suitable vase or pot, when a new plant appears in your collection.
CryptoFlowers
CryptoFlowers allows you to cross two different flowers to get a new unique object with a special shape, color and pattern. The game has a referral program. You will receive 50% of the project fee, when your friend buys a new flower, crosses two flowers or sells them in the market.
Some differences from other projects:
| | |
| --- | --- |
| Auction House | Your unique flower brings real money. Profit by breeding your colors with the colors of other players. Also, sell flowers at the Auction. |
| Buy, breed and sell | Discover new genes, get cool achievements. Find and breed unique plants that won't leave anyone indifferent. |
| Become a collector | Complete your collection of rare traits for everyone to envy. |
| Become a trader | Buy and sell flowers on Auction with other players. |
CryptoFlowers resembles the well-known CryptoKitties. Both games use the Ethereum platform and are designed to popularize blockchain technology. The project has White Paper, where you can find out all detailed information about the platform, upcoming updates and other features.
How to get a crypto flower?
Firstly, users can buy a flower on the Flower Expo. To do this, click on the "Flower Expo" button at the top of the screen. To purchase the object, just click on it and select "Buy now". Secondly, resources can be obtained from other users. For the game you need 1 flower. However, in order to breed, it's desirable to acquire several plants immediately. Crossbreeding has a small charge. It's used to note a new flower on the blockchain.
To start creating your garden, you need a computer with one of these browsers:
Chrome;
Firefox;
Opera;
Vivaldi;
Brave.
It's also necessary to connect the MetaMask extension. If you are using a phone or tablet, then the Trust Wallet application is suitable. To grow the flower, you need to buy "parents" - two other flowers, after their breeding you get a new, unique look. However, users note that crossbreeding can sometimes take more than one day.
Subscribe to the telegram channel to stay up to date with all the news. In addition, there are already more than 2000 participants.