CryptoSpells - a platform, based on the Ethereum blockchain. Users can fight, using organized decks of cards. Users can also earn battle points by winning or losing battles. When a certain number of points is reached, the player's level rises. As rewards you get "mining tickets". You can play here even without the Ethereum wallet and virtual currency. By issuing a card with NFT (Non-Fungible Token), users can confirm their ownership. In addition, there is access to a free trade on non-game playgrounds. For example, OpenSea.
Contents: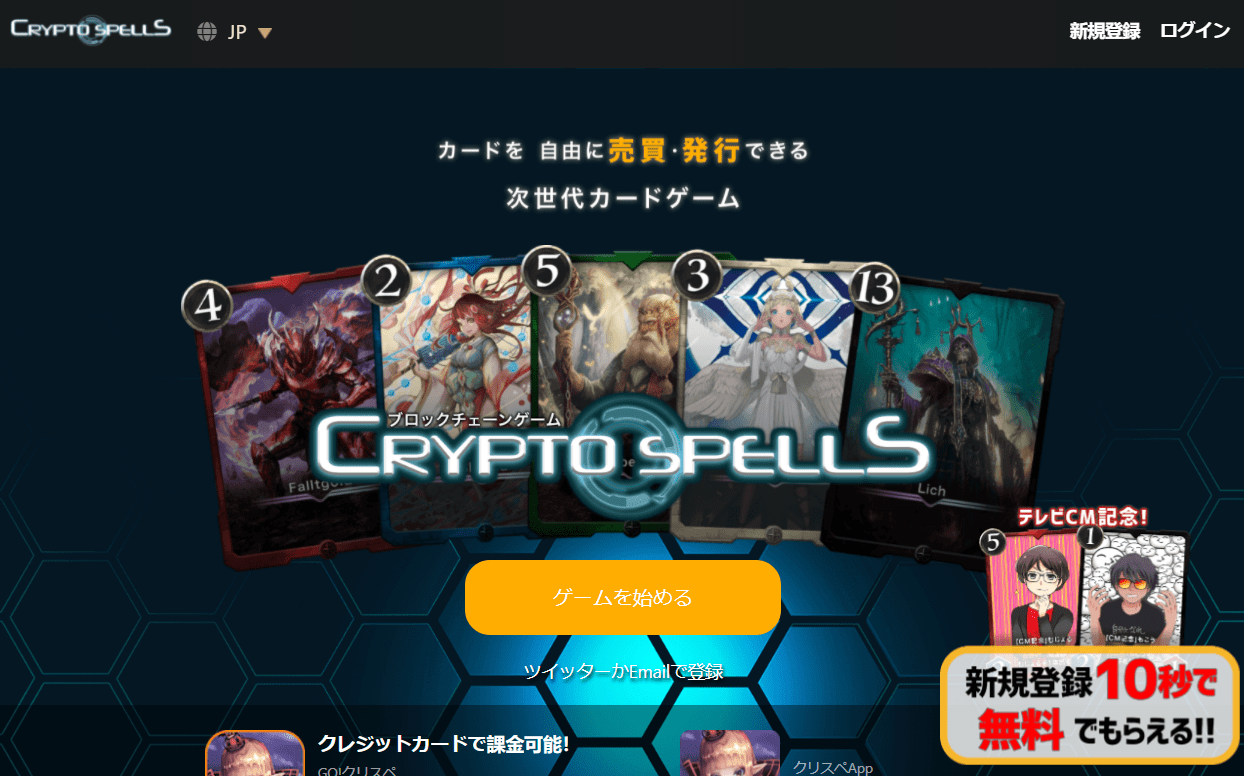 Why should you choose the CryptoSpells?
Blockchain technology can be considered as a way to solve problems that can't be implemented in ordinary games. In addition, it provides a new user experience. Thanks to the blockchain, fraud protection is provided. Information about all the processes in the game is stored in open source. In-game cards - ERC 721 tokens, stored on the blockchain. That's why, you can prove the true possession of any subject.
Some features:
| | |
| --- | --- |
| Firstly, card games with a limited number of issued cards | The card has four rarity levels. In addition, the maximum number of cards is issued for each level. The number of issued cards, their owners and transaction history are noted in Ethereum. "World Cards" and "Cards, that won a tournament" are visualized. |
| Secondly - card capitalization / free trade | It's noteworthy that the digital assets, acquired in the game, belong to the user. They remain in your wallet, even if the service ends. In addition, you can freely trade your cards in the markets. |
| Thirdly, the right to issue an original card | Using the function "issuing right of a card", which can be purchased in the game, the user receives a new original card. |
Crypto Spells aims to be a "digital" trading card game, where cards belong to the user. Participants are free to organize their decks, using cards, obtained in the game and cards, purchased at the store or market. Unlike other games, with CryptoSpells, many cards are purchased for free, as more and more users are registered in the project. This is a game system, that allows you to enjoy the game for free.
RoadMap is presented on the platform with the main stages of the project development, however, there is no White Paper document here.
Types of cards in a blockchain game
Cards are divided into five civilization in CryptoSpells:
red;
green;
blue;
white;
black.
Also, there are neutral cards. Each civilization has different characteristics. In addition, there are four levels of rarity, which is confirmed by the icons at the bottom of the card. Legends (including Limited) are limited to one deck.
Users can purchase a game currency SPL only within 14 days after the card sale in the store. Please note, that sold cards can't be resold.
CryptoSpells
Voting tickets are distributed among users in accordance to the total asset value, owned by their cards. On the 1st of each month, each user gets to vote, and collectively decide which bronze card need to be adjusted.
Other information about dapp
Players fight each other with cards from their deck. Whereas individual and ranking battle are under development. Fighting, players get points and level up. When a player's level rises, he receives a ticket, which gives the right to get a card. The project doesn't provide a referral system.
To get the latest news and follow the project updates, subscribe to their official twitter account, which is already followed by more than 15,000 people.