DinoPolis — an NFT mining project, called a Play-To-Earn game. The project gives everyone the opportunity to become a part of the crypto industry and have their share of the total global cryptocurrency hashrate. It consists of many infrastructure elements, the main ones being 10,000 GenesisDino NFTs.
Contents: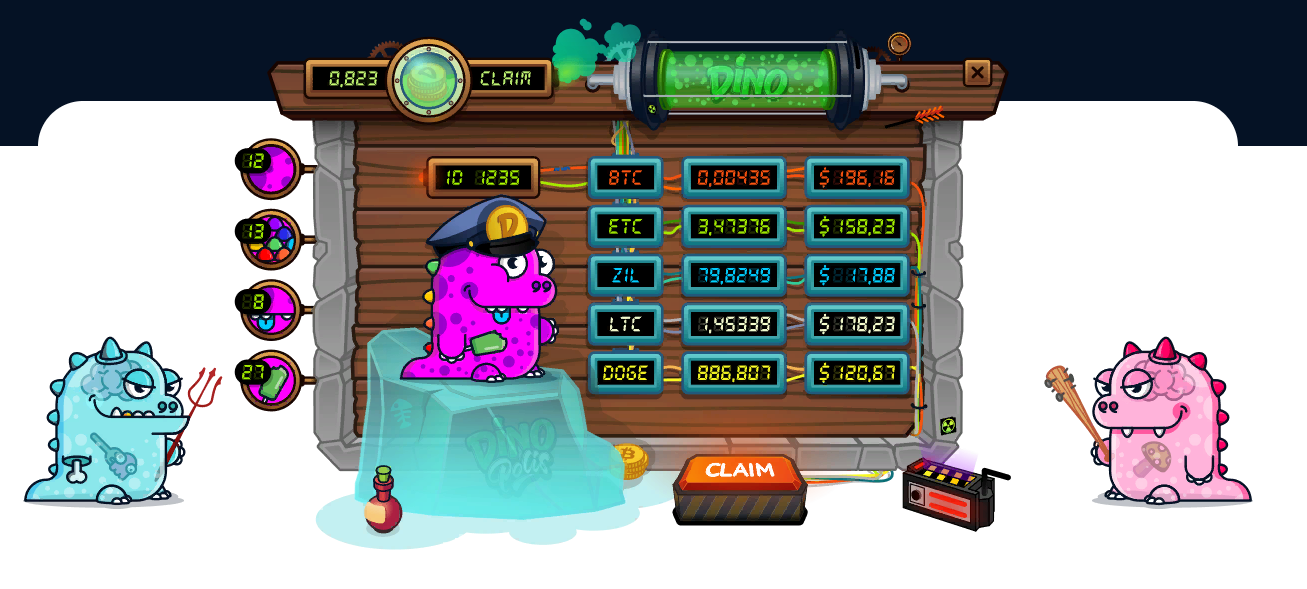 About the DinoPolis platform
The DinoPolis economy is designed for those who want to participate in decentralized cryptocurrency mining, but do not have such an opportunity. The GenesisDino NFT entitles its owner to a significant share of the total hashrate, according to the characteristics of each dinosaur and its unique attributes. These NFTs are involved in the economy and mining of in-game resources, including DinoToken ($DNP).
Funds from the sale of GenesisDino NFT and EvoDino NFT help to purchase mining equipment with all the infrastructure:
| | |
| --- | --- |
| 1. | electrical equipment. |
| 2. | room for placement and maintenance of equipment. |
All of this is the property of the DinoPolis community. EvoDino NFT, which appeared after the breeding of GenesisDino NFT, allows its owner to mine in-game resources, the Dino token in the DinoPolis Play-To-Earn game, as well as a share of the total HashRate, but different from GenesisDino. 25% of the total amount of mined cryptocurrency is converted into the in-game $DNP token and fills the in-game pool. Fees for character upgrades, sale/purchase of in-game items, charging for character breed.
Artifacts - NFTs, essential to life, obtained from the Play-To-Earn game and created by members of the DinoPolis community. They can be bought and sold on DinoMarket for the $DNP in-game token.
Dino Polis
Proceeds from the sale of GenesisDino NFT help to purchase equipment for mining decentralized cryptocurrencies: BTC, ETH / ETC, ZIL, LTC, DOGE and the necessary infrastructure for full-fledged work. Additional funds, generated by the project, will be used for its further development: to increase the overall hashrate by purchasing additional equipment and ensure the smooth operation of the entire infrastructure.
Project team
The DinoPolis project was founded by a team of crypto enthusiasts, programmers, web designers and executives who have reached the heights in the previous fields. Each member of the team has been involved in the crypto industry and its development in their region since 2017. Participants own their own infrastructure of different capacities for cryptocurrency mining. We also provide stable relationships with suppliers of mining equipment and components, maintenance and repair of equipment.