Galxe - the world's leading Web3 credential data network. A collaborative credential infrastructure that allows brands and developers to interact with communities and build trusted products on Web3.
Contents: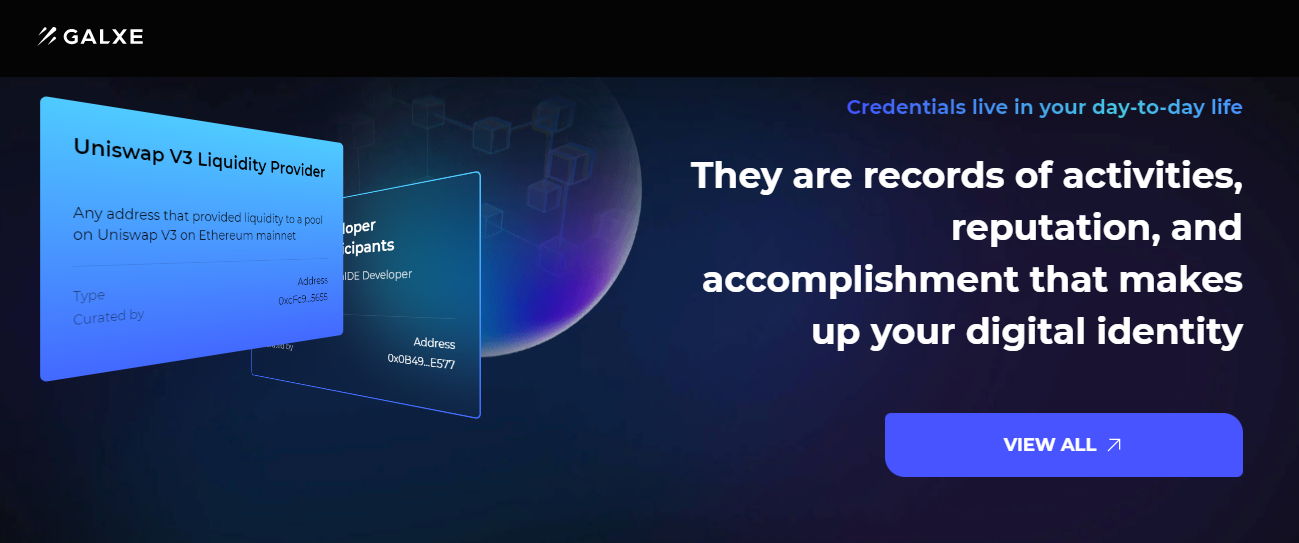 Description of the Galxe platform
At Galxe, the team is building the infrastructure to enable an open and collaborative credential network. The project helps Web3 developers to use credentials to build better products and communities. At the same time, data curators contribute to the credential network by earning revenue after data is used.
By contributing to the Galxe Credential Data Network, curators are rewarded when credentials are used in Galxe application modules, Credential Oracle Engine and Credential API. Since there are users in the ecosystem consuming (paying for) data, this encourages more users to come and curate the data network.
What is Galxe OAT:
| | |
| --- | --- |
| 1. | Galxe OAT aims to be an easy solution for event organizers and community managers to use the Galxe NFT infrastructure and online credential network to easily create and distribute NFT badge campaigns and reward their community members. |
| 2. | Simply put, Galxe OAT (Online Achievement Tokens) — a digital record of all your lifetime achievements. |
With Galxe Credentials, you can create a Web3 DID system that not only gives you a multi-chain ID, but also allows others to know more about you through your past achievements/credentials.
Project token
Galxe aims to create a permissionless, open and collaborative credential data network. The GAL token is an important component of such infrastructures as it functions as a governance token, incentivizes user participation and serves as the main payment token of the Galxe ecosystem. The GAL utilities:
Governance: GAL is used for voting and governance in the Galxe DAO. GAL token holders have the ability to control the amount of platform fees, charged by the protocol, and control the funds, held in the Galxe Community Treasury. Application Module Fee: Developers who wish to use Galxe credentials through application modules will pay a platform fee that is charged in the GAL. Platform fees are set up so that every interaction with the Galxe protocol is charged in GAL.
Most of the royalties will go to the curators and the rest will be collected by the Galxe Community Treasury. Currently, there are no charges for application modules during beta testing.
Galxe
Curators can use the GAL token to signal the value of a credential set. Each set of credentials will include a revenue stream that will be divided proportionally among the credential holders. In the long run, the more credentials there are on the network, the more GALs will be locked into data binding curves. The curation system is currently under development.