VoxNET — an arena-style fighting game with unique earning opportunities. Connect your wallet and import $VXON tokens.
Contents: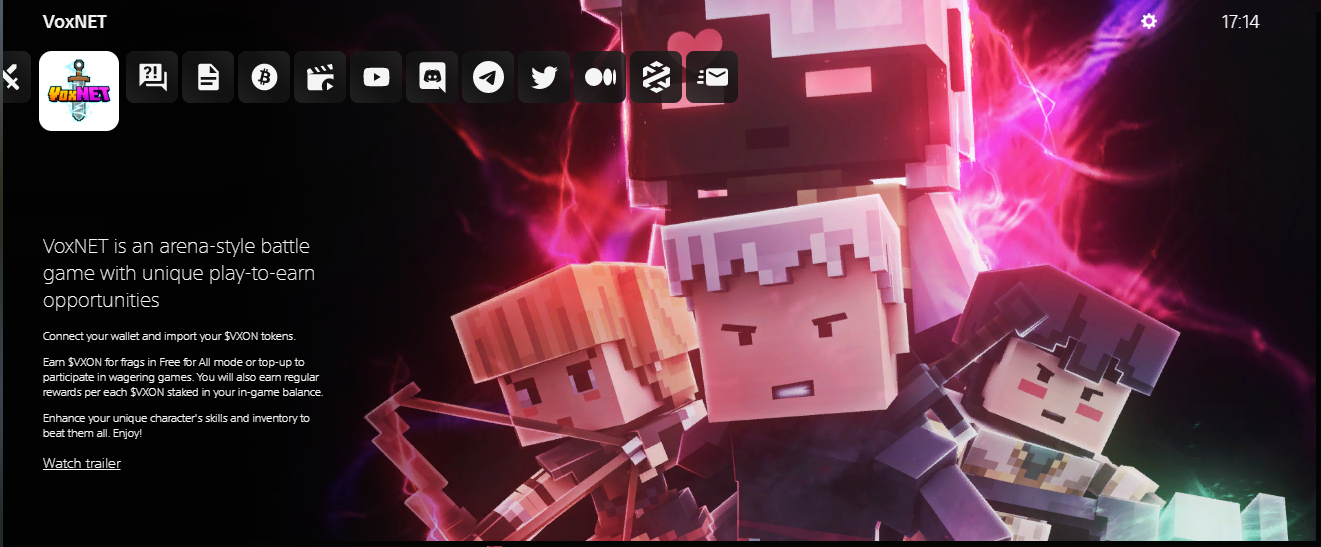 Brief description of VoxNET
VoxNET — a battle arena style game where 5,000 NFT characters can battle it out for real money. Gameplay takes place in a "live environment" with realistic settings, designed for an optimal combat experience. Players can fight each other one on one or in a team game. Matches can last from one to 10 minutes.
The goal of the game - to destroy your enemy player.
VoxNET
If you can destroy the enemy, you will earn a frag or kill. At the end of the game, you can be rewarded for every frag or kill with in-game tokens.
Earn $VXON in "Free for All" or fund your account to participate in wagering games. You will also receive regular rewards for every $VXON, wagered on your game balance. Upgrade your unique character's skills and inventory to defeat them all.
Earning options:
| | |
| --- | --- |
| 1. | You can earn tokens by using the proof-of-gaming model. You play the game and get tokens for victories or certain frags/kills. You will receive 0.0001 tokens for every token you have on your balance. |
| 2. | The Proof-of-Stake model will pay out annual interest income or APY. Finally, players can earn by making their NFTs more valuable through match wins and by selling their NFTs for a higher price than their original purchase price. |
VoxNET generates income in several ways. Firstly, the game will raise funds through the creation of 5,000 NFTs. In addition, the game will receive a "share" for each match in the game. In addition, there is an in-game store where players can purchase a variety of useful items, from skills to skins, stats, mystery boxes, and more. All purchases in the in-game store can be made with in-game tokens. Finally, the game will receive a commission from each transaction on its marketplace.
Safety
The game is built on the Ethereum blockchain, which is one of the most secure ways to create a game, based on the blockchain. In addition, the token has built-in anti-whale mechanisms to protect against any price manipulation.