Lotte.Fan is a decentralized lottery application built on the Polygon blockchain. This unique solution offers users the ability to participate in a lottery fully governed by smart contracts.
Contents: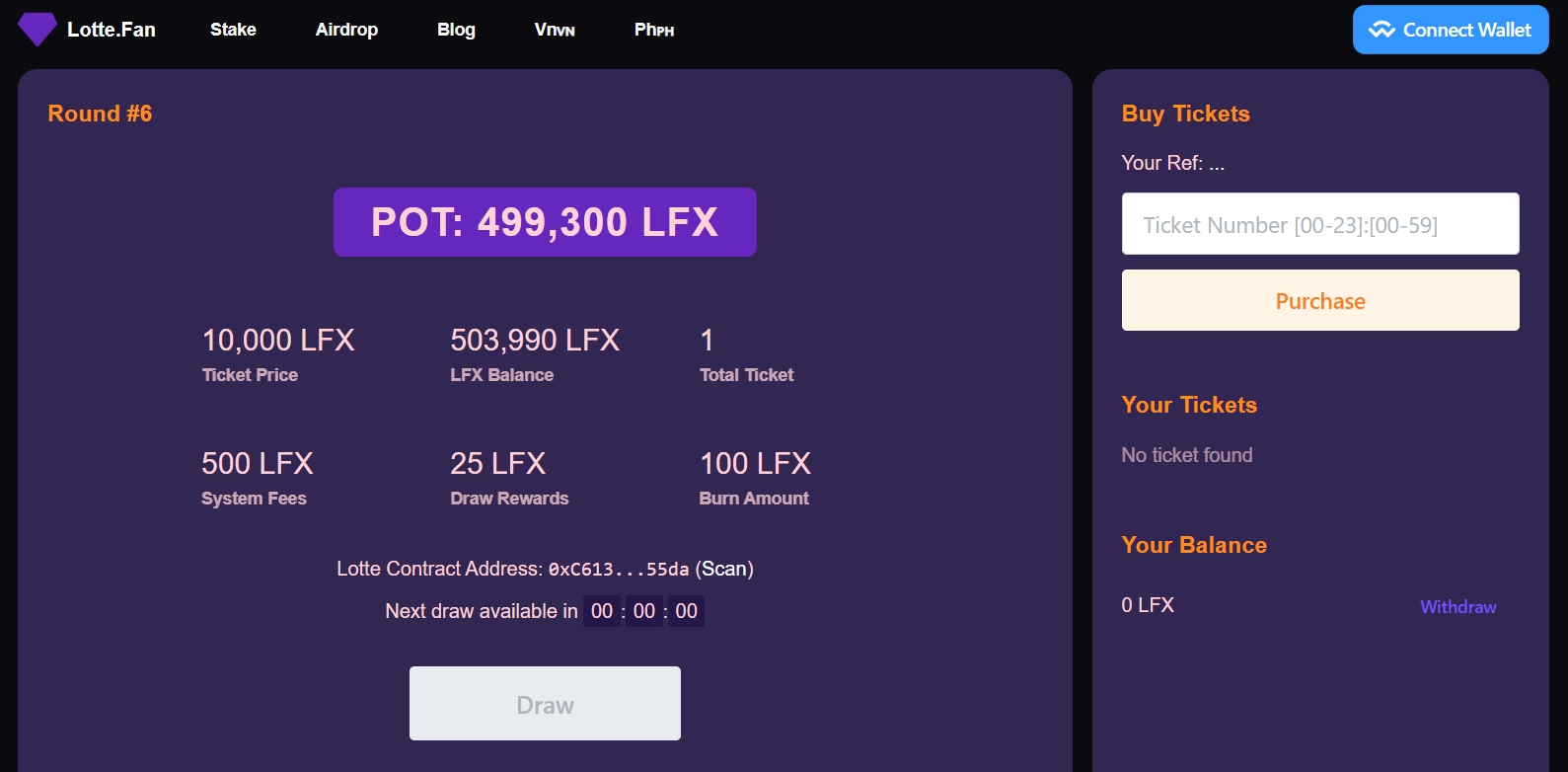 How to Play Lotte.Fan and Its Features
To participate in Lotte.Fan's game, you should follow these steps:
Choose a Ticket: You need to select a ticket and pick two favorite numbers. The first number should be between 00 and 23, and the second number should be between 00 and 59.
Purchase and Pay for the Ticket: To buy tickets, you need to confirm the use of LFX from your wallet. The ticket cost is around 10,000 LFX.
Wait for the Drawing: A drawing is held every 24 hours. Participants have the chance to receive rewards from the system.
Lotte Fan operates automatically. You have all the control.
The main characteristics of this game:
| Characteristic | Description |
| --- | --- |
| LFX Token | This is an ERC20 token with settings for automatic burning of a certain amount of tokens after each drawing. |
| Lotte Fan | Smart contract responsible for conducting lottery drawings. |
| LFX Vault | Share of revenue from ticket sales is distributed among token holders. |
| LFX Airdrop | Distribution of 1 billion LFX tokens to the first 1000 users. |
Lottery Roadmap
Goals for Q4 2023:
Enhance application usability through interface improvements and user experience enhancements.
Create an American-style lottery to attract a larger audience and increase commission revenue.
Develop new gambling games based on the LFX token to diversify the gaming experience and stimulate token usage.
Lotte.Fan continues to evolve, aiming to improve user experience and provide more opportunities to participate in the lottery. With the plans for the fourth quarter of 2023, even more innovations and improvements on the platform can be expected.
Please note that this translation assumes that the links provided are consistent with the context and the target audience's understanding of terms like "LFX Token" and "Lotte Fan." If there are specific terms or elements that need further clarification, feel free to adjust the translation accordingly.