TrustFi aims to provide decentralized BaaS (Blockchain-as-a-Service) solutions for the DeFi market, based on multi-chain environments. TrustFi is building a decentralized future and investing in high quality projects that complement and align with the Web3 and DeFi philosophy.
Contents: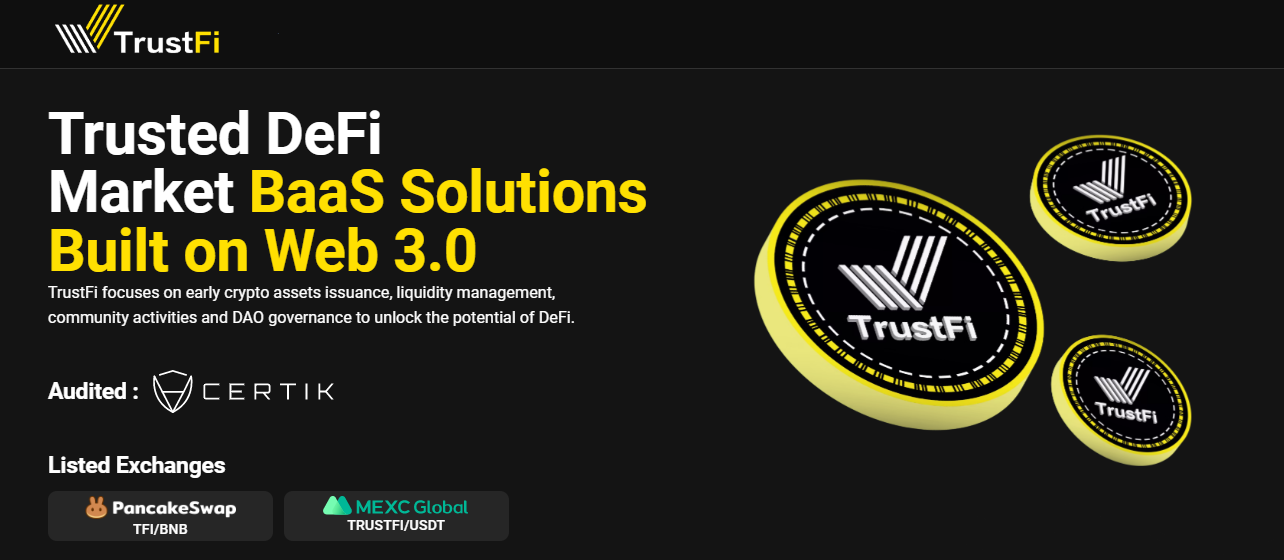 Description of TrustFi features
The full suite of product portfolios, developed by Trust Fi, includes: a common IDO protocol (TrustFi Launchpad), a decentralized staking contract and liquidity mining model (Trust Fi Farmer), and a decentralized incubator (Trust Fi Booster). All of these will drive the viability of transactions on the network.
As part of the profit-sharing program, Trust Fi will reward Hunters who successfully submit:
| | |
| --- | --- |
| 1. | Quality projects at the IDO stage for the launch pad and ecosystem. |
| 2. | Trust Fi Farmer customers who are interested in creating dedicated space on the platform. |
$TFI — the network's own utility token, which has its own benefits. $TFI token holders can stake to participate in community governance. Income from TrustFi products will help to buy back, burn and reward $TFI stakers. The TFI token can be deployed in Trust Fi Farmer contracts for additional profit to increase the income from farming tokens in incentive programs.
$TFI holders hold insurance rights and interests against loss of income/market risk in cases of mass victimization, such as violations of token sale agreements by third parties.
Mining system
TrustFi Farmer — an offline liquidity mining and pooling platform, based on the Automated Farm Pools (AFP) algorithm, built on Web3.0. With TrustFi Farmer, any project can create liquidity pools in 60 seconds, using a proven smart contract and platform. With the app, projects can create their own sovereign DeFi spaces with their own subdomain and design.
Trust Fi Farmer has appeared to create a decentralized financial ecosystem, designed to free up liquidity from staking assets and help to achieve higher capital efficiency.
TrustFi
In this way, Farmer provides users with a stable return on assets and helps them to maintain capital appreciation potential and access a new source of liquidity to invest in new opportunities at the same time. As of February 2022, nearly 50% of $TFI's working capital was locked in Trust Fi Farm Pools