The Exchange Art team has developed a unique mechanism to enable Web 3.0 communication with their customers — without creating user accounts and asking customers to remember another login. Privacy is at the heart of the architecture of this site.
Contents: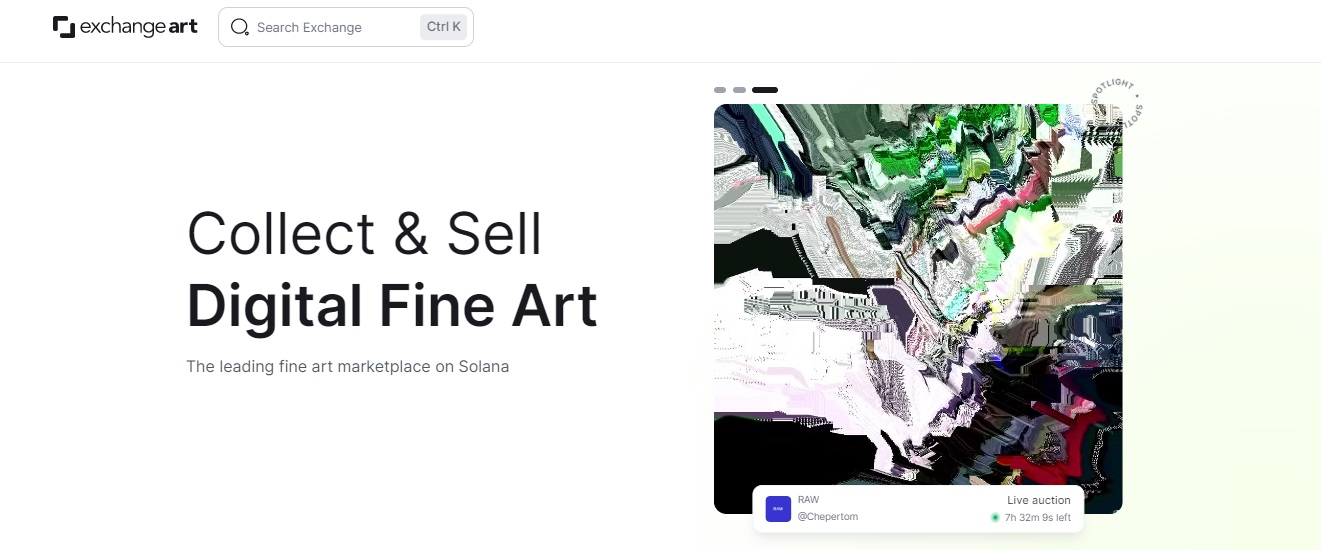 How does Exchange Art work?
The NFT marketplace Exchange.Art has launched its Notification NFT, a new way to communicate with consumers by using Web 3.0 technology. You can bet on almost any NFT you find on the exchange, listed or unlisted. And every time you buy or sell on the platform, your status goes up. As volume increases, your NFT evolves, increasing your status. The buyer may offer to purchase any NFT they wish, even if it is not currently for sale.
If the owner likes the conditions, the sale takes place in just a couple of clicks.
Exchange Art
The user can place a bet on any work of art they like. The owner receives the offer directly to their digital wallet. The funds are placed in escrow and the owner can choose to accept or ignore the offer.
How to use the auction:
| | |
| --- | --- |
| 1. | To put an NFT up for auction, it must be part of an approved collection. |
| 2. | Go to the "Auction" tab. Click on the "Start auction now" button. |
| 3. | Set up your exchange auction by filling in the details. Once everything is ready, click on 'Start Auction'. |
| 4. | Auctions may begin immediately or may be scheduled for a specific date and time. |
The process of minting NFT comes down to a few steps: creating an account on Exchange Art, then creating a brand, collection and pressing the "Mint" button. Connect your wallet and click "Add collection". Upload a banner (1920x300px), profile picture (240x240px) and fill in all the details. Enter your NFT's name, description and URL for your collection's website. Click "Transfer NFT to wallet". Confirm the transaction in the wallet.
More about defi app
The "Exchange Notification NFT" feature — a way to bet on whatever you want and get the bets straight to your wallet. This means that you no longer need to jump from one trading platform to another to look at offers or find the NFT you need. Your NFT exchange notifications are automatically generated after your first transaction or upon receipt of an offer. The feature tracks the volume of your purchases and sales to keep you informed, without any work on your part.