Quiztok - a decentralized knowledge sharing platform where users become creators, quiz participants and consumers of advertising content, based on the blockchain system. In addition, decentralized advertising systems are provided through which users can pay QTCON to place their ads in quizzes.
Contents: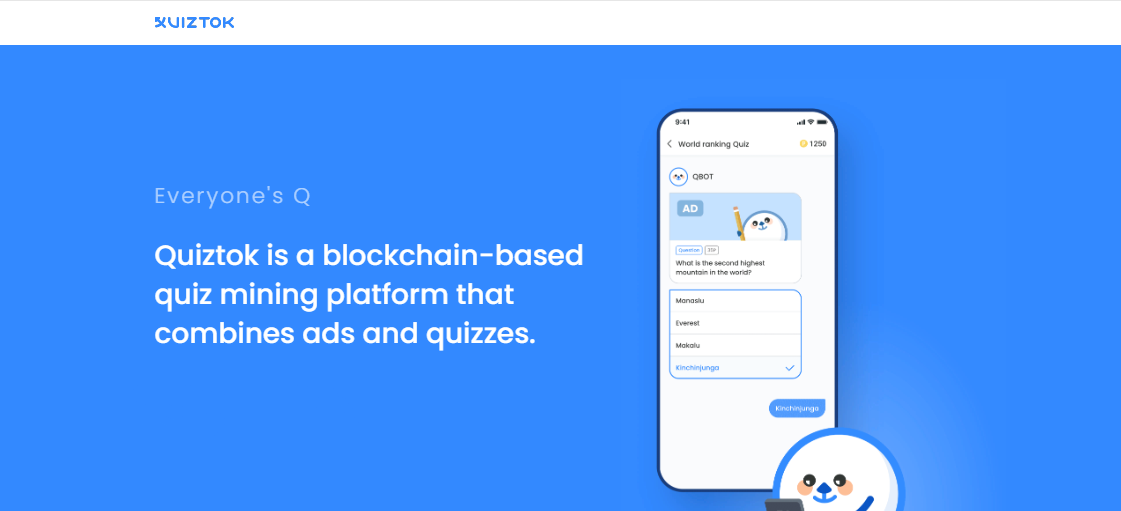 Description of the Quiztok platform
Quiztok filters, refines and compresses disparate knowledge and information into quiz content. It is a knowledge sharing platform where everyone can share their questions and answers.
For creators, a quiz is a tool for passing on condensed knowledge to others. Players can decide and share improved knowledge. At the end, participants share rewards, based on their performance as content creators and consumers.
Quiztok - permanent merchant content that can be used by anyone at any time, regardless of gender or age. In addition, quizzes are exciting content that gives people a sense of challenge and achievement due to their entertaining elements. Quizzes - a great tool for conveying knowledge in a refined and concise manner. This refined knowledge will be passed on to the quiz players.
Quiztok can be used not only to share and explore knowledge, but also to ask questions and talk about people's daily lives. This means that the content of the quiz can turn into a new SNS platform.
Other features of work:
| | |
| --- | --- |
| 1. | Quiztok provides quiz creators, players, advertisers, sponsors, media, an ad rewards ecosystem, powered by blockchain technology without the limitation of time and space. |
| 2. | In the Quiztok ecosystem, users can communicate directly and trade transparently with each other. |
| 3. | Quiz creators, players, advertisers and other users can easily participate in the Quiztok platform without any intermediaries. |
Quiz creators, curators and players will receive bonus points, based on their roles, and this can boost the production and consumption of quizzes. Quiztok users mainly consist of "quiz creators", "quiz curators", "quiz participants". Rewards, based on user actions', will first be awarded in the form of points.
If you reach a certain number of points (for example, 10,000 points), you can exchange your points for QTCONs. Users can play different roles on the platform and receive bonus points, based on their activity.
Rewards for system members
Quiz creators can earn bonus points if their quizzes are solved by other users. If the number of users who solve their quizzes increases, they can earn more rewards, based on the number of users. Also, if they get more 'likes' from the quiz participants, they can get additional reward.
Quiz participants will receive points if they solve the quizzes. Reward points, awarded for tests, depend on the type of tests, the solution time and the types of announcements. Quiztok users may earn additional ad rewards if their content satisfies advertisers. For example, if advertisers liked the content of a quiz, they would assign more points to the quiz, and users would be able to share more points with the quiz.
If advertisers run quizzes for their advertisements, quiz participants who complete those quizzes may receive special points from the advertisers.