NFTmall - a multi-chain blockchain project for buying and selling NFT items.
Contents: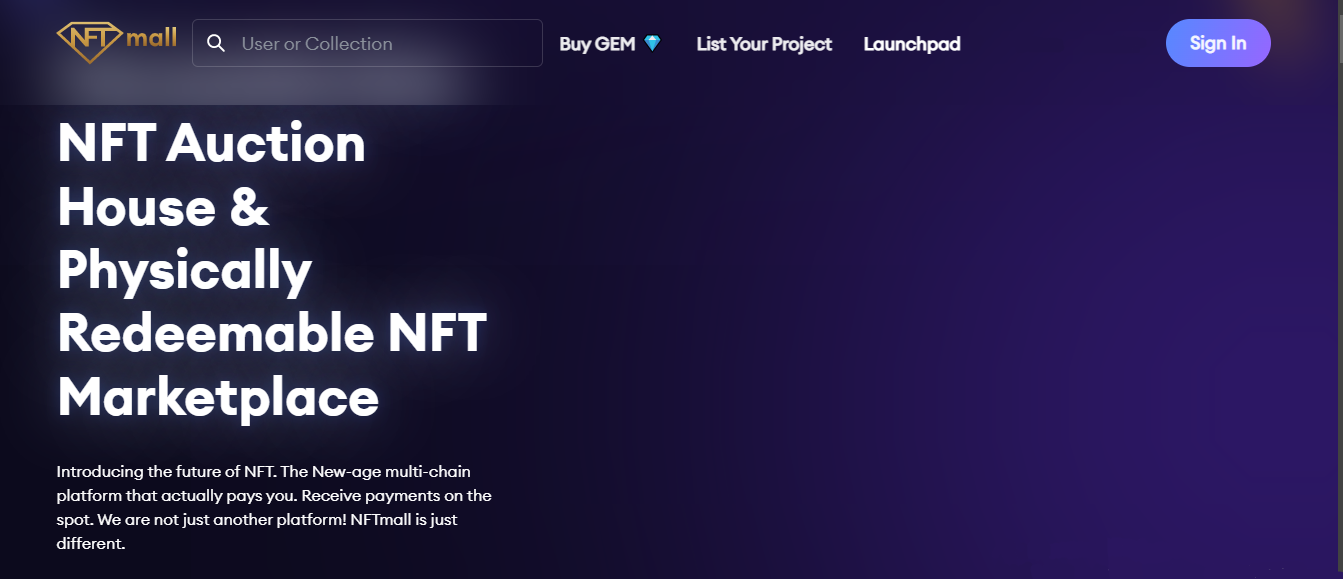 Description of the NFTmall project
The goal — to create a level playing field that bridges the gap between traditional and niche digital item artists and removes the limitations of existing leading NFT marketplaces. The solution is a single platform, integrated into all blockchains, which is a common platform for potential talents around the world to showcase their work at minimal cost and receive fair treatment.
Other features of the NFT marketplace:
| | |
| --- | --- |
| 1 | The platform offers NFT auction and Launchpad multi-chain (INO platform) to raise funds for NFT projects. |
| 2 | The concept includes "NFT Explorer" (Google NFT), a robust API through which users can find all NFT chains, using the NFT search engine. |
To get started, go to the NFTmall.io website and click Connect, select your preferred Web3 wallet and connect. Change network to "Thundercore" and click "Create". Users can apply to have their listed NFT collections. "Upload or drag" the file of the item you want to mint. You can upload a file up to 20MB in PNG, JPEG, MP4 or GIF format. Enter NFT information, name, description, royalty and properties (optional). The steps are automatic and "confirm" the transaction in "Metamask" or the web3 wallet you are using. The NFT file is stored in IPFS and your NFT token is stored in the web3 wallet you are using. The Minted NFT on the market is also open to "Unlimited Auction or Bid" by default.
GEM token
NFTmall has made NFT transactions easier than ever and made them cost effective by introducing GEM. GEM - its native governance token. Defi features such as staking, crop farming and e-commerce have also been introduced to the platform.
NFTmall - a low-fee NFT marketplace on multiple blockchains with a GEM staker.
NFTmall
By purchasing GEM, you become a shareholder of NFTmall. Owning GEM allows you to manage the platform, and by staking, you can earn on commissions, generated by the Marketplace.