05.10.2022 the crypto market again maintained its positions, despite external negative circumstances. The result of the meeting of OPEC+ collapsed stock indices on October 5 with their statement on the adoption by the states of the cartel of reducing oil production.
The rising price of energy commodities contributed significantly to rising inflation, which was the main reason for the increase in monetary policy by the Central Banks, which created a sell-off in shares for ten months.
BTC increased the correlation with the stock market to 90% during this period, however, since the beginning of autumn, this result has decreased to 70% due to the stability of the crypto asset to a decrease in indices. This fact is excellent information for investors, as well as the fact that BTC is still relying on the growth of shares.
Positive news in the morning has already provoked an update in the S & P500 highs of the week.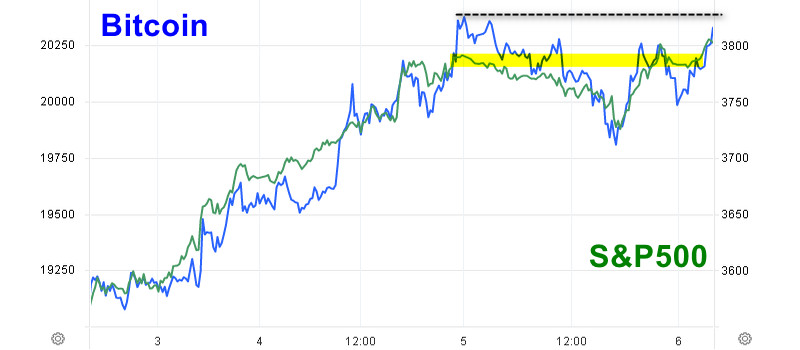 At the moment, as the chart shows, Bitcoin bulls do not have enough opportunities to exceed the high of October 5th. The main reason is that there is little activity in the Asian session during the week due to Chinese holidays. It is possible that the number of transactions will increase along with the opening of European exchanges and will reach the top in the American session.