Chainlink (LINK) has experienced a notable 7% increase in its price over the last two days, now standing at $7.34. This brings its market cap to an impressive $3.95 billion. Even with the wider cryptocurrency market remaining relatively stable, LINK has seen a rise of over 22% in the last month, catching the eye of major market participants.
A significant trend to note is the ongoing accumulation of LINK by large investors, often referred to as sharks and whales, especially during the coin's price fluctuations. Despite facing resistance near the $10 price point since May 2022, Chainlink has consistently traded between $6 and $8. The increased trading volume suggests a potential price surge soon.
On the development side, Chainlink has been very active on GitHub this summer, ranking among the top 5 most developed assets. Large holders, or whales and sharks, holding between 100K-10M LINK, have accumulated their biggest holdings since December 2022, totaling over $192.2 million worth of LINK in less than a month.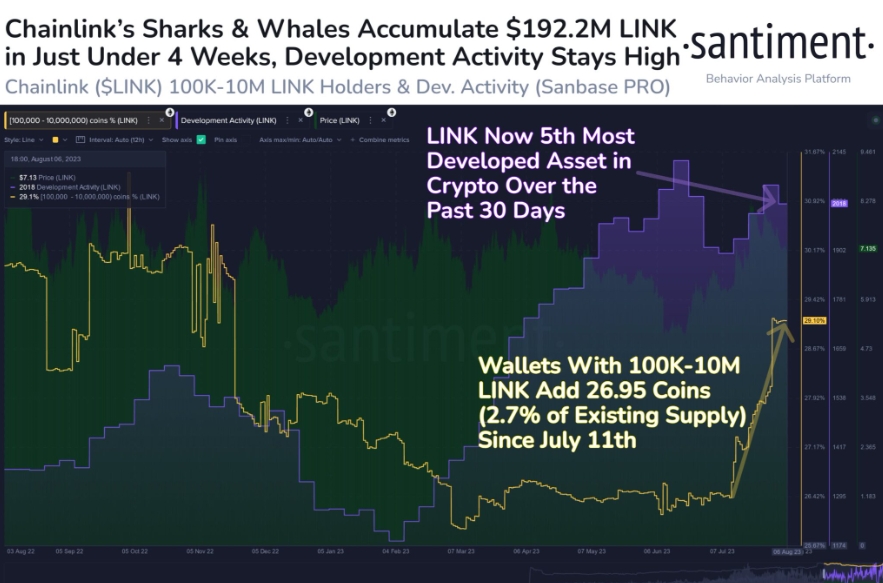 Predictions indicate that LINK's price, which was previously turned down near the $8.47 mark, is set for a comeback and might challenge these levels soon, supported by positive indicators. A significant resistance lies at $9.46, a level that hasn't been surpassed for over a year. Given Chainlink's upward development trend and increased accumulation, the coin's path to new highs looks optimistic.