Over the past year, as Bitcoin prices dropped, convicted buyers have taken advantage of the opportunity to purchase the cryptocurrency at a low cost. As a result, the number of Bitcoin wallet addresses holding at least one whole Bitcoin has now exceeded one million, reaching this milestone on May 13, as reported by Glassnode data.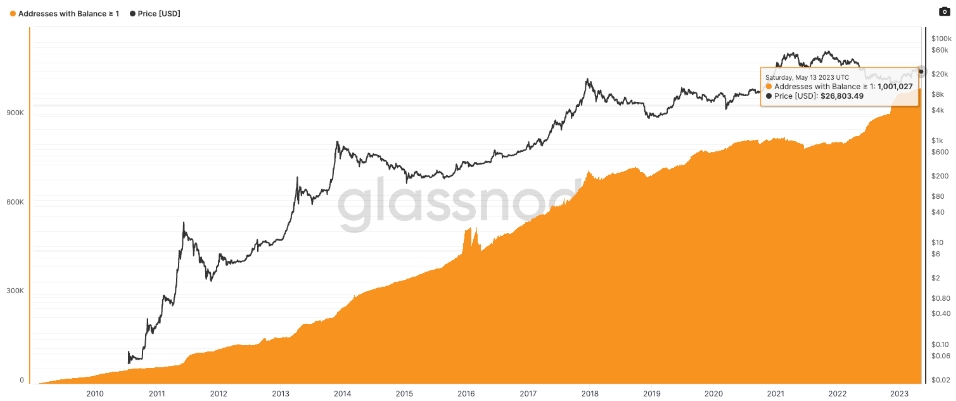 Number of Bitcoin wallets holding more than 1 Bitcoin since inception
The price of Bitcoin experienced a significant decline of over 65% last year. Despite this, the number of wallet addresses holding at least one Bitcoin increased considerably, particularly during a severe market crash in June and following the collapse of FTX and its subsequent bankruptcy filing on November 11.
From early February 2022, as the value of Bitcoin declined from its peak in November 2021, approximately 190,000 new "wholecoiners" were added to the network.
According to Negentropic, the co-founder of Glassnode, a good time to buy Bitcoin is when there is chaos and instability in the market.
He recently shared this advice with his 54,000 Twitter followers, citing the recent collapse of several major banks in the United States and the possibility of the Fed pausing interest rate hikes as contributing factors. Despite these challenges, Glassnode remains optimistic about Bitcoin's future and predicts that its price could rise to $35,000 in the medium term.
Although reaching the milestone of one million Bitcoin wallet addresses is significant, it's important to note that not every address necessarily corresponds to a single individual. Some crypto investors hold multiple Bitcoin addresses, while others belong to prominent institutions such as cryptocurrency exchanges and investment firms that often possess substantial amounts of Bitcoin.
As per the data provided by CoinGlass, around 1.89 million Bitcoin, which is valued at $50.7 billion, are currently held on major centralized exchanges like Binance and Coinbase out of the total 19 million Bitcoin that are in circulation.

The total number of Bitcoin held on centralized exchanges
It has been estimated by Glassnode that a massive 3 million BTC, which is currently worth $80.4 billion and constitutes 17% of the entire circulating supply of Bitcoin, is considered to be permanently lost. This figure is derived from various data sources including Bitcoin sent to "burn addresses," wallets with lost private keys, and large accounts that have remained inactive for over a decade.