Ethereum (ETH), the second-largest cryptocurrency and the leading altcoin, has maintained a price of approximately $1,850 over the past few weeks. Notably, its price trajectory has closely mirrored that of Bitcoin (BTC) since the start of this year.
Prominent whale-level wallet addresses have consistently been accumulating ETH, according to data from Chain provided by Santiment. The accumulation trend is particularly evident among the top 10 wallet addresses, which now hold a significantly larger portion of the total ETH supply.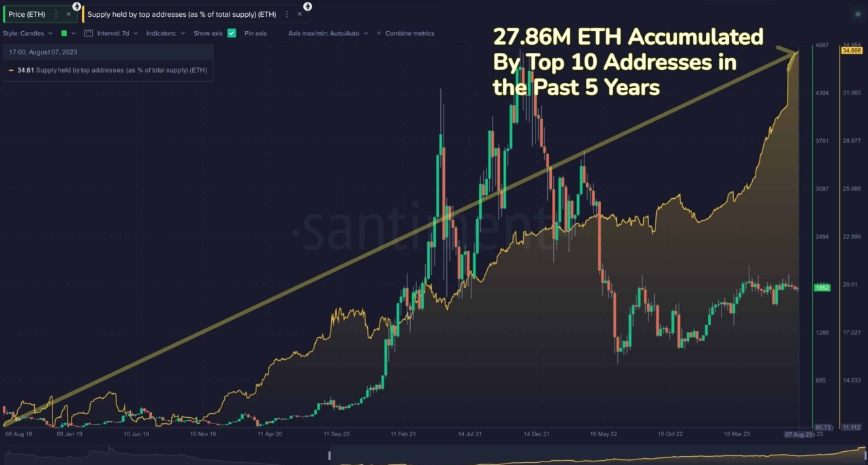 During this period, the holdings of the top 10 wallet addresses have surged from 11.2% to 34.6% of the total supply. This increase, amounting to around 27.86 million ETH, translates to approximately $51.6 billion based on current valuations.
Despite this accumulation, Ethereum's price has primarily mirrored Bitcoin's movements without any major catalyst to drive its price higher, following the Merge event in September 2022.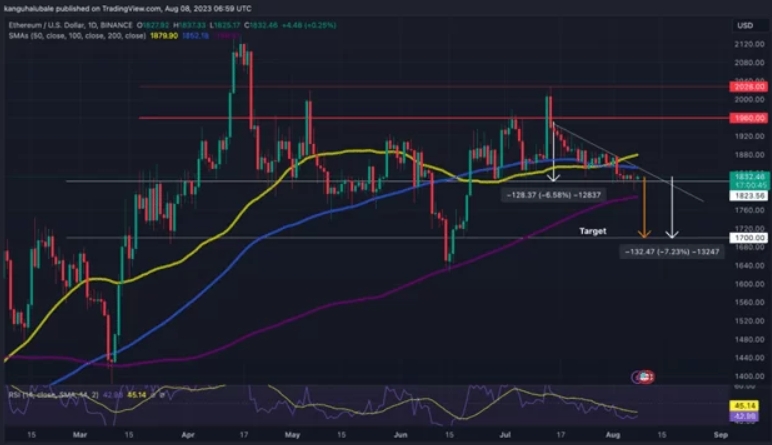 Analyzing the daily price chart of ETH between July 14 and August 8 reveals the formation of a descending triangle pattern. This pattern is characterized by consecutively lower peak points and relatively stable lower levels, indicating negative sentiment among investors. While breaching the triangle's horizontal line and falling below the $1,823 level might signal a continuation of the downtrend, the current price movement is above this level, suggesting a positive trend.
In a potential bearish scenario, the initial significant psychological support level for ETH lies around $1,800. Additionally, the 200-day Simple Moving Average (SMA) at $1,788 could provide supplementary support before the potential target level of $1,700, as indicated by the formation.