On May 31, over 386 million OP tokens are slated for unlocking, effectively more than doubling the existing circulating supply.
As the initial vesting period for early contributors and investors concludes, concerns arise about potential downward price pressure, as over 386 million Optimism (OP) tokens, valued at $587 million based on current prices, are set to be unlocked on May 31.
This upcoming OP token unlock on May 31 represents one of the most significant unlocking events of the year. Given the existing total circulating supply of merely 335 million OP tokens, the unlocking has the potential to more than double the circulating supply, exceeding a 100% increase.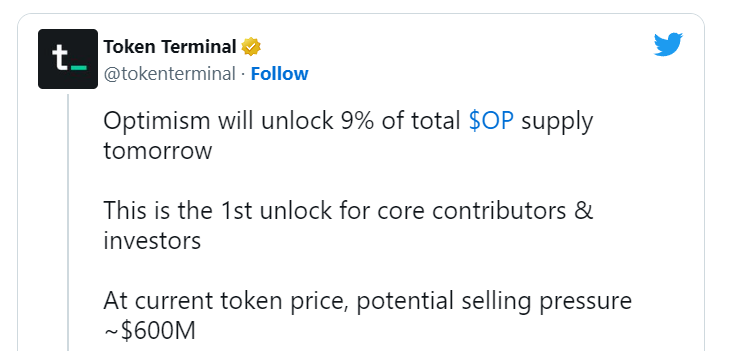 Based on insights provided by Unlock Calendar, a token unlock research firm, there is a notable possibility that the unlocking of Optimism's native OP token could generate substantial selling pressure. This is primarily attributed to early-stage investors who have accumulated significant returns.
Prominent crypto venture capital firms such as Paradigm, Andreessen Horowitz (a16z), and IDEO CoLab Ventures are among the major seed investors in Optimism. CryptoRank data reveals that Paradigm and IDEO, the investment firms involved in the seed round, have currently experienced over a 10,000% increase in their initial investments.
However, on average, it seems that venture capital firms have entered at an approximate buy-in price of $0.24, resulting in a collective gain of 529% at present.
Token unlocks are planned events where tokens allocated to early-stage investors and major contributors to project development are made available after being locked for a specified period. Cryptocurrency projects commonly implement token locking mechanisms to prevent significant asset sales during periods of low liquidity, which could have a significant impact on the token price.
Optimism operates as a layer-2 scaling solution that aims to enhance the speed, affordability, and efficiency of transactions and activities on the Ethereum network. The OP token serves as the governance token for the Optimism network.
In June of the previous year, Optimism initiated its inaugural airdrop, allocating OP tokens to approximately 250,000 addresses linked to early network users. Subsequently, on February 9, 2023, the second significant airdrop took place, disbursing over 11 million OP tokens across 307,000 distinct addresses.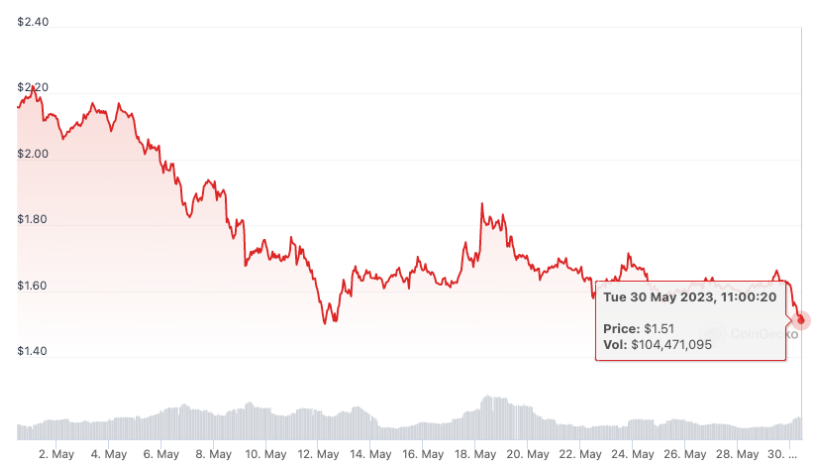 Although the airdrops led to temporary surges in trading activity, the price of the OP token has experienced a consistent downward trend in recent months. Additionally, it has suffered a notable short-term decline prior to the unlocking event, currently trading at $1.51 per token, reflecting an 8.5% drop in the last 24 hours.
Data provided by CoinGecko reveals that the OP token has declined by 53% from its all-time high of $3.54, which was reached earlier this year on February 24th.
Earlier we wrote about fan tokens.