Clashub is a card game with NFTs, offering a Play to Earn system in its tokenomics for all launched and upcoming NFT collections. The main feature is the ability to use NFTs from various collections in one game.
Contents: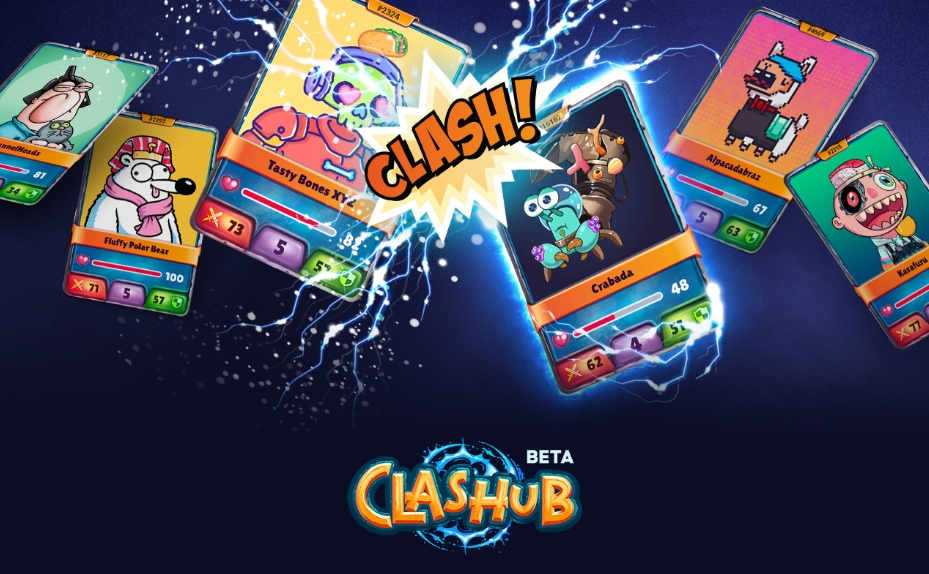 How to Play Clashub?
The main feature of Clashub is the conversion of NFTs from approved collections into game cards. This process is generated automatically by the Clashub algorithm.
To become a player on the Clashub platform, you need to follow a few simple steps:
You must have at least 3 NFTs from collections approved by Clashub. These NFTs can belong to different collections.
You must complete the registration, which will allow you to connect to the Clashub website using your Metamask wallet on the BNB Chain and join the system as a player.
If you intend to play in paid game modes, you will also need a sufficient amount of CLASH tokens in your wallet.
After that, you can start battling with other players or participating in tournaments. The game is played in a turn-based battle format. Each player selects three NFT cards that they will use in the battle. The cards have different attributes and abilities that can be used to defeat the opponent. The player who first destroys all of the opponent's cards wins. In case of a draw, the game ends in a tie.
Tokenomics
The platform's economy is based on the CLASH token. It plays a role in the DAO system, voting processes, and the inclusion of NFT collections. CLASH also serves as the in-game token used for purchases on the game's marketplace and receiving in-game rewards. The total token supply is limited to 1,000,000,000 units.
Before the platform's launch, two sale procedures are planned - Private Sale and IDO, in which investors will be offered 14% of the total token supply.
Roadmap
ClashUb is in an active development stage, and the project team plans to release the game in full by the end of 2023. In the coming months, the team plans to add:
Date
Event
August 2023

Launch of the Clashub Journey leveling system.

Release of exclusive tournament infrastructure for gaming guilds.

October 2023

Start of the initial CLASH token offering (IDO).

Token distribution (Airdrop) to Testnet players. Clashub goes live on the mainnet.

December 2023

Publication of the Clashub Live Mode test network.

Launch of the mobile / tablet version of Clashub.
ClashUb is an interesting and engaging game that offers players numerous opportunities for interaction. The game is in the development stage, but already it provides players with plenty of opportunities for enjoyment. If you are looking for a new and exciting game, ClashUb is an excellent choice for you.