Stable Fund presents its first project in the ecosystem - Stable Fund Vault. This is a unique platform that allows users to receive a static daily ROI (Return on Investment) of 4-5% by simply staking their BUSD (Binance USD - a USD-pegged stablecoin).
Contents: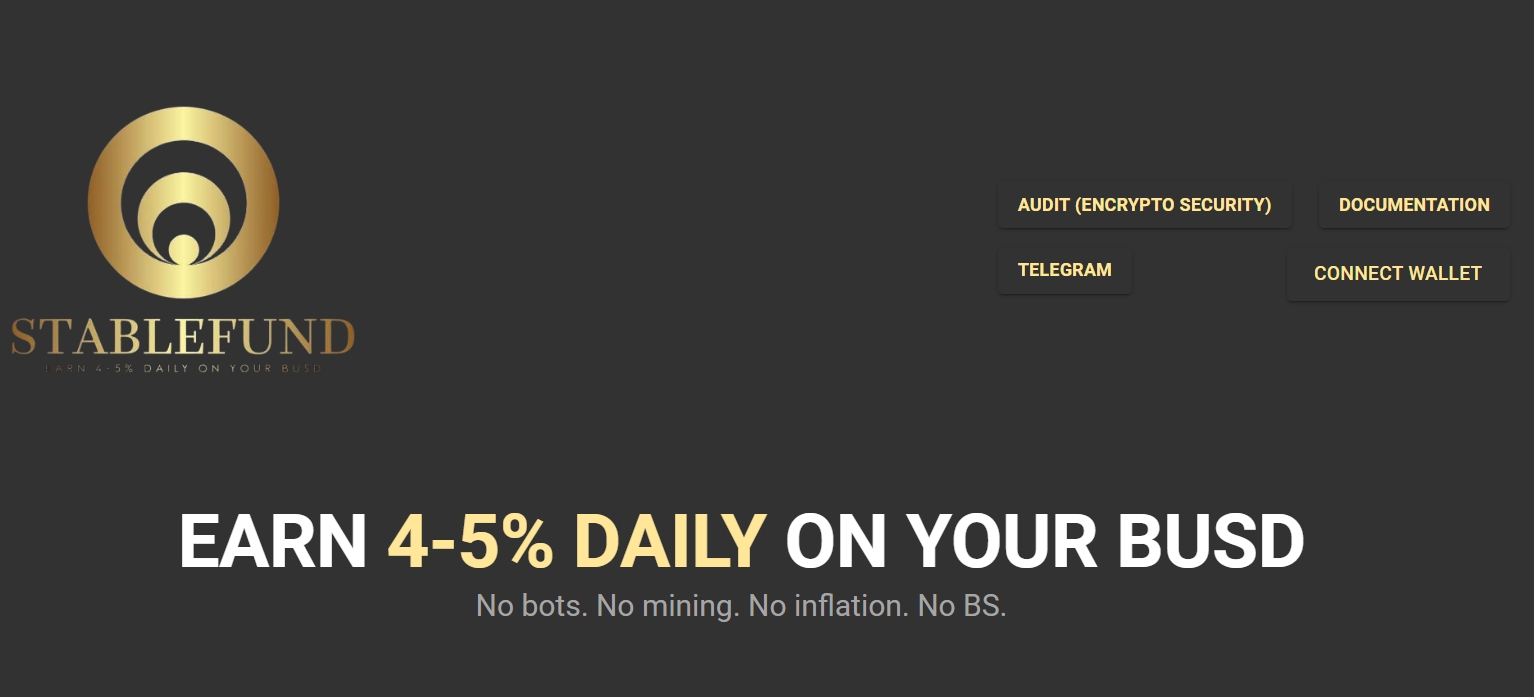 Key Features of Stable Fund
The DeFi project has the following features:
Staking: Users can staking their BUSD and receive a daily ROI of 4 to 5%. The minimum staking amount is 10 BUSD, and there is no maximum limit. A 10% fee is charged for staking, and there are no other fees.
Stable Key NFT: Creating a Stable Key NFT increases your daily ROI from 4% to 5%. Owning this NFT guarantees significant advantages in future projects within the STABLE FUND ecosystem.
Compounding: Compounding your BUSD adds to your current staking, generating more daily rewards. There is no fee for compounding.
Withdrawal of Funds: Users can withdraw their BUSD rewards. These funds may be useful for future projects within the STABLE FUND ecosystem. There is no fee for fund withdrawals.
Emergency Withdrawal: Emergency withdrawal allows you to withdraw 50% of your current staking once. There are no other penalties for emergency withdrawal, and you will continue to receive rewards on the remaining 50% of your staking.
Referrals: Earn 4% from the staking of users who join using your unique referral link.
Weekly rewards based on Total Value Locked (TVL): Win up to 2% of the TVL on a weekly basis. You can win as follows:
Win 1% by making the highest deposit of the week (highest weekly staking + compounding).
Win 1% by being the top weekly referrer (highest amount of weekly referral rewards).
How to Join the Platform?
Trust Wallet
Trust Wallet is a secure p2p cryptocurrency wallet and exchange that supports BSC (BNB). Here's how you can use Trust Wallet to join Stable Fund:
Download and install Trust Wallet on your phone.
Deposit BNB into your BSC wallet.
Go to the Dapp browser within the wallet and enter the official link to the website.
Select the amount to deposit and click "Join".
MetaMask is a browser extension that provides a cryptocurrency wallet supporting multiple networks.
Here's how you can use MetaMask to join Stable Fund:
| | |
| --- | --- |
| Step 1 | Open a web browser with the MetaMask extension loaded. |
| Step 2 | Enter the official website. |
| Step 3 | Allow MetaMask to connect to the official Stable Fund website. |
Thus, Stable Fund offers a unique opportunity for users to earn passive income by using their BUSD. Joining Stable Fund becomes even easier with Trust Wallet or MetaMask.