Move-to-earn decentralized applications reward people for doing certain things in the real world. There is more to this new industry trend than just getting tokens after running or walking. There are various ways to use this technology on different platforms for the benefit of users. And people can also engage in all the usual profitable activities: staking, yield farming, minting, trading and coin speculation.
But what is Move-to-Earn and how do people make money from it? More importantly, does the movement have a future, or will it be here today and disappear tomorrow?
Contents:
Move-to-earn as a concept
Psychologists have long figured out that activity gamification is a great way to stimulate and motivate people to complete tasks. Move-to-earn is not a new idea. Just look at fitness app Fitbit, which has over 31 million users since its launch in 2009. And that's just taking into account people who use it once a week.
The Lympo app has been around for several years, paying out LYM tokens to people for a healthy lifestyle. But it wasn't until 2022 that the movement really began to take off.
The concept of "move to earn" is simple: users are rewarded for moving and exercising in the physical world. Move-to-earn platforms combine GPS, NFT, blockchain and GameFi technologies to track people's movements and provide them with benefits.
Since this is still a relatively new industry, it is difficult to pinpoint the exact number of involved users and how much money it brings in. But if you look at StepN, one of the most famous platforms, you can see that it already has over 550,000 users. And players have released over 420,000 sneakers, in-game NFTs that people have to equip to earn money.
Move-to-earn takes existing technologies and combines them in an original way to produce an entirely new product. But innovation in this sector does not stop there. Different platforms use the move to earn mechanics in different ways to suit their goals.
Some have already begun calling the new gaming brand M2E FitnessFi, where "Fi" stands for finance. After all, tokens allow the game's internal economy to spread outwards. Similarly, GameFi represents blockchain games and DeFi is a general term for decentralized finance, based on smart contracts.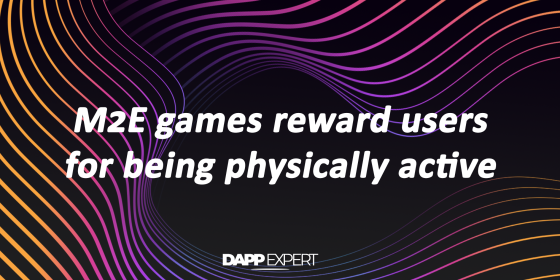 How do platforms use the move-to-earn method?
There are various use cases for the move to earn technology. Some platforms have chosen to integrate it into their RPGs so that your exercises in the physical world will help you to progress on your adventure in the virtual world. Similarly, in some games, you level up your battle avatar by moving around in real life.
There are games that even allow you to compete against your friends or other players from all over the world. You and your opponent enter a 1-1 competition where you have to complete a pre-set challenge. Each of you puts your bet into the winner's pot. The AI tracking tool determines the winner and whoever comes out the winner wins a prize.
Of course, some earning platforms are purely for exercise. And the premise is very simple here: run or walk and generally move around in the real world and you will be rewarded with in-game tokens.
As M2E technology advances, expect more virtual worlds to be integrated into their platforms. OliveX, the fitness company behind The Dustland, bought some of the land at The Sandbox last year.
How to make money with Move-to-earn?
There are several ways to earn cryptocurrency, and not all of them necessarily involve moving from the couch to the real world. But obviously, as the name M2E suggests, this is the main way to earn rewards and accumulate your money.
Ways to earn cryptocurrency:
| | |
| --- | --- |
| Exercises | The main part of Move-to-earn (running through parks, streets and forests) can literally make you money. The vast majority of M2E platforms reward players with their in-game currency. For StepN it is GST and for Step App it is FITFI. Genopets has GENE and The Dustland DOSE. In all these games, you can earn in-game currency and use it on the platform or turn it into hard money. |
| Minting | Players can create important in-game NFTs on platforms like StepN and Step App and then use or trade them on the market. Currently, and this may change quickly, the sneaker has a minimum price of 11.6 SOL ($440) on StepN. |
| Trading | In-game items and NFTs are an important feature of M2E games, which means they are heavily traded in secondary markets. Genopets avatars currently have a minimum price of 49.9 SOL ($2049) and their Habitat virtual worlds have a minimum price of 59.9 SOL ($2449). |
| Staking | Since all of these platforms use GameFi mechanics, most of them have good staking opportunities. The Step App has introduced what they call perpetual staking, which means users can stake once and earn ongoing rewards. StepN allows users to stake their Sneaker NFTs to earn rewards. |
Every game or app, based on Move-to-earn, depends on cellular and GPS signals to track your location. If the app detects that the signal is weak, there is a good chance that you will not receive a reward.
Top 5 decentralized applications to try today
Whether you're a fitness enthusiast or not, you'll get double the benefits with games that can earn money.
Firstly, you will be in great physical shape because you will be walking or participating in fitness tasks. This is a significant advantage of games, based on M2E.
Another benefit is that you can earn some income from this. Since walking is part of daily life, you can earn extra income by doing your daily activities and staying fit. Rewards are the reason people actually use these apps. So it's like shooting two targets with one arrow. You earn tokens or money to stay fit.
Knowing how to use Move-to-earn platforms - the first step to making your exercises pay off. Knowing which dapps are currently leading in terms of community size, rewards, usability and ecosystem maturity is the key to making real money.
StepN
When it comes to games that need to earn money, STEPN is the most famous in the world of Web3.0 and cryptocurrencies. This app will reward you for completing workouts. You will be able to earn some in-app GST for doing various activities such as walking, cycling, running and more.
The more you move, the more GST tokens you can earn.
StepN
These GST tokens are useful for buying new avatars or buying some in-app upgrades. Apart from this, you can even exchange your GST tokens for other cryptocurrencies or invest in them. So, there are many possibilities for you in this application.
The only downside to this app is that you need to buy NFT sneakers to start earning any rewards. These sneakers will determine the amount of tokens you can earn. The app has an NFT Market where you can buy and upgrade your shoes to level up your game. You can even rent sneakers from the NFT marketplace.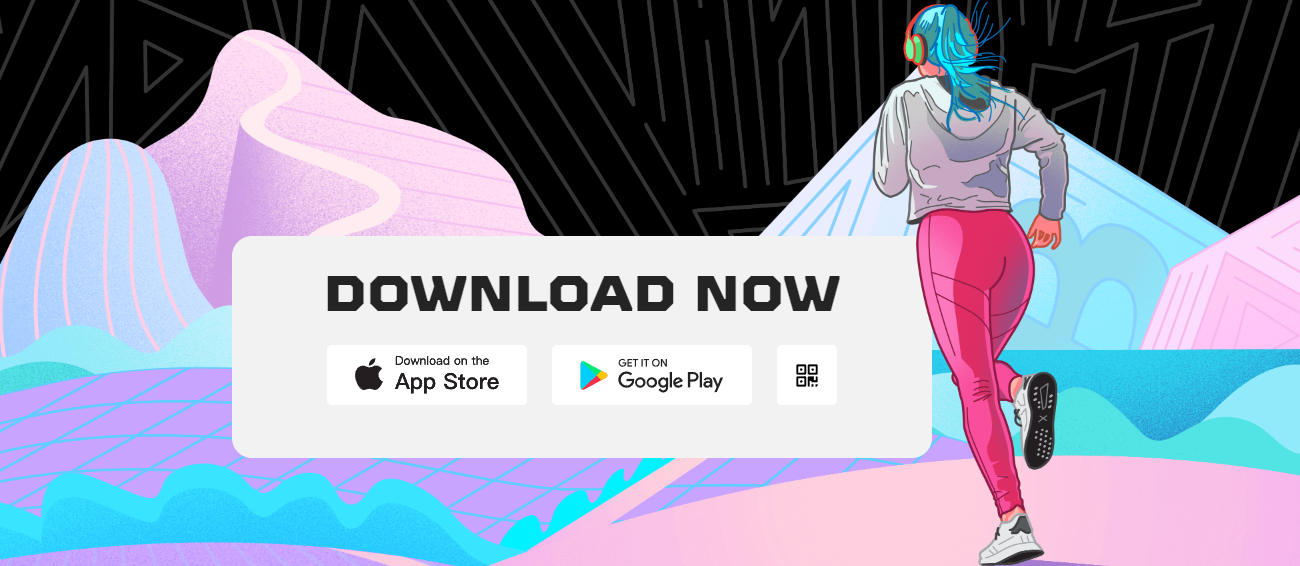 In addition to the GST token, the STEPN app also has a GMT (Green Metaverse Token) to govern the platform. The higher the level of your NFT sneakers, the more tokens you can earn in this application.
Step App
Step App — a fairly new platform, inspired by the STEPN platform. This app works similar to the STEPN platform, so you need to buy upgradable sneakers to earn rewards.
The platform uses KCAL as a utility and reward token. So you can trade or buy NFT sneakers on this platform with KCAL tokens. The Step App works to turn your fitness goals into income and friendly competition.
The app also supports microtransactions so you can make in-app purchases from the app store, including sneakers, avatars, card styles, and more. You can also participate in various tournaments with your friends and players from all over the world by using your tokens.
FITFI — another token, used to govern the Step App ecosystem. This token helps to determine revenue distribution, development milestones and burn rate.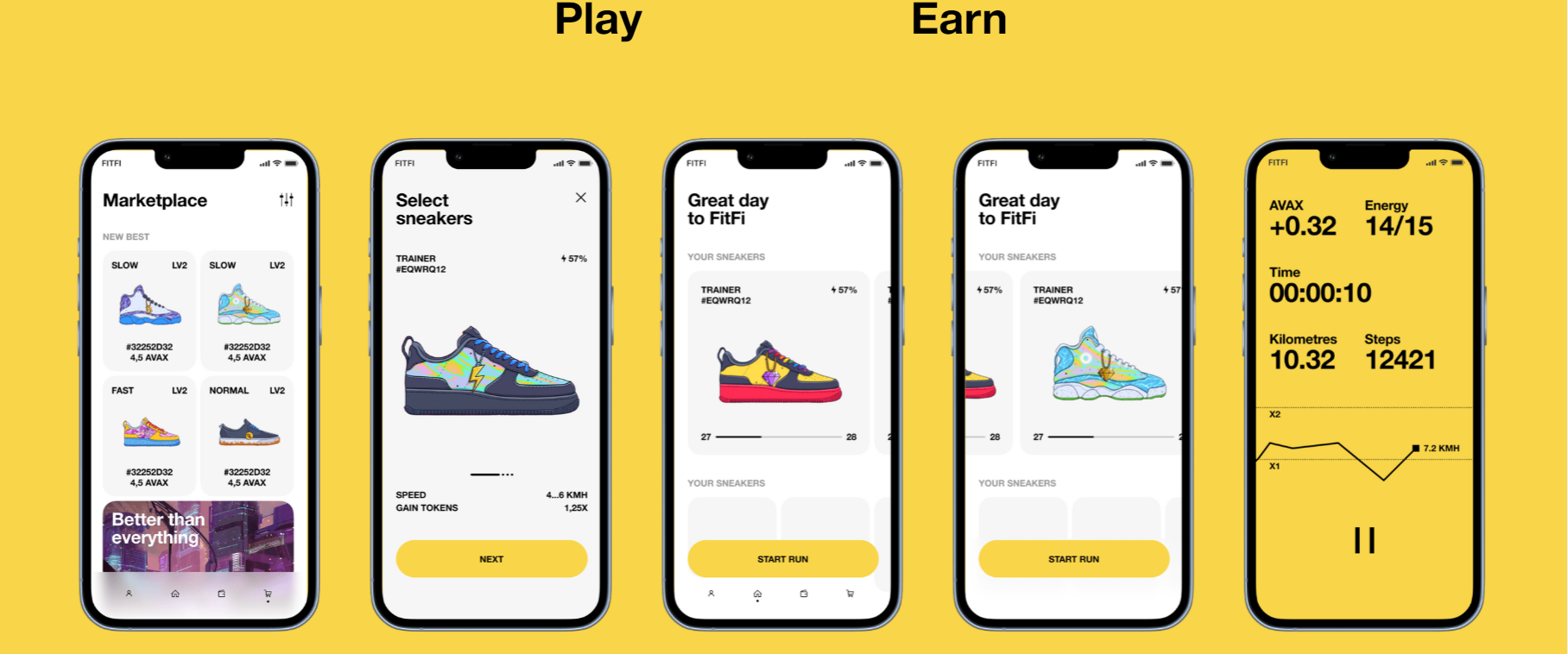 Genopets
If you are a Pokemon Go fan, you will be quite interested in playing Genopets. You will have to take care of your digital pet and help it to grow. As you move, your digital pet will get stronger. You will receive rewards, depending on how many tasks you complete daily.
The best thing about Genopets is that it is the first NFT game that does not require any investment. You can customize the Genopet NFT as you wish and accumulate XP, based on your daily steps.
The Genopets platform also has two tokens:
the GENE token help to manage the platform;
the KL token is used as a reward token for users.
You can start playing for free and start minting NFTs to sell a huge amount of in-game NFTs, including crystals and habitats.
Dustland
Several companies have come up with games, where you need to earn money. But Dustland decided to give this game a story worth playing. According to the plot, the whole Earth is scorched, only Dustlands remains. These ghost towns are filled with pirates. So, you have to run for resources and find other survivors to move on and explore the secrets of Dustlands.
The more you practice in the real world, the more rewards you can earn in the crypto game. Complete as many missions as possible to get the best rewards. In addition, you can earn both tokens and NFTs as rewards.
Dustland has DOSE tokens to both run the platform and reward users. As you go up the levels, you will see that it becomes more and more difficult and rewarding.
You can use DOSE tokens to purchase in-game items, upgrade your avatar, and more.
Sweatcoin
This is a famous smartphone app that rewards you for maintaining good physical health. When you engage in physical activities such as cycling, walking, running, etc., you can earn reward points, called "sweatcoins".
Sweatcoin does not pay users with cryptocurrencies, but has its own reward system. There is no initial investment, required to earn sweatcoins with this app. This is a new generation currency that can help to buy cool things, get discounts or even donate to charity.
You can also convert your sweatcoins to SWEAT within the app. SWEAT — the native token, used in this application. You will earn sweatcoins, based on your daily steps.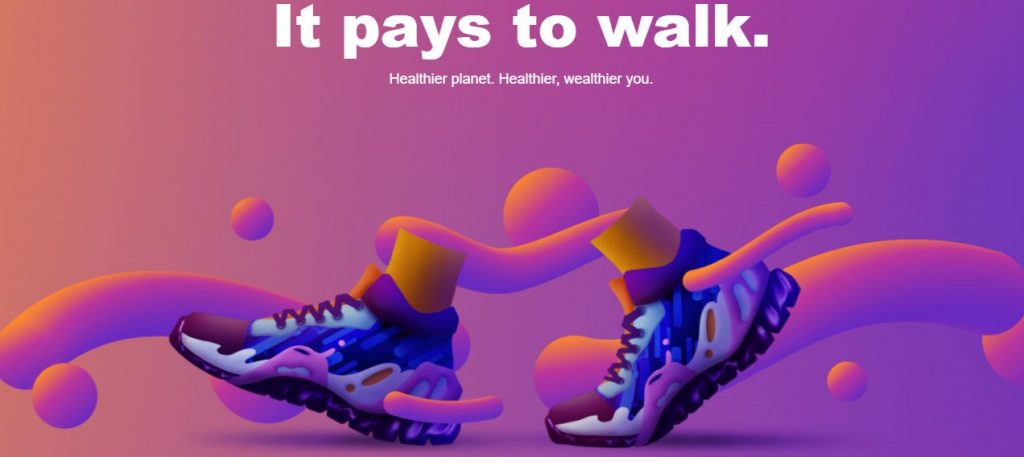 You can upgrade the app to the premium version to earn more coins. It will also help you to access some decent deals in the store.
Conclusion
A lot is happening in the world of blockchain, related to physical fitness. Move-to-Earn games — the best way to combine fitness and cryptocurrency to generate additional income. So these apps will be good for both your physical health and your pockets.
The concept of M2E cryptography is very popular in the market and its use is only increasing over time. This is your time to get into the trend and earn extra crypto tokens while maintaining your physical health and fitness.