ShibaSwap is a decentralized financial (DeFi) platform that provides the opportunity for decentralized exchange (DEX) and offers various services for generating passive income, such as staking, liquidity provision, and yield farming, within its ecosystem.
The ShibaSwap platform was launched in July 2021 and is a fork of SushiSwap, a well-known DEX, which, in turn, is a fork of Uniswap - the leading DEX in the world by trading volume. However, ShibaSwap differentiates itself from its competitors by focusing on increasing the utility of Shiba Inu tokens and supporting this cryptocurrency.
Contents: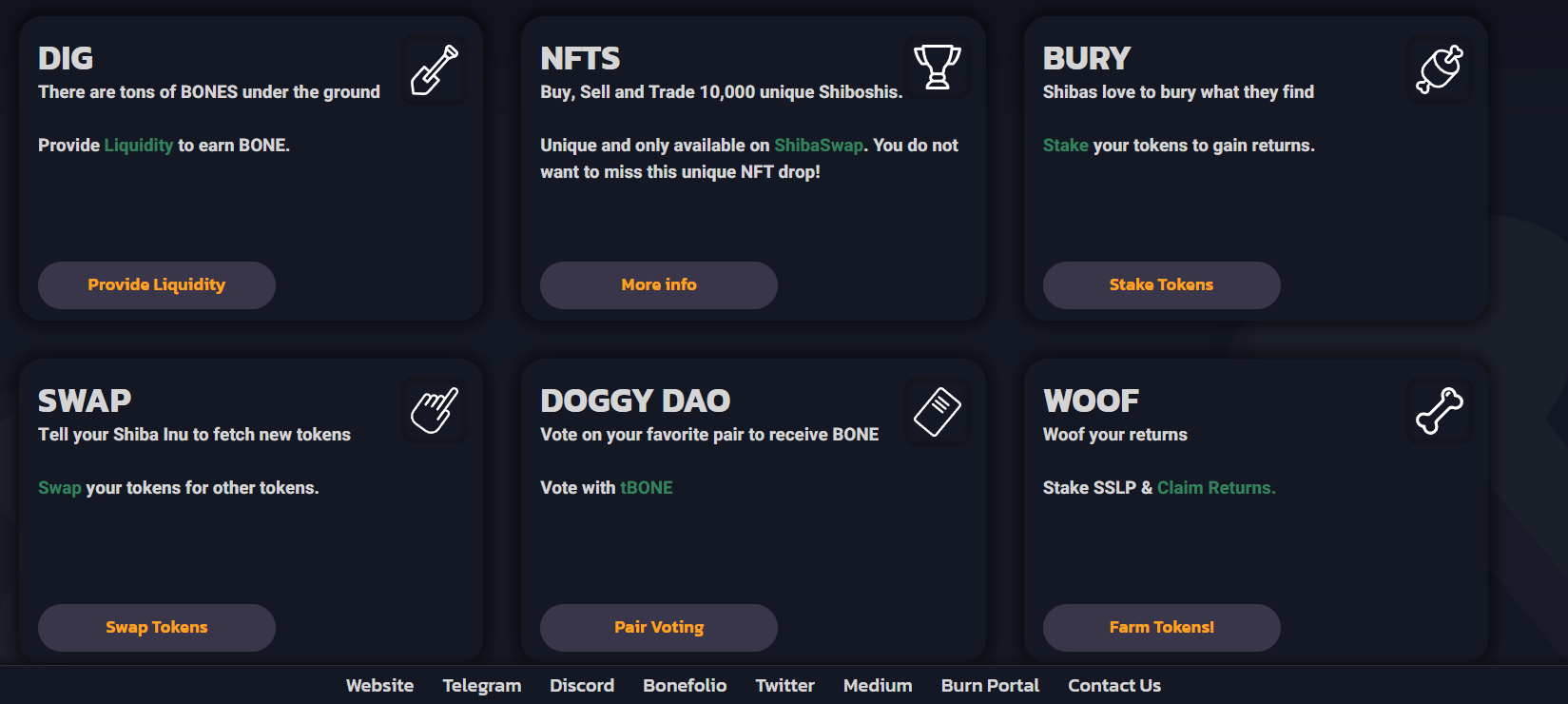 What are Shiba Inu tokens?
ShibaSwap uses three main tokens: SHIB, Doge Killer (LEASH), and Bone (BONE).
Shiba Inu (SHIB)
A meme coin created in August 2020 by the pseudonymous "Ryoshi" and inspired by Dogecoin.
The initial coin offering was one quadrillion SHIB, with half allocated to Vitalik Buterin.
Subsequently, Buterin donated 50 trillion SHIB to the India COVID-19 relief fund and transferred the remaining 450 trillion tokens to an inactive wallet.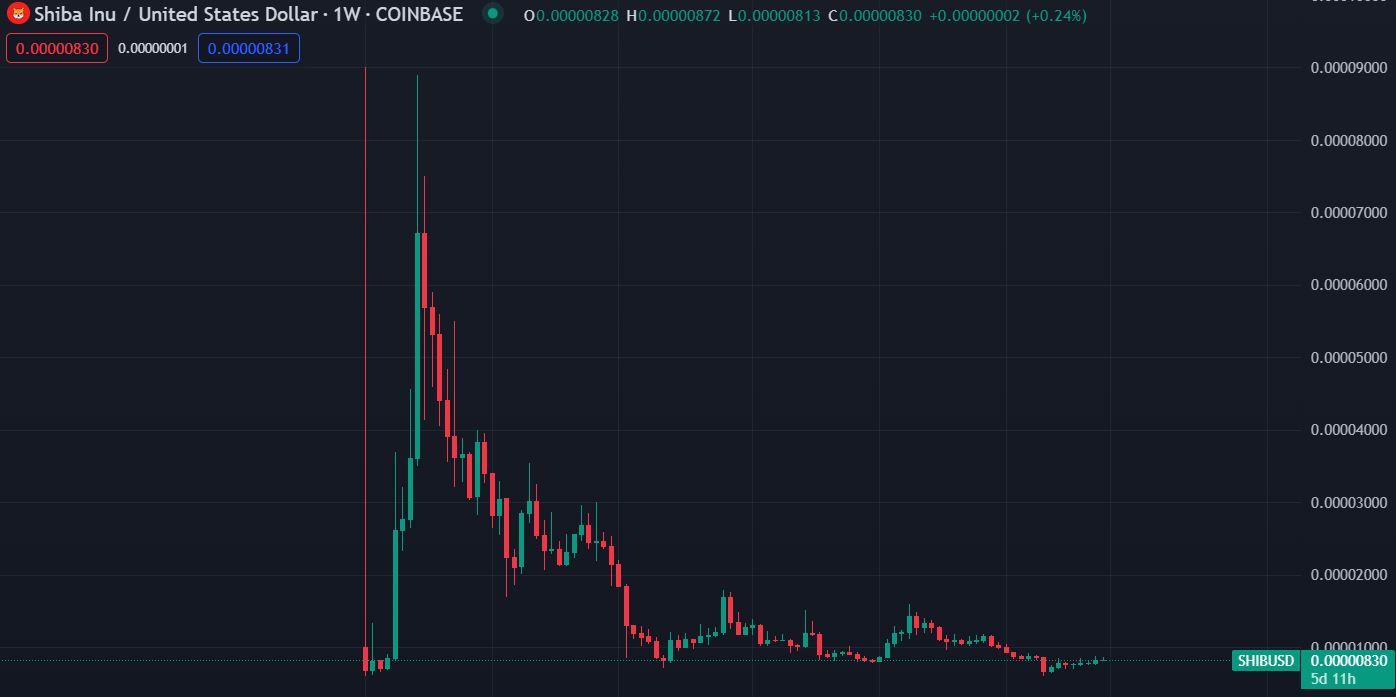 Weekly price chart of SHIB/USD.
At the same time, the remaining 500 trillion SHIB was locked on the Uniswap platform, and the owners intentionally disposed of the private keys.
Doge Killer (LEASH)
LEASH, as its name suggests, was created as part of SHIB's efforts to dethrone Dogecoin as the leading meme coin by market capitalization. In the early days of the token's existence, there was an unsuccessful attempt to peg its price to DOGE at a ratio of 1:1000.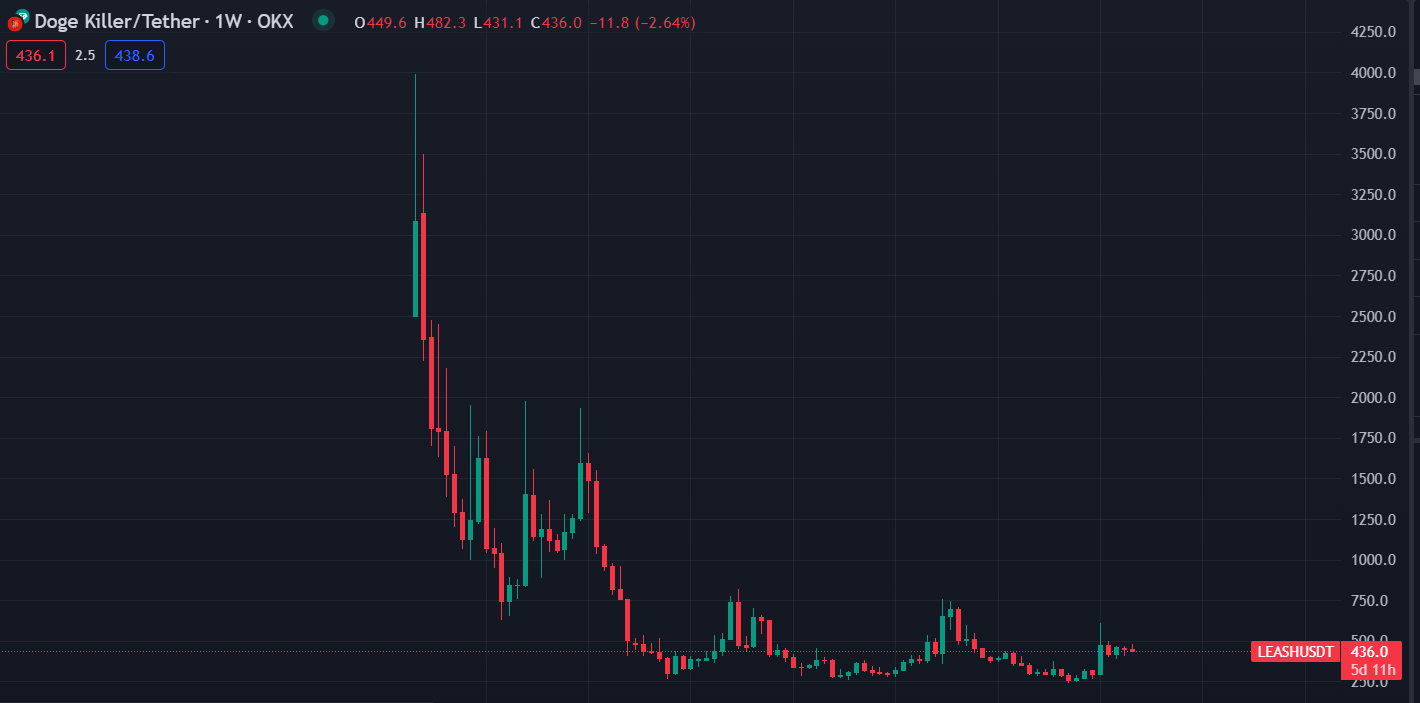 Weekly price chart of LEASH/USD.
LEASH is an ERC-20 standard token with a limited supply of 107,647 tokens.
Bone (BONE)
The Bone token (BONE) serves as the governance token in the ShibaSwap ecosystem. In other words, owning BONE tokens allows users to propose and participate in voting on protocol changes through the Shiba Inu Doggy DAO.
Weekly price chart of BONE/USD.
The maximum supply of BONE tokens is 250 million.
How does ShibaSwap work?
ShibaSwap enables direct trading of supported ERC-20 tokens between users. The most liquid tokens on this decentralized exchange are those related to the Shiba Inu ecosystem. According to the data, BONE and LEASH have the highest trading volumes and order book depths.
Staking (BURY)
SHIB, LEASH, and BONE holders have the option to staking or deposit their coins into ShibaSwap pools for a specified period to earn a pre-set Annual Percentage Yield (APY). These earnings are paid out in the form of wrapped versions of the staked tokens. For example, if a user stakes 1 LEASH, they will receive 1 xLEASH. Rewards in the pools are distributed weekly, but users can only claim one-third of the total amount. The remaining vested capital remains locked for six months.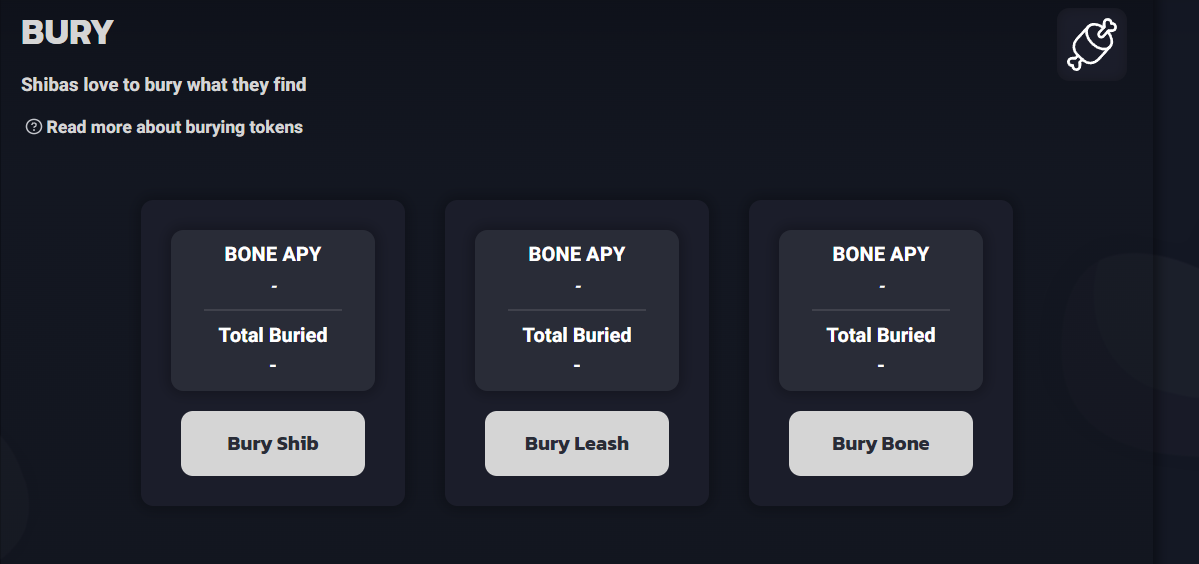 Liquidity Pools (DIG)
On ShibaSwap, users receive rewards for each trading operation (0.3% of the trade volume) depending on the liquidity they provide for coin pairs on the platform. These rewards are paid in the form of Shiba Swap Liquidity Provider (SSLP) tokens, which liquidity providers can exchange for BONE coins at their convenience.
Yield Farms (WOOF)
SSLP token holders have the option to deposit them into yield farming pools on the ShibaSwap platform and earn rewards in the form of BONE tokens. This reward mechanism is similar to the BURY system, where users can instantly claim one-third of the reward but need to lock the rest for six months.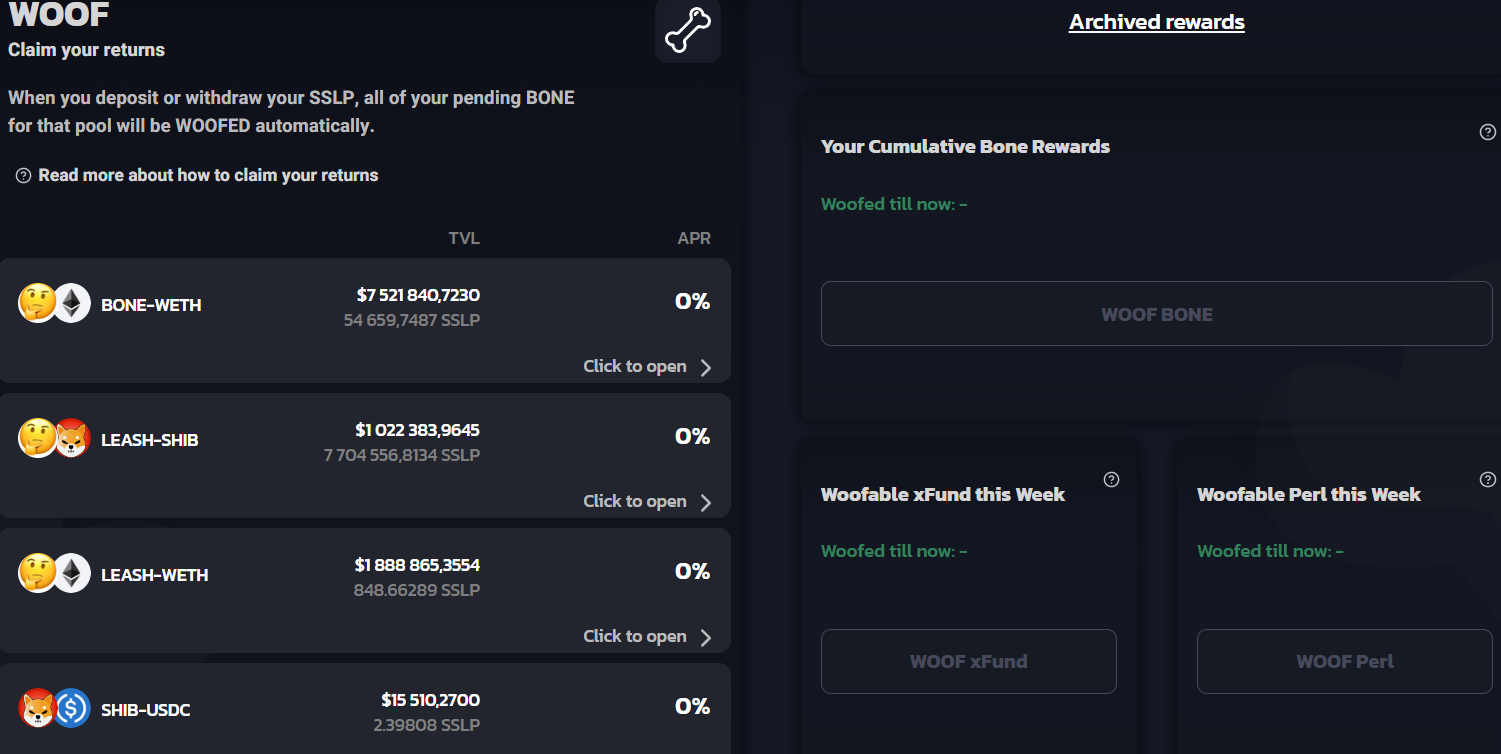 ShibaSwap offers various yield farming pools that provide rewards in Ether, Wrapped Bitcoin (WBTC), Dai, Tether, and USD Coin, as stated in the DEX documentation.
Burn Portal
On the ShibaSwap platform, users have the option to voluntarily burn their SHIB tokens by sending them to an inactive address. In return, the platform rewards users with Ryoshi (RYOSHI) tokens - an ERC-20 token specifically created as an incentive for burning SHIB tokens.
NFTs
On the ShibaSwap platform, users can also create, personalize, and trade their unique tokens called "Shiboshis," which are non-fungible tokens (NFTs) featuring the Shiba Inu mascot. These 10,000 digital collectibles are expected to be part of a gaming project called "Shiboshi Game."