The BNB Acceleration Model (BAM) is an innovative protocol in the world of decentralized finance (DeFi). This protocol offers unique tools and opportunities for investors and participants in the cryptocurrency market. BAM has a number of key features and capabilities.
Contents: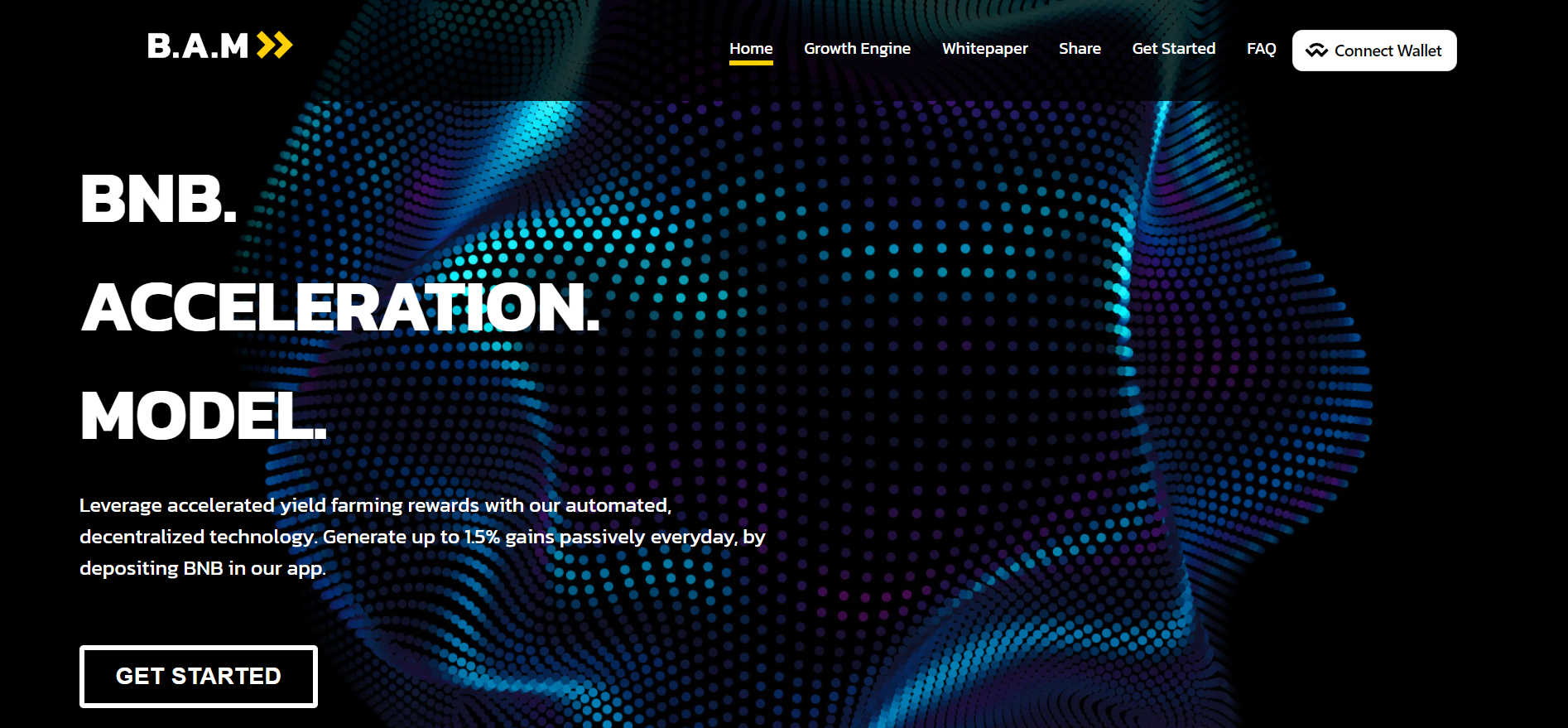 About the BNB Acceleration Model Platform
The goal of BAM is to provide access to its own liquidity pool and farming protocol, allowing users to manage their assets for scalable asset growth. The project chose the BNB network due to its speed, cost-effectiveness, and scalability, enabling predictable returns within a unified financial ecosystem.
BAM describes itself as "mad scientists" in the DeFi lab, aiming to provide users with stable, reliable, and passive cryptocurrency income.
Users can generate passive income by providing liquidity and earning returns of up to 250%. BAM offers a fixed return rate, which can increase as additional liquidity is added, up to 1.5% per day.
| Type of Information | Description |
| --- | --- |
| BAM Yield Farming | The process of using DeFi to maximize returns. Users can provide liquidity and earn returns in cryptocurrency on their BNB assets. |
| Smart Contracts | Self-executing lines of code with conditions of agreement between buyer and seller, automatically verified and executed through a computer network. |
| Platform Contract | The plan offers fixed daily returns of 1% to 1.5% (depending on the total amount of active investments). Asset growth is capped at 250%. |
BAM Technologies
BAM is designed for rapid growth, sustainability, and a "feed-in" system. Excess liquidity is directed into the contract from fees, farms, pools, and other protocols that contribute to the BAM financial ecosystem.
To ensure the long-term sustainability of the BAM financial ecosystem, it has developed its own mechanism against "whales," ensuring stability and a healthy environment for all participants.
General program rules:
The minimum stake to start generating passive income is 0.01125 BNB;
The maximum active stake is 500 BNB.
Users can make deposits frequently, which are added to their active stake balance.
BAM offers a multiple-stake strategy recommended for participants aiming for accelerated asset growth. This allows having multiple active stakes simultaneously on one's account, increasing potential for higher returns.
Participants can additionally earn up to 21% referral commissions across five levels of the referral program. To receive commissions from referrals, participants must have an active stake. All referral commissions contribute to a participant's growth of up to 250% of their personal stake.
BAM employs liquidity injection technology, ensuring protocol stability and sustainability. This is achieved by injecting fees, farms, pools, and other protocols into the BAM financial ecosystem. This feature allows participants to unlock residual bonuses from their five-level deep team. To activate this feature, participants must have a minimum of 100 BNB in their structure volume.
A deposit fee of 10% is charged upon deposit. Similarly, a withdrawal fee of 10% is charged upon withdrawal. Additionally, there is a 10% yield farming fee (performance fee).
All BAM smart contracts are fully decentralized, ensuring transparency and immutability of all transactions. This guarantees that all operations can be verified and traced on the blockchain. BAM represents a groundbreaking solution in the world of DeFi, providing participants with tools to increase their assets and generate passive income.