Crossmint is a set of APIs and tools that will help you create, distribute, sell, and manage storage of NFTs for your users, offering the best user experience in the market. Crossmint is trusted by more than 15,000 companies and developers, including independent NFT creators and collections, as well as companies such as Mastercard, Diageo, airBaltic, Tomorrowland, Cinemark, Magic Eden, and Manifold.
Contents: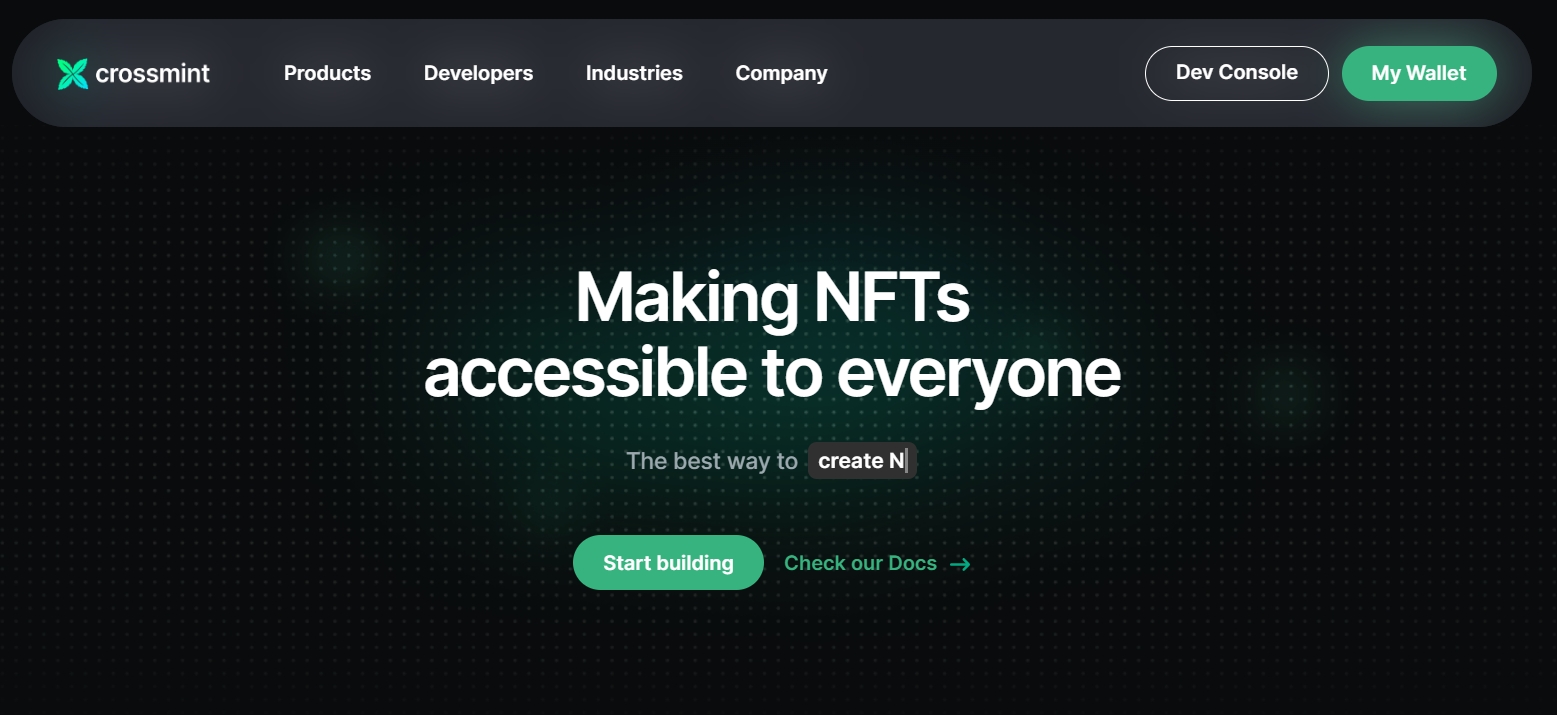 How to Get Started with Crossmint?
To get started with Crossmint, you will need to create an account on the platform. After creating an account, you can connect your wallets to the platform and start building dApps.
To create a dApp, you first need to choose the blockchain on which you want to create your application. Then, you can select a dApp template and start customizing your application. Crossmint offers a wide range of dApp templates that you can use to create various types of applications, such as decentralized exchanges, decentralized wallets, and decentralized games.
After customizing your dApp, you can deploy it on the chosen blockchain.
Deploying a dApp is the process of publishing your application on the blockchain. Once your dApp is deployed, you can use it to interact with other dApp users.
Blockchain Project Features Overview
Crossmint offers a wide range of features that allow anyone to buy your NFTs in any payment method, from anywhere in the world, within 1 minute, even if they don't have a wallet. Here are some of the key features:
Payment Methods: Fiat (credit and debit cards across all networks and in various currencies), Apple Pay, Google Pay, Wechat Pay, AliPay, instant bank transfers, Klarna: Buy Now Pay Later, cryptocurrencies (cross-chain payments).
Modality: No-code stores, add payment button to your own website, fully embedded checkout.
Geographical Coverage: Support for all countries not subject to US sanctions. Customers from over 180 countries have purchased NFTs using Crossmint.
Pricing: Free for projects. Buyers using Crossmint pay a convenience fee, equal to or lower than traditional cryptocurrency onboarding fees.
Blockchains: Ethereum, Polygon, Solana, Cardano, Binance, Arbitrum, Optimism, Base (testnet only), upcoming: Flow, Immutable X, Avalanche, and other EVM networks.
Pricing
Crossmint offers flexible and transparent pricing across its product suite. You can start free testing during development by performing an unlimited number of tests on all major testnets.
Payments
| Payment Type | Seller Fee |
| --- | --- |
| Fiat Payments | Free for the seller. Unlimited transactions. |
| Cross-chain Payments | Free for the seller. Unlimited transactions. |
| Stores | Free for the seller. Unlimited transactions. |
| Prepaid | Setup fee + (Stripe Cost + 5% of GMV) |
Crossmint is a powerful tool for working with NFTs, offering a wide range of features and flexible pricing. Whether you are an independent NFT creator or a large company, Crossmint can assist you with your NFT monetization needs.