CTENA Finance — DeFi staking project
CTENA Finance — a Decentralized Finance (DeFi) protocol that provides a suite of decentralized investment tools, backed by the CTENA token. CTENA Dapp helps to deliver high returns and low risk, using smart contract technology.
Contents: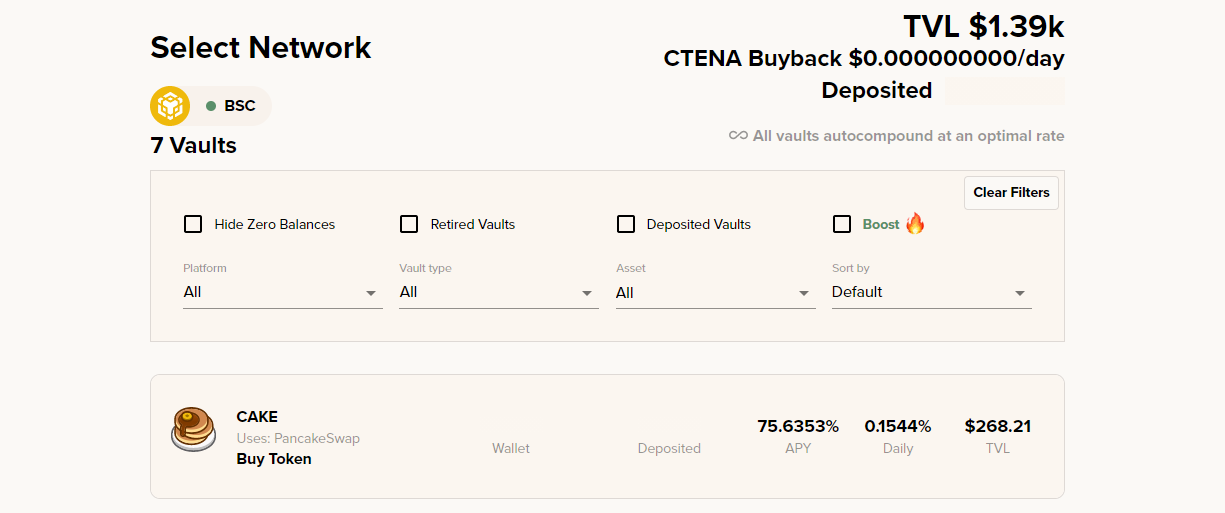 Description of the CTENA Finance platform
CTENA Vault dApp — a decentralized finance (DeFi) profitability optimizer that allows users to earn more cryptocurrency. Using the defi app, anyone with a supported wallet can interact with DeFi products, making it easy to profit from their invested cryptocurrency capital in a secure and decentralized manner. With a suite of smart contracts and multiple investment strategies, CTENA Finance automatically maximizes user rewards from various liquidity pools (LPs), automated market creation (AMM) projects and other farming opportunities in the DeFi ecosystem. This gives a huge advantage over trying to do it manually.
The project runs on its own $ CTENA management token. The CTENA token has the functions of auto-liquidity and burning. It is deflationary in nature and is intended to determine the value and management of a community project.
CTENA Finance
Stake CTENA token and SAKAMOTO, CDEFI, CALT and CSTABLE LP shared tokens to earn more CTENA tokens every minute.
The $ CTA token is listed on the following DEX exchanges:
| | |
| --- | --- |
| 1. | Pancakeswap. |
| 2. | 1inch. |
| 3. | DexGuru. |
Connect your wallet to pancakeswap and exchange BNB or BUSD for CTENA. Don't forget to set the slippage percentage to 12% in the settings. Using the Multi-Chain Yield Optimizer platform, you can invest in CAKE, BTCB-BNB LP, ETH-BNB LP, BTCST-BNB LP, etc. and earn more tokens / liquidity pool shares.
Learn more about DeFi on Binance
At the moment, there is no White Paper on the site. Instead, there is an introductory document. It contains basic information, work details andAlso, there are step-by-step tutorials for easy use RoadMap. Also, there are step-by-step tutorials for easy use.
If you want to stay up to date with all innovations, subscribe to the community on these social networks:
The smart contract has not been audited.
CTENA Finance — DeFi staking project Statistics
Volume
ATH: 2.611
(Nov 30, 2021)