Exchange Jazz Defi Binance BSC
Jazz Defi — a profit-growing and staking platform on the Binance Smart Chain (powered by Pancakeswap). The developers are an experienced group that has been involved in cryptocurrency for many years and strongly believes in safe farming. JAZZ is the platform's native token.
Contents: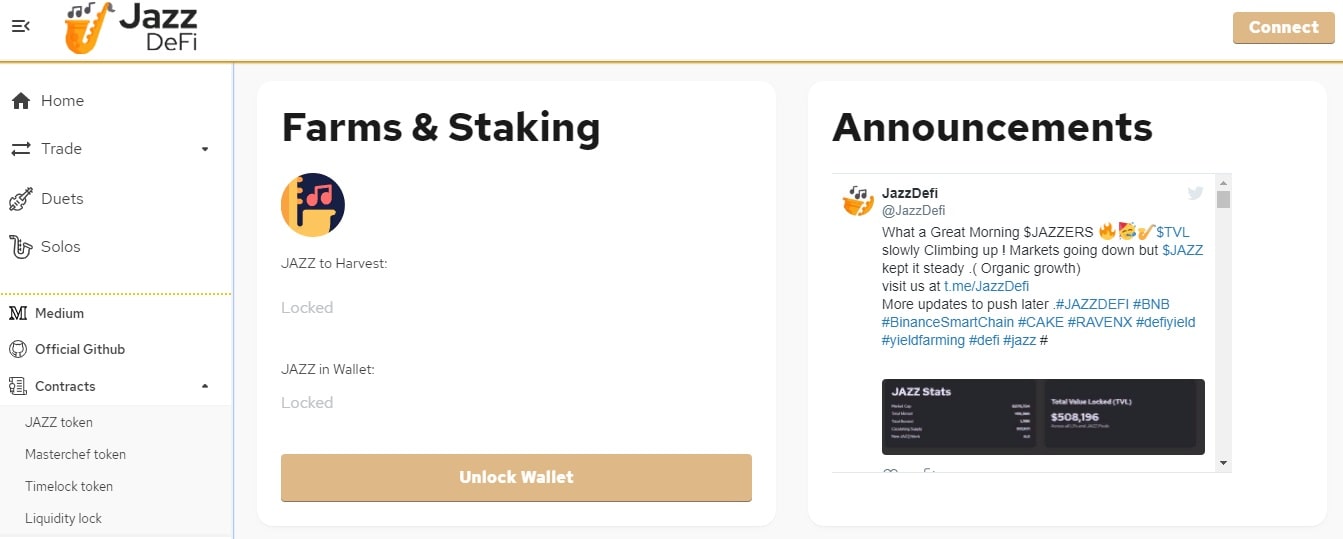 Description of the Jazz Defi project
JazzDefi strives to provide its users with the maximum profitability and token value. Jazz farms will be more rewarded. This allows for strong incentives and high annual interest rates for users who host the platform's own token.
The deposit commission will allow you to redeem the JAZZ token and stabilize its value, as well as create new pools in which you can place JAZZ bets and earn other valuable tokens such as BTC or ETH.
Jazz Defi
In addition to the classic tokenomics mechanisms, users will be able to farm RFI by placing JAZZ tokens, thereby connecting the ecosystem between deflationary tokens and crop farms.
Upcoming updates:
| | |
| --- | --- |
| New pools JAZZ | Thus, the liquidity of the JAZZ token will be increased, and the holders will be provided with more profitable APYs! |
| Lottery | This is a classic of farms with mature yields and the developers also want their own convenient lottery. |
| Partnership | As the BSC world expands, it is planned to establish partnerships with RFI tokens that you can farm. |
The developers strive to provide users with a safe farming experience. The Masterchef contract does not include the de Migrator feature and it will be owned by the Timelock contract with a 12 hour delay. This means that any Masterchef modification will have to wait 12 hours before launching, giving users time to decide whether they want to stay or not. The contracts will be verified as soon as possible.
Social media and more
At the moment, White Paper and RoadMap are not available on the site. The developers provide a blog on the Medium platform. Articles and news are regularly published there.
If you want to stay up to date with all innovations, subscribe to the community on these social networks:
The developers are planning to do AMA with excellent Telegram channels in order to grow the brand and attract more users.