MintPad is an interchain platform for creating and launching NFTs. It is a decentralized application (dApp) that helps NFT projects across blockchains easily create tokens on platform. Users will be able to access information about upcoming coin releases and their reliability ratings. Additionally, MintPad enhances NFT security with its KYCed mints feature, providing users and projects with the desired safety and trust in the crypto space.
MintPad will operate on 2500 NFT Mintpasses and the MintPad token, which will be used for staking, accessing the MintPad whitelist of coins, and much more.
Contents: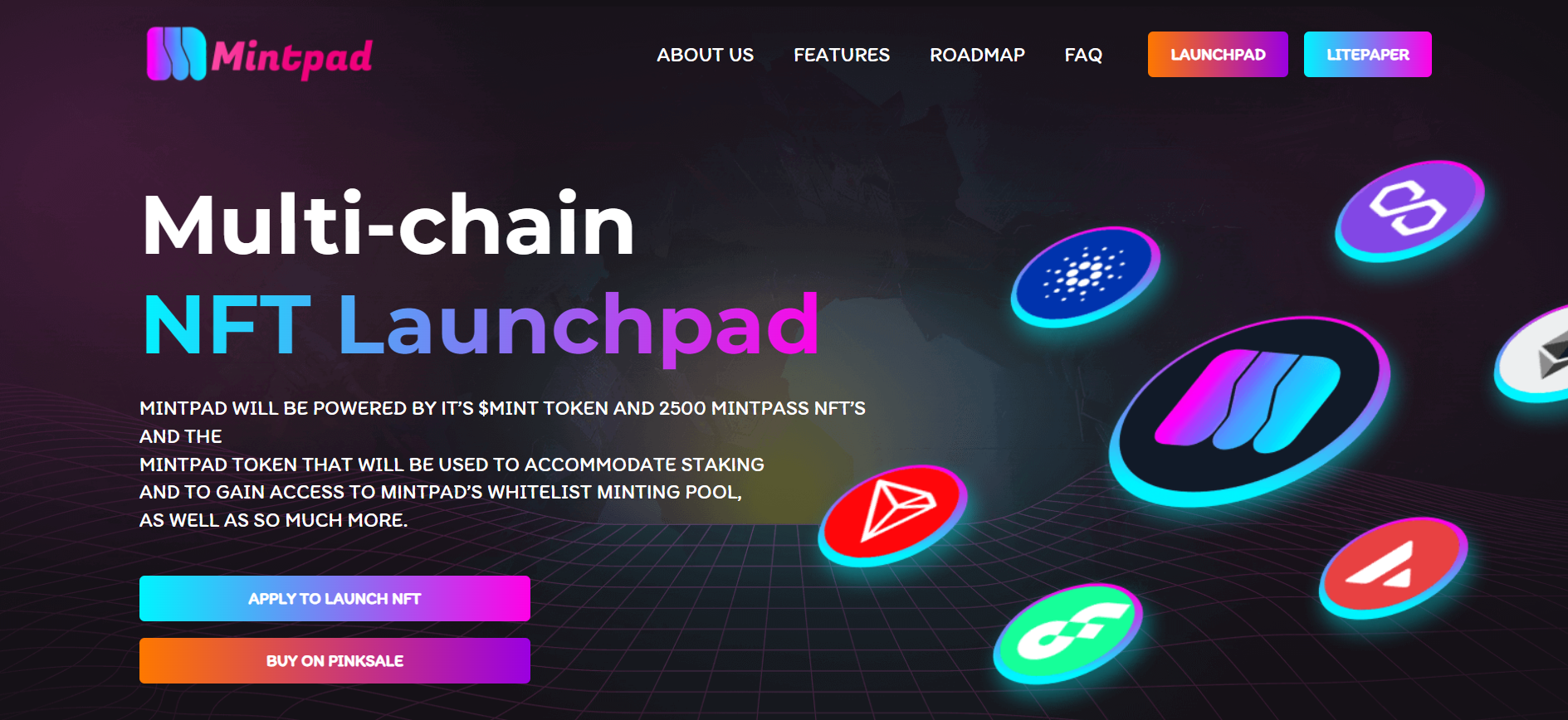 MintPad Vision and Goals
The MintPad team understands the importance of NFTs in the blockchain space. The vision of MintPad is to create a fully decentralized, multi-chain platform with revenue distribution rewards for DAO and MintPass owners.
Today's markets offer a more centralized experience compared to MintPad's vision.
MintPad is not just an NFT marketplace; it is a comprehensive tool for the entire NFT space across major blockchains. The platform's goal is to provide all necessary tools for daily NFT traders and integrate them into a universal platform supporting major blockchains. This will enhance the quality of NFT trading. MintPad also aims to create multiple income sources for DAO and MintPad owners to stimulate value and added utility to trading portfolios. The team wants to establish a secure environment through its audit and KYC processes, ensuring peace of mind for users and additional authentication for projects monetizing with MintPad.
NFT Platform Ecosystem and Tokenomics
MintPad is the native token of the upcoming MintChain network and will be required for super-fast and ultra-cheap token creation on their Launchpad. It will also serve the following functions:
Staking $MINT for DAO treasury
DAO voting
Earnings from Escrow will buy $MINT tokens and burn them
The total supply of MINT tokens is 1,000,0000,0000 MINT, distributed among the presale, team, partners, marketing, development, and others.
MintPad also offers various tools and services, such as referral bonuses, monetization fee rewards, partnership packages, KYC services, art quality badges, and more.
Mintpass/MintPad owners can use the launchpad platform for NFT projects. A user will be rewarded with 1% of the referral project's funds. This is one of the key marketing strategies used to expand the launchpad.
If a user refers a project that raises $100,000, they will receive a $1,000 reward. Additionally, there are some fees on the platform.
| Percentage | Description |
| --- | --- |
| 3% | Platform fee, which goes to the team and development |
| 3% | 3% of the Mintpad fee returns as royalties to Mintpass NFT holders |
| 1% | If a project is referred by an NFT/MintPad holder, they are rewarded with 1% of the developers' 3% share. The developers receive only 2%. |
The platform also offers a marketplace where collections created on the platform will be automatically listed. This service includes several additional features that are hard to find in other markets today. Trading fees on the market are set at 0%, adding extra value to your project.
The project has an ambitious roadmap, including the development of MintChain, UI improvement to V2, implementation of new features, crowdfunding functionality, NFT sniper bot, and much more.
Overall, MintPad is an innovative platform aiming to provide a secure and efficient environment for NFT creation and trading.