Miracle BUSD Gems ROI Miner — a decentralized application, built on Binance Smart Chain. The goal of the game — to hire more miners than other players. This, in turn, allows you to earn more BUSD faster.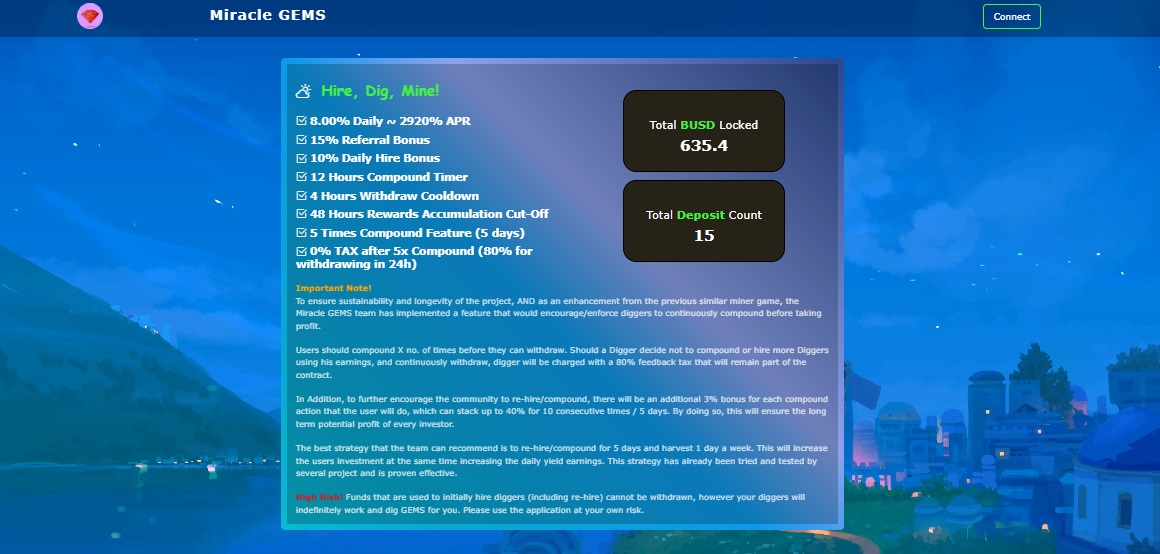 The daily percentage income depends on the actions of the players on the platform, which affect the level of efficiency. Farming efficiency levels rise and fall as users buy Diggers, rehire your earnings and sell your GEMS for BUSD.
BUSD GEMS Digger applies several anti-dumping and anti-whale measures to ensure the longevity of the project. These measures include maximum deposits as well as cut-off and recovery times for withdrawals.
To reward users who earn compounds, there is a bonus when you rehire your daily GEMS earnings instead of selling them.
Miracle BUSD Gems ROI Miner
The bonus increases by 4% every 12 hours you accumulate without withdrawing funds (maximum 40% after 5 days). This encourages the user to make accruals more often, which in the long run will help to improve the efficiency of the farm.
For players who choose not to play the game and only sell, an 80% tax will be charged on those sales that remain in the contract. If a player makes two or more consecutive sales, this tax applies.