RCRDSHP — a curated digital collecting platform, created by the electronic music industry and validated by technologies such as blockchain and non-fungible tokens.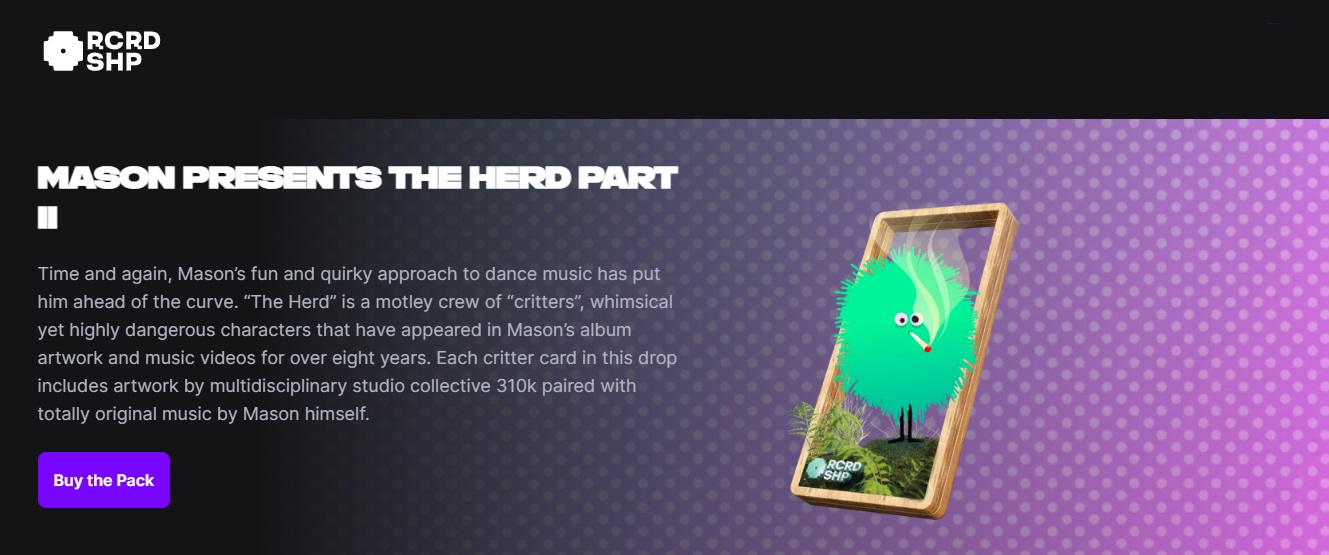 RCRDSHP creates new robust solutions, designed to address and improve many of the shortcomings of current music distribution systems and perverse incentives. It also serves to reconfigure them in favor of working musicians and passionate fans, skillfully applying game mechanics and new blockchain technologies.
Most other platforms are based on auctions or fixed price sales. However, RCRDSHP surprises and delights by collecting and releasing digital "packages" of amazing content. RCRDSHP packs contain music tracks, mixtapes, video clips, static visuals and many other multimedia collectibles from the industry's top brands.
Content creators - well-known and future DJs, producers, labels, organizers of festivals, clubs, event promoters, visual artists and other inhabitants of the dance music world.
RCRDSHP
RCRDSHP offers a platform for creators to share their unique creations as exclusive limited edition digital assets. The Flow blockchain partnership is sustainable and guarantees clear ownership records. The financial dynamics of the market provide rewards for fans, sharing their favorite new artists with their friends and on social media.
The mining process that is used is based on highly efficient proof-of-stake technology. To initiate a withdrawal, simply go to the Account Balance screen and follow the instructions, required to complete your request.
You can use your balance to buy drops and to make purchases on the secondary market. You can increase your balance by selling items, using a credit card or topping up your balance with cryptocurrency.