Desire — a set of beneficial features
If you are looking for a secure farm, NFT profile, Chainlink-powered battles and gambling on the Polygon network with insane annual interest rates and a dedicated Guardian team, then Desire is for you.
Contents: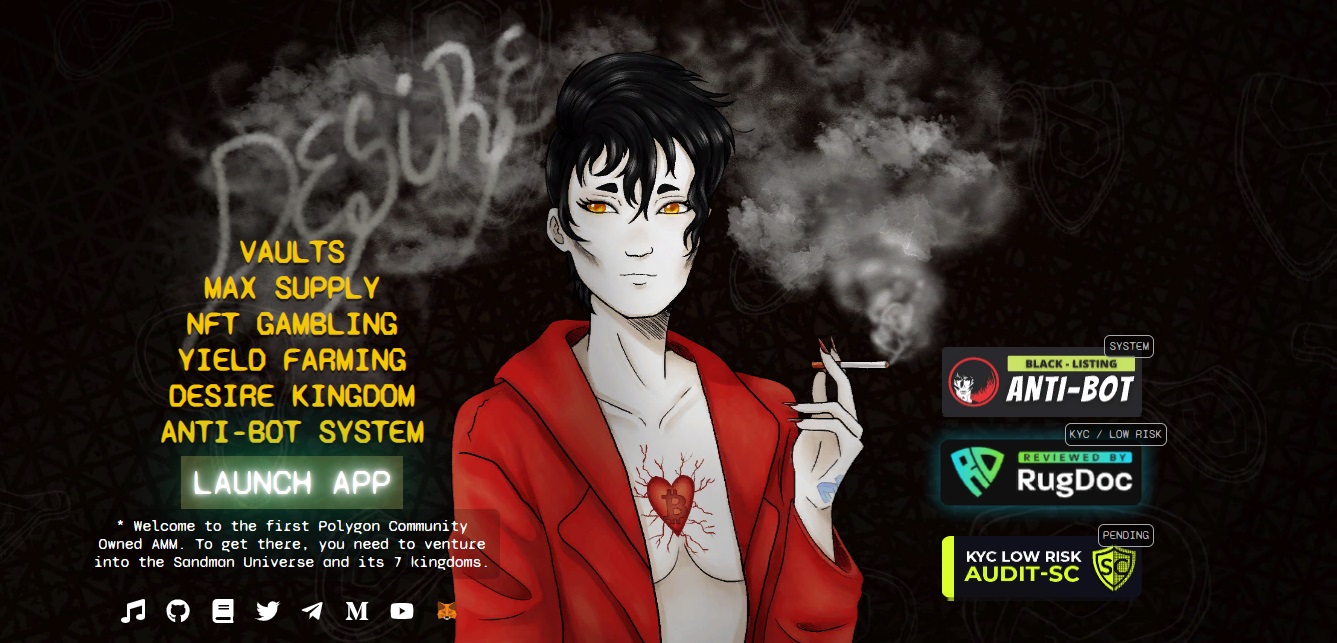 About the Desire project
Desire — the best way to increase project liquidity and avoid bots. The most fair of all startup strategies. The DESIRE token has a fixed maximum of 500,000. Yield Farming - the practice of placing or lending Desire tokens to generate high returns or rewards in the form of additional Desire tokens.
Farmers will be able to receive high rewards from:
| | |
| --- | --- |
| 1. | The use of $ DESIRE in farms (LP). |
| 2. | $ DESIRE token rates. |
Desire Farm Vaults automatically merges farms for you and you can safely earn. Vaults - the farms you've dreamed of where you don't have to go through the nightmare of collecting rewards, selling half, adding liquidity and re-placing those LP tokens. At SandMan Finance, you don't have to collect rewards manually to increase your rewards. 0.66% of storage revenue helps to cover auto-add, swap, flare and gas fees. 3% of the proceeds from the vaults go towards the purchase of Kingdom Rewards. 3% of the proceeds from the vaults help to buy out Destruction.
APY for vaults includes liquidity provider commission for LP.
Desire
Trading fees are paid to liquidity providers in proportion to their percentage of LP. The trading commission rates vary, but usually represent a percentage of all trades on a pair. Trading commissions are added to the pool and automatically accumulated in real time. You can claim trading fees by withdrawing your liquidity from the pool. Pool rewards are automatically awarded every five minutes. They are sold to buy more LP tokens on your behalf and are automatically added to your bid. Thus, pool rewards increase over time the number of LP tokens you own. The APY calculation includes liquidity provider trading fees and compounding pool fees.
More about defi app
An introductory document is available on the site. With its help, each participant can study the features of the project. There is also a RoadMap with future updates.
From social networks, the community leads:
Subscribe to find out about the news. The smart contract audit is available here.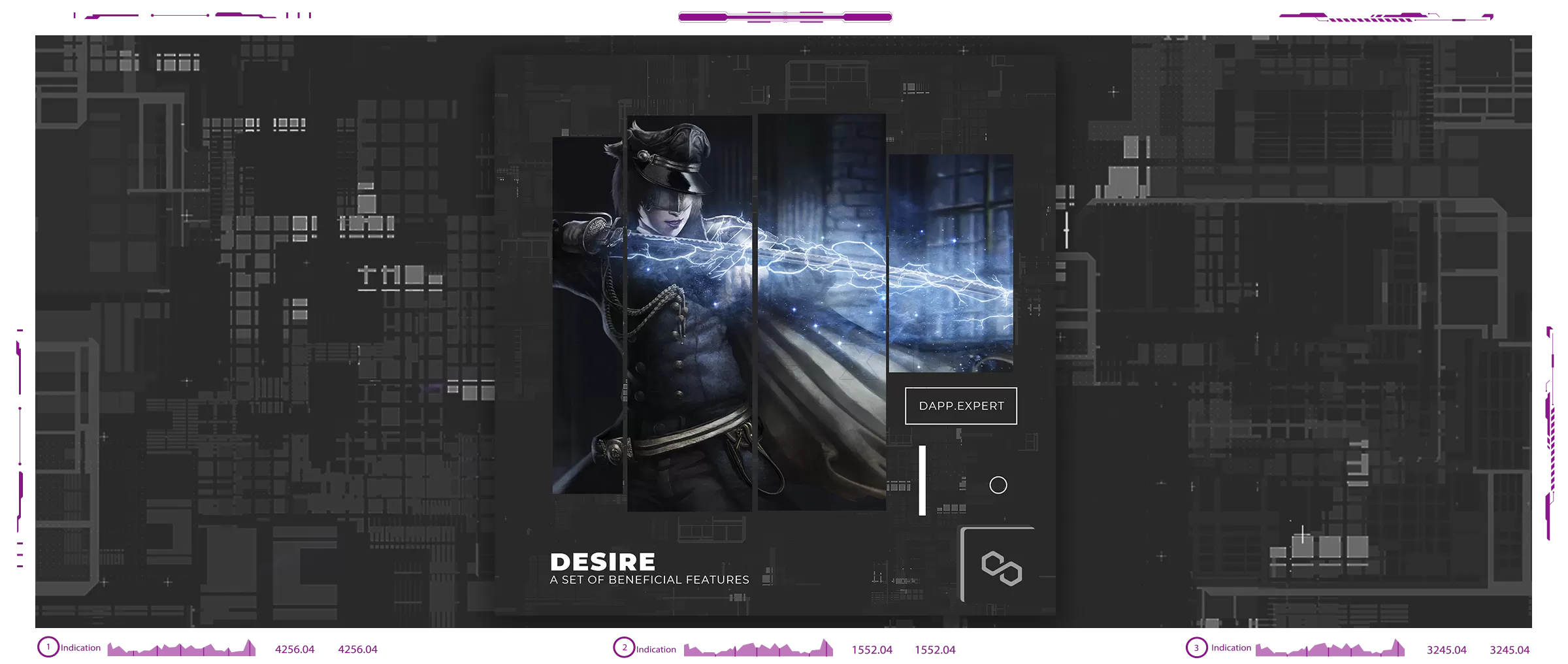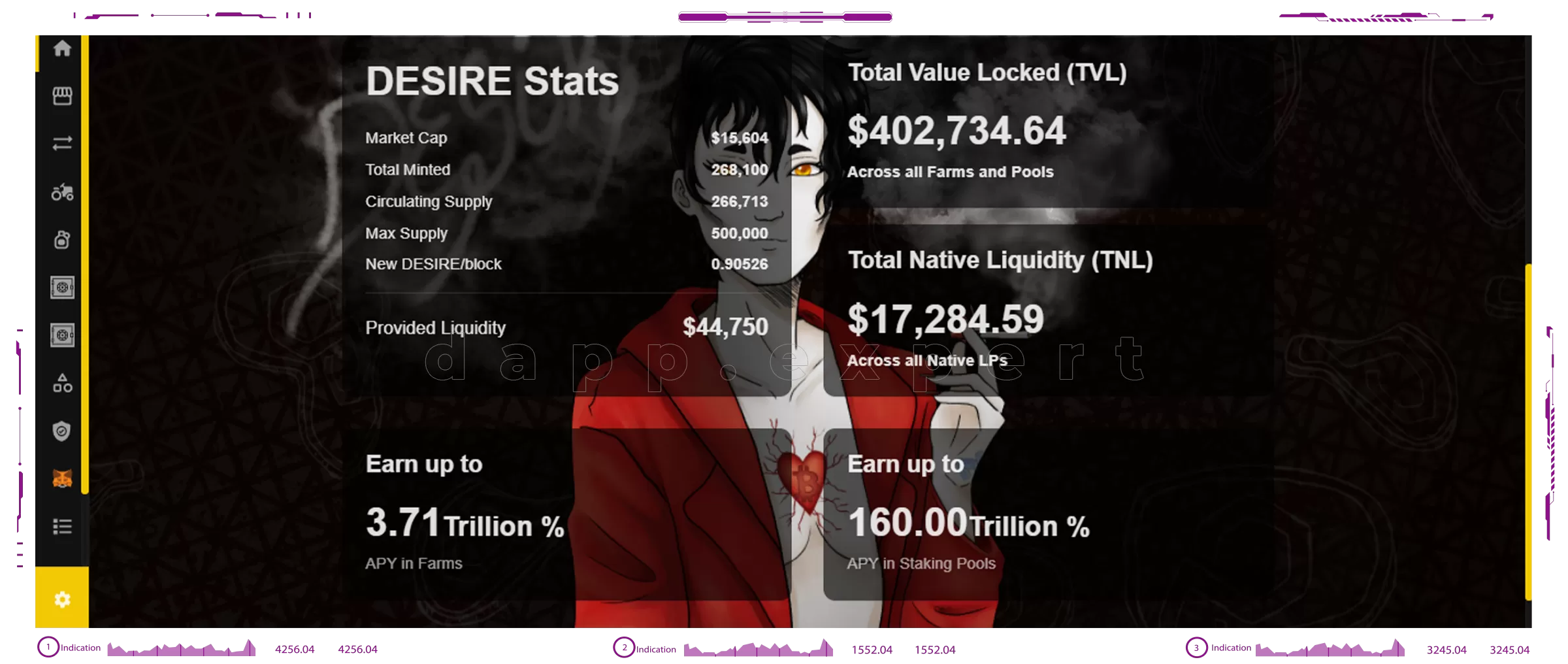 Desire — a set of beneficial features Statistics