LempiVerse — a play-to-earn game inside the CORE metaverse, powered by Unreal Engine 4. Polygon (MATIC) is the main chain for gaming operations, and NFT and ERC-20 tokens will also be available on Ethereum.
Contents: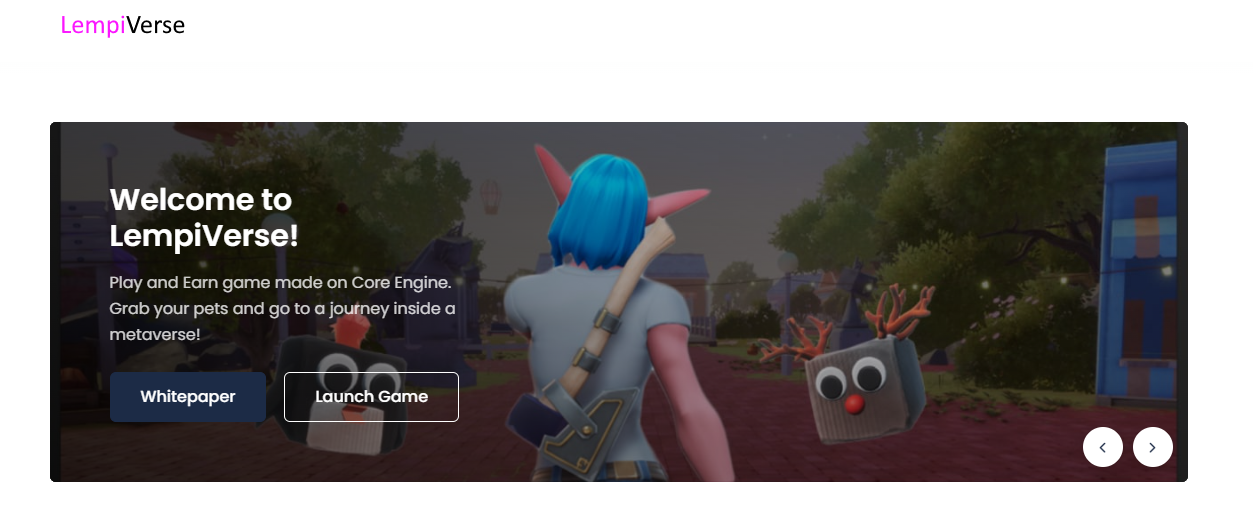 Gaming features of LempiVerse
LempiCoin-$LC - the main in-game token with unlimited supply, it is designed to work stable in the range of 0.15-0.25 USD. It can help to purchase the Egg NFT and can be earned by playing the game, using the Pet NFT. You can also exchange for USDC and vice versa, at any time by using a smart contract.
The LempiGem-$LG token will have a limited supply and a deflationary nature: 1,000,000 pieces will be minted. It can help to participate in the auction for the sale of some Egg NFTs, as well as to vote for governance. You can check the LempiGem distribution page.
Breeding Room - a smart contract where you can use pets if they have no energy left.
It supports 2 methods:
| | |
| --- | --- |
| 1. | Breed 2 normal pets. Both pets will be burned and the sender will receive the "Community Egg" NFT. |
| 2. | Breed 2 Uncommon, Rare, Epic or Legendary pets. Both pets will be burned and the sender will receive the "Regular Egg" NFT. |
Pre-Alpha Event - the first public launch of LempiVerse and will be played as a tournament where participants will be able to earn Eggs NFTs before they are originally sold or used for breeding. To participate in this free event, you will need to install CoreGames on your computer and MetaMask wallet. Every 24 hours, each player will get the opportunity to create a team with pets to play with. Players will be rewarded with reward codes as they progress.
Platform security
There is a LempiCoins buyback guarantee, based on the history of NFT usage, to keep players safe from an external market crash attack. The team aims to keep money within the ecosystem and minimize the share that goes to market manipulators and technical traders.
If you receive Lempi Coin tokens by using NFT, you will never run into the buyback guarantee limit.
LempiVerse
Thus, it prevents market manipulators from receiving players' funds due to market volatility, because they have no guarantee of keeping their funds if they received them through trading and not gambling.