Megamoon has created a decentralized lottery platform. The agreement between the lottery and the player is written as a self-executing contract.
Contents: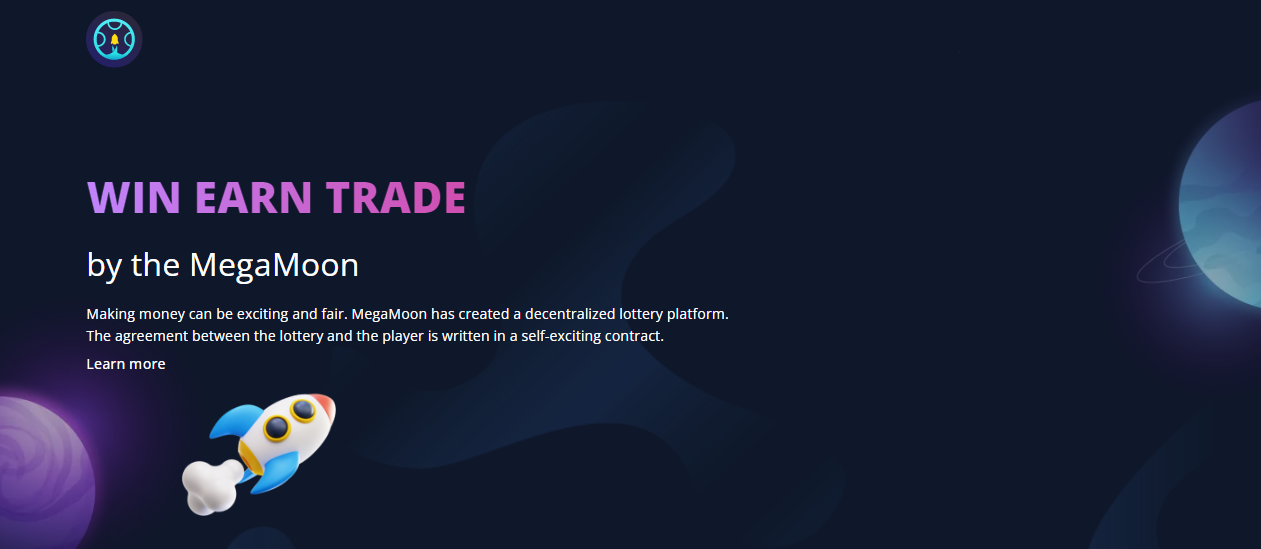 Description of the MegaMoon exchange
Megamoon — the leading decentralized lottery on the Polygon network with the highest volumes on the market. Megamoon operates on Polygon Chain, where transaction costs are much lower than on other well-known blockchains such as Ethereum or Binance Smart Chain. In addition, trading fees are also lower than other leading decentralized exchanges, so this is a double benefit for you.
By joining the project, you get a great opportunity to earn millions of dollars in the Megamoon lottery.
Mega Moon
Join as many players as you can or buy as many tickets as you can to win the biggest prize. MOON can be earned for free with a high interest rate.
Lottery features:
| | |
| --- | --- |
| Lottery ticket price | 10 MOON. |
| Restriction on participation | There is no general limit, but only 100 tickets can be purchased at a time. |
| How does it work | When paying for one ticket, users receive a random combination of 6 numbers, each of which is in the range from 0 to 9, for example. "1-9-3-2-0-4". The more numbers match, the bigger the prize pool. |
You can easily earn MOON by staking LP tokens. You take on little exposure to market fluctuations, but you can offset the risk by earning a higher annual interest rate. The more tokens you stake, the higher your profit.
Exchange function
Megamoon uses Quickswap as its automated market maker (AMM). Quickswap is the leading AMM on the Polygon chain and, according to statistics, the most popular decentralized exchange (DEX) ever.
Megamoon allows users to trade without having to go through a centralized exchange. Everything you do on PancakeSwap is routed directly through your own wallet - you don't have to trust anyone with your coins.
You can only trade tokens on Megamoon if there is sufficient liquidity for those tokens. Providing liquidity will earn you LP tokens, which will earn you rewards in the form of trading fees for ensuring that the exchange always has liquidity.
Yield Farming allows users who provide liquidity to earn Moon rewards by locking their LP tokens in a smart contract. The incentive - to balance the risk of intermittent losses, associated with locking in your liquidity.