Soldiers Society — a limited battalion of 3,333 unique NFT Pixel Soldiers - unique digital collectibles, living on the Polygon blockchain. Your Soldier is not only your avatar, but your community membership to fight for freedom for all players and an open metaverse, giving you access to the tools that will make this fight available.
Contents: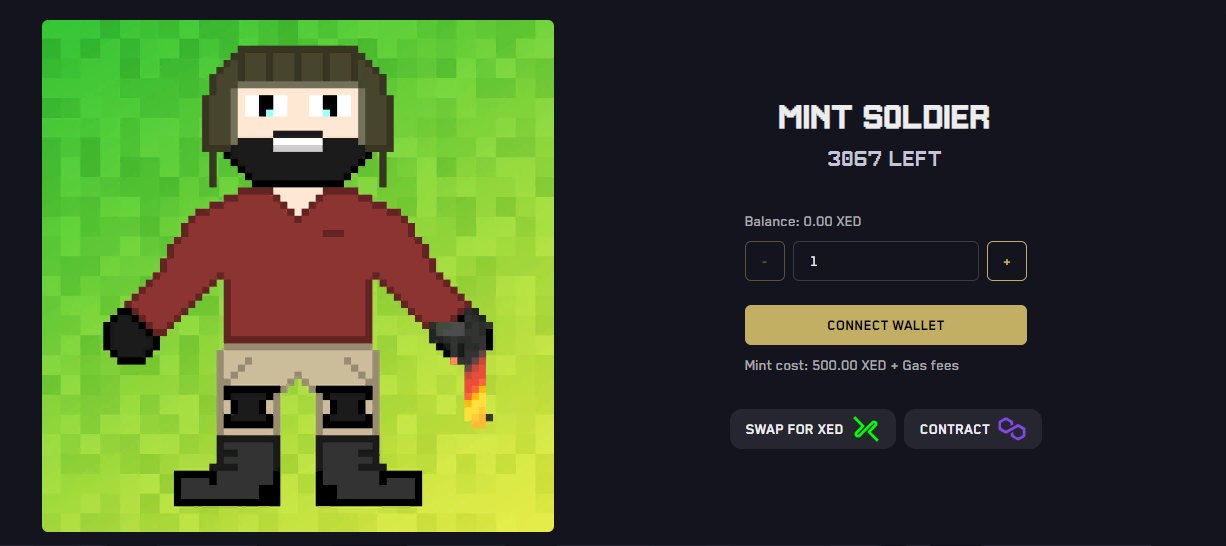 Description of the Soldiers Society project
The Soldier Society - an NFT collection that is deeply connected to the mission of fighting for an open Metaverse that will use Web3 to free and empower players to determine their destiny. Each Soldier will act not only as an avatar, but most importantly, as a voice in the future of the Society, providing access to many opportunities in the Metaverse ecosystem of crypto games and esports. After the public mint, you can still not only buy but also sell your soldiers on the Exeedme NFT marketplace or other NFT marketplaces like Opensea, Rarible and others.
Unique traits of each soldier:
| | |
| --- | --- |
| 1. | Backgrounds. |
| 2. | Accessories. |
| 3. | Body types. |
| 4. | Weapon. |
Soldier means that you are part of a group that will fight with all their might to ensure freedom for gamers and an open metaverse. The first challenge - to make sure Soldiers can create a transparent and fair esports tournament where profits are instantly shared between pros and fans, thanks to smart distribution contracts on Polygon.
85% of the proceeds from the sale of soldiers will go directly to the prize pool, players, teams and fans who will take part in the Fantasy League of The Revolution Tournament.
Soldiers Society
This will not only be transparent to the chain, but it will also save teams and players from bad players in the industry who never pay their prizes or pay for 6 to 12 months.
More information about an nft dapp
At the moment, White Paper and RoadMap are not available on the site. The developers provide a section with answers to questions. Also, a short description is on the main page.
If you want to stay up to date with all innovations, subscribe to the community on these social networks:
You can also leave your e-mail address on the site to receive a newsletter with project news. The site has round-the-clock technical support. The smart contract has not been audited.