Solcasino.io is a live gaming casino that you can use directly using your web3 Solana wallets. We support multiple tokens on the Solana Network, and you can check all the supported tokens on the website. You can enjoy live casino games, sports betting, and much more.
Content: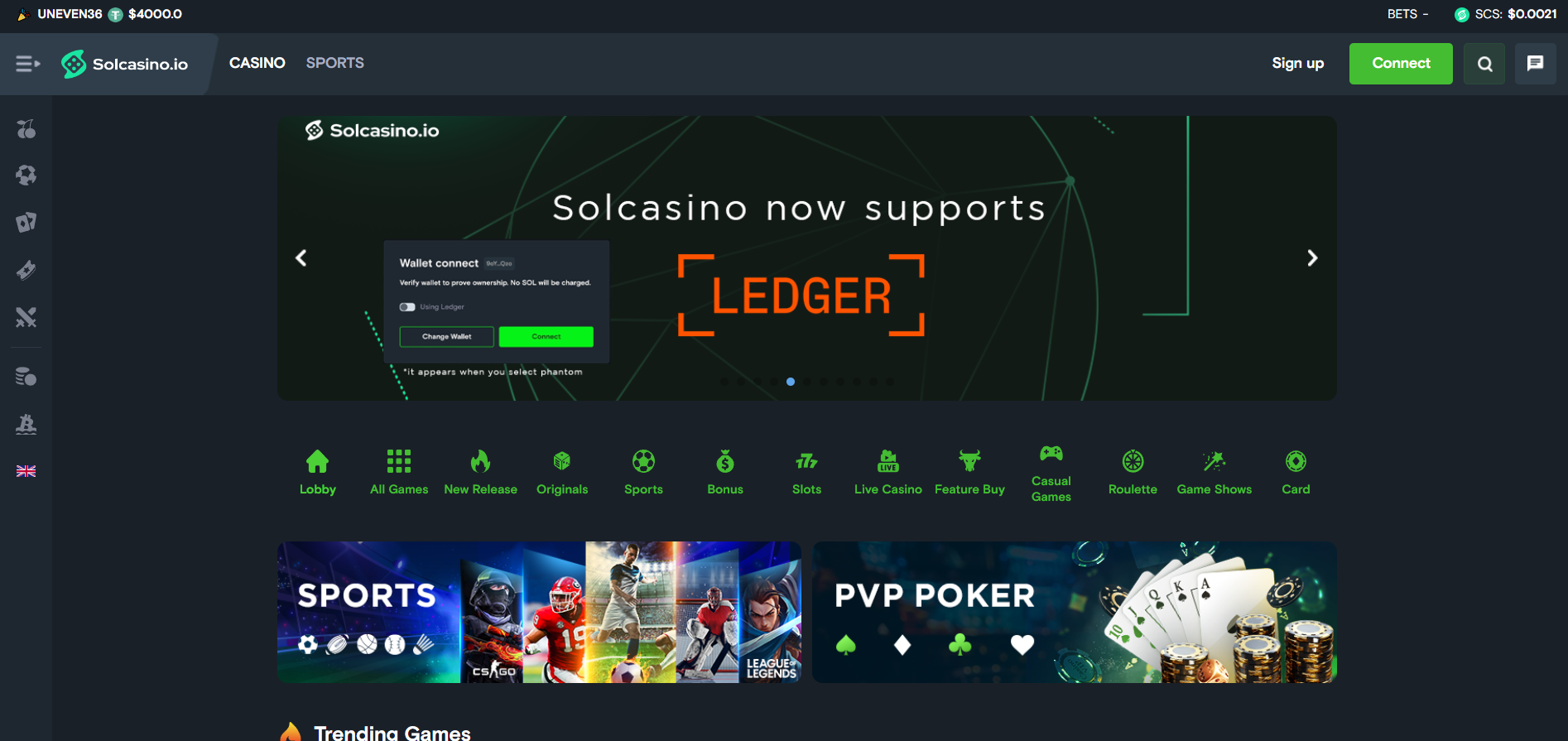 What is Solcasino.io?
Solcasino.io is currently one of the best licensed casinos on the Solana blockchain and offers multi-chain capabilities. It is among the top five most frequently used decentralized applications in Solana. Solcasino.io represents a unique investment opportunity in the exciting world of casinos. Now you have a chance to purchase some of the project's tokens. During the early stages of the Solana blockchain, there was no trustworthy and reputable casino where you could play using cryptocurrencies. Then Solcasino.io was launched in December 2021.
Solcasino.io is the first casino platform built on the Solana blockchain that allows you to play directly using your web3 wallet. One of the best parts of Solcasino.io? It is licensed.
Solcasino.io
Users can play and participate in a variety of games of chance and skill on the platform. The platform features games such as:
Classic blackjack;
Poker;
Slot machines;
Roulette;
Solcasino.io also offers sports betting on its website. The platform provides a wide range of games worth trying!
User Growth in the Solana Blockchain Casino
Since its launch in December 2021, Solcasino.io has demonstrated exponential growth in its user base and revenue, now reaching 6 million SOL and 64 million USDC/USDT in volume. When the platform was launched, it only supported tokens such as USDC, USDT, and SOL. But over time, they added support for native SPL tokens such as BONK, SAMO, DUST, HADES, and more. This gives their project additional utility for using the specified token on Solcasino.io. As the number of users/players grows, the Solcasino.io brand expands to multiple chains such as BTC, ETH, BNB, MATIC, APTOS, CANTO, and FTM. These expansions have provided support for various crypto wallets (Phantom, Solflare, Metamask, WalletConnect, Pontem, and Martian), making it easy for you to connect and use them on Solcasino.io.
Earning Opportunities in Solcasino.io
The main advantage for token holders is to receive a share of the platform's profits, which include operator fees, provider fees, and technical services. This provides holders with a stable income stream and increases the potential return on investment. There are also other benefits and utilities for token holders, such as NFT staking, rakeback bonuses, a VIP system, and NFT Lotto.
| | |
| --- | --- |
| NFT Staking | To earn a share of the profits from Solcasino.io, you need to lock your NFTs for a specific period of time, and you will receive shares/rewards and other casino privileges (rakeback, bonuses, etc.). Additionally, when you stake your NFTs, it increases your rakeback by an additional 5% - 30% depending on the stake. |
| Rakeback Bonuses | This is a reward where you can get a percentage of the casino's fees back for being a regular player on Solcasino.io. The more you play in the casino, the more you can get back. The standard rakeback rate ranges from 2% to 5% without NFT bonuses. |
| Referral Program | When you invite other players to play on Solcasino.io, you can receive a referral bonus based on the amount of their bets. The earnings from the referral bonus will be in the same cryptocurrency as your invited players. The referral rate ranges from 5% to 20%. |
By using these bonus programs presented on the platform, you can secure additional income. Solcasino.io opens up a new opportunity to share in the profits by joining the casino world through NFTs.