Coinbase Exchange is one of the most well-known major cryptocurrency exchanges, founded in June 2012. Its headquarters are located in San Francisco, California. The platform offers its users a cryptocurrency wallet and a platform for trading cryptocurrencies, with a daily trading volume of over $1 billion. As of April 2022, the platform had approximately 89 million users from over 100 countries worldwide. Coinbase supports over 50 cryptocurrencies, including Bitcoin (BTC), Ethereum (ETH), Ripple (XRP), and many others. The exchange supports the following fiat currencies: USD, EUR, RUB, GBP, BYN.
Table of Contents:
Overview of Coinbase Exchange
Coinbase Exchange is building a cryptocurrency economy - a fairer, more accessible, efficient, and transparent financial system powered by cryptocurrency. The company started in 2012 with a radical idea that anyone, anywhere should be able to easily and securely send and receive Bitcoin. Today, it provides a reliable and user-friendly platform for accessing the broader cryptocurrency economy. The executive team of the exchange includes:
Brian Armstrong - Co-founder and CEO;
Emilie Choi - President and Chief Operating Officer;
Surojit Chatterjee - Product Lead;
Alesia Haas - Chief Financial Officer;
L.J. Brock - Chief People Officer;
Paul Grewal - Chief Legal Officer;
Manish Gupta - Executive Vice President at Coinbase.
The platform's mission is to increase economic freedom in the world. Everyone deserves access to financial services that can help them create a better life for themselves and their families.
Services Offered by Coinbase Exchange
Coinbase offers cryptocurrency products for both individuals and businesses. The company's services for individuals include:
| | |
| --- | --- |
| Coinbase | An app used for buying, storing, and trading various cryptocurrencies such as Bitcoin, Bitcoin Cash, Ethereum, Ethereum Classic, and Litecoin. |
| Coinbase Pro | A professional platform for cryptocurrency trading. |
| Coinbase Wallet | A cryptocurrency wallet that allows customers to access decentralized applications (dapps) through a browser. |
| Coinbase NFT | An NFT marketplace where NFT collectors can buy and sell their items to each other. |
The services for businesses include Coinbase Prime - a trading platform for institutional clients, and Coinbase Custody - specialized-level services for institutions holding Bitcoin and other cryptocurrencies on the exchange. Other cryptocurrency-related products include:
USD Coin - a digital stablecoin tied to the value of the US dollar that allows customers to convert it into cryptocurrency;
Coinbase Card - a Visa debit card that allows customers to spend cryptocurrency;
Coinbase Commerce - a payment service for merchants;
Coinbase Earn - a platform for learning about cryptocurrencies that rewards users with small amounts of altcoins for watching videos and completing quizzes.
The company is developing an application programming interface (API) for developers and merchants to build applications and accept cryptocurrency payments. Coinbase has a mobile app available for both iOS and Android.
Platform Wallet
The Coinbase Wallet is a self-custodial wallet that gives users full control over their cryptocurrency. It allows storing, receiving, and sending cryptocurrencies across multiple blockchains. Fiat purchase integration is available, supporting 50 fiat currencies, including US dollars and euros. Through the app, users can have quick access to DeFi projects and decentralized exchanges. Coinbase Wallet is integrated with the WalletConnect system, making it easier to connect to DEX services.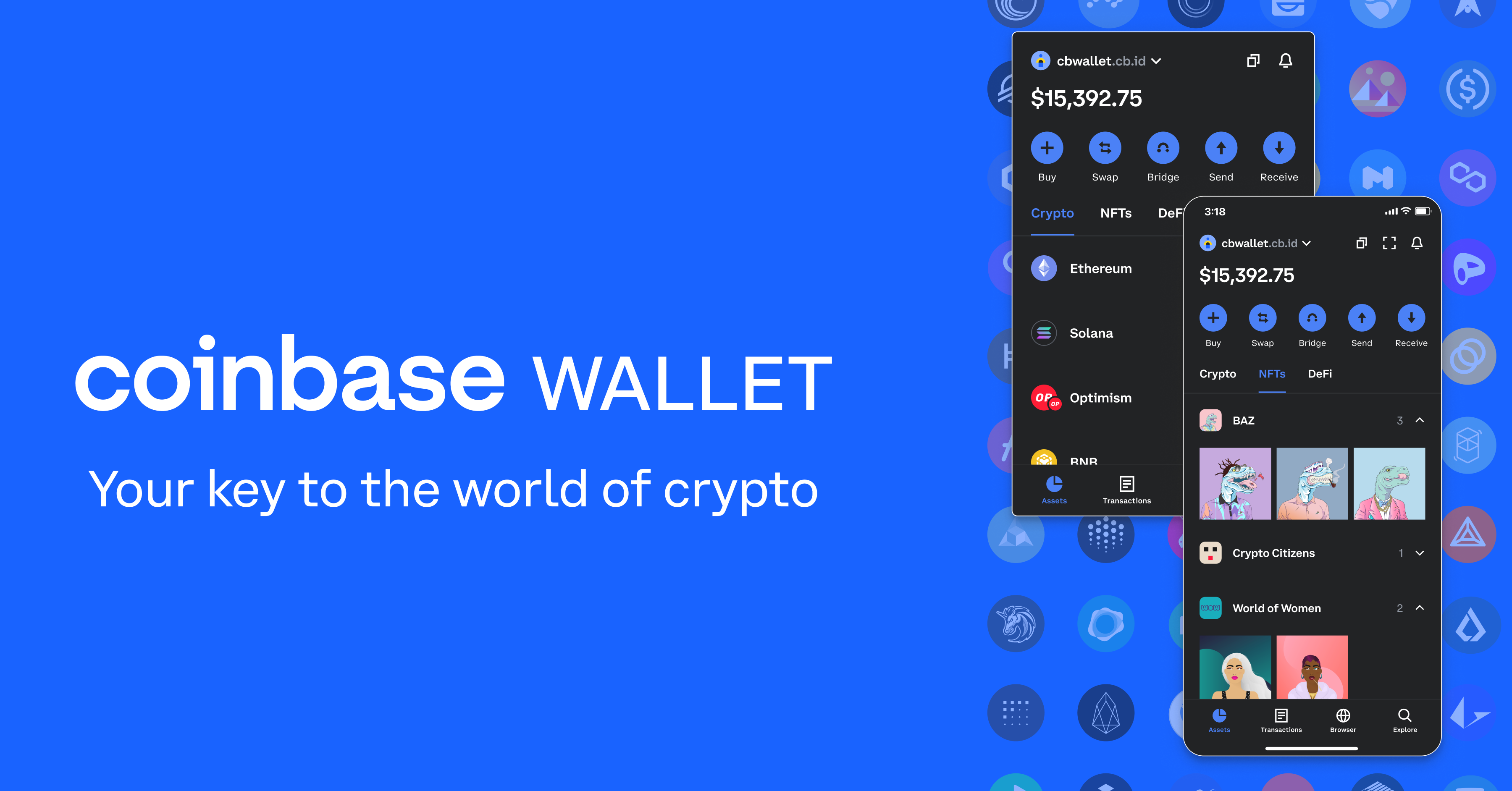 Coinbase Wallet is a custodial wallet that does not require registration. Each account is encrypted with a secret phrase and password. According to the developers, 98% of Coinbase Wallet funds are held in cold storage most of the time.
There is no fee for transfers between Coinbase Wallets. When transferring cryptocurrency to another wallet, the user pays the network fee. The wallet is not tied to the Coinbase exchange, allowing users to bypass limits on deposits or withdrawals. The withdrawal fee to a bank card depends on the amount: no fee is charged for withdrawals up to 200 British pounds.
NFTs on Coinbase Exchange
NFTs, or Non-Fungible Tokens, are a type of cryptographic tokens where each instance is unique and cannot be exchanged or replaced with another similar token. In the fall, Coinbase Exchange opened early access for users to a trading platform for non-fungible tokens (NFTs). The initial NFT Dapp project reflects Coinbase's commitment to expanding developer capabilities by facilitating and accelerating the building process for web3. This open-source project embraces the collaborative nature of web3, enabling developers of all levels to easily launch new NFT projects. Compatible with both the Ethereum Mainnet and EVM-compatible chains, this resource will be particularly useful for those who want to create full-featured NFTs but have limited experience in working with them.
Users can easily browse NFTs for sale through the Discover feed. Developers have implemented personalized NFT recommendations to save time searching for them. As you interact with the market, the recommendations will improve based on what you buy, what's trending, who you follow, and more.
Platform Debit Card
Coinbase Card is a Visa debit card developed by Coinbase Exchange. It allows users to instantly spend and track their BTC, ETH, LTC, and more. The card can be used contactlessly, with a PIN, and for cash withdrawals at any ATM. Similar to the Shift card, the Coinbase card enables users to instantly convert cryptocurrency on their accounts into British pounds, allowing them to spend at many stores or withdraw cash.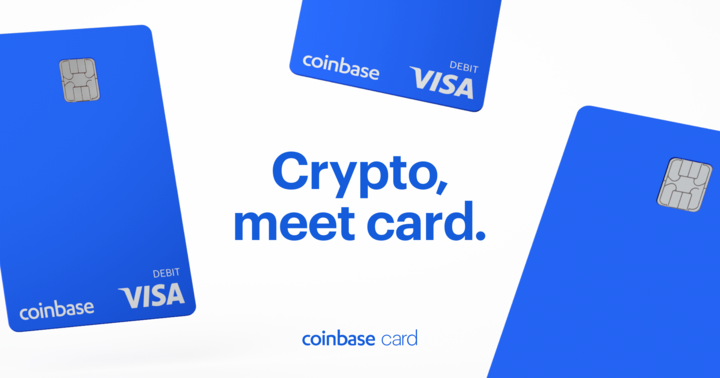 The Coinbase Card is issued by PaySafe and can be managed through the Coinbase Card app. This links users' accounts and allows them to pay bills with any crypto assets on their balance. Your crypto rewards can potentially increase in value over time.
Currently, the Coinbase Card is available to all exchange customers residing in the United States (excluding Hawaii). There are no fees for spending in U.S. dollars (USD) or cryptocurrency, including USD Coin (USDC), using the Coinbase Card.
Advanced Trade Description
Advanced Trade on Coinbase is an advanced trading feature. Advanced Trade offers the same reliable tools as Coinbase Pro, such as interactive charts, advanced order types, and order books, enabling you to make better trading decisions. Since Advanced Trade is on the Coinbase Exchange, you get all the benefits of a single financial account - meaning you can trade, stake, borrow, earn, and spend, all from your Coinbase account. Whether you're funding your exchange balance for your next NFT purchase, receiving Coinbase Card rewards, or staking ETH2, now you can do it all and engage in advanced trades from a single balance. You can earn up to 5% APY on USDC, ETH2, DAI, ALGO, ATOM, XTZ. All market pairs are also supported on Coinbase Pro with equal liquidity.
USD Coin and Its Benefits
USD Coin (USDC) is a cryptocurrency known as a stablecoin. You can always exchange 1 USD Coin for 1 U.S. dollar to make its value more stable. On Coinbase, customers can earn rewards for each unit of USD Coin they hold. The benefits of the token include:
| | |
| --- | --- |
| Stable Value | For customers with U.S. bank accounts, 1 USDC can always be redeemed for 1 U.S. dollar, making its value stable. |
| Fully Collateralized | Each USDC coin is backed by one U.S. dollar or an asset with equivalent fair value, held in accounts at U.S. regulated financial institutions. |
| Built on Ethereum | USD Coin is an Ethereum token, so you can store this cryptocurrency in an Ethereum-compatible wallet, such as Coinbase Wallet. |
| Global Transactions | USD Coin is designed to facilitate the transfer of dollars worldwide from your cryptocurrency wallet to other exchanges, companies, and individuals. |
USD Coin allows individuals without bank accounts or broad access to banking services to have an asset backed by the U.S. dollar, only requiring a mobile phone.