Kraken is an international cryptocurrency exchange, one of the largest in the world by trading volume in the euro pair. Kraken is considered one of the best places to buy and sell cryptocurrencies online, and the company's mission is to make cryptocurrency accessible to the world and enable users with different starting capital to invest in the financial independence that digital money provides.
Table of Contents:
Kraken Overview
Kraken cryptocurrency exchange was officially launched in July 2011. The founder and CEO of Kraken is Jesse Powell. The company's office, which initially introduced its exchange in the Bloomberg trading terminal, is located in San Francisco.
The company was registered in 2011. In September 2013, after two years of development and testing, Kraken was launched. Initially, trading was conducted in euros, bitcoins, and litecoins. In July 2013, Kraken joined other U.S. players in the field of new payments and the digital currency industry to form the Digital Asset Transfer Authority (DATA). The committee's goal was to create DATA as a future self-regulatory body for the industry. DATA held its first annual meeting in April 2014.
In October 2013, Kraken announced that it had discovered major flaws in the Namecoin protocol and would not list the cryptocurrency until they were resolved. Although the flaws were soon fixed, and Namecoin appeared on the Kraken exchange, it was delisted two years later due to decreased trading volume. In 2014, the service became the world's largest in terms of bitcoin trading volume against the euro. In April of the same year, information about Kraken was included in the Bloomberg terminal interface. Why Kraken:
| | |
| --- | --- |
| Simplicity | Kraken makes buying and selling cryptocurrency easy with mobile apps. |
| Education | You can visit the educational center on the platform and learn about everything related to cryptocurrency. |
| Service | Find your answers instantly in the Support Center. Or contact support through live chat or email. |
Whether you are an advanced trader or a cryptocurrency enthusiast, Kraken allows you to chart your own financial course. The exchange offers a constantly growing number of cryptocurrency pairs to invest in and a range of tools and features to use as your portfolio grows.
Exchange Features
In addition to trading cryptocurrencies, you can also trade on the Forex market on this platform. This became possible on March 12, 2020. Kraken hopes that this combined offering will make their users "more flexible and popular" when trading across markets.
Kraken is one of the few major exchanges with an impeccable security reputation and was the first cryptocurrency platform to introduce a system of reserve verification that cryptographically verifies whether users' balances on the exchange match the funds in Kraken's wallets.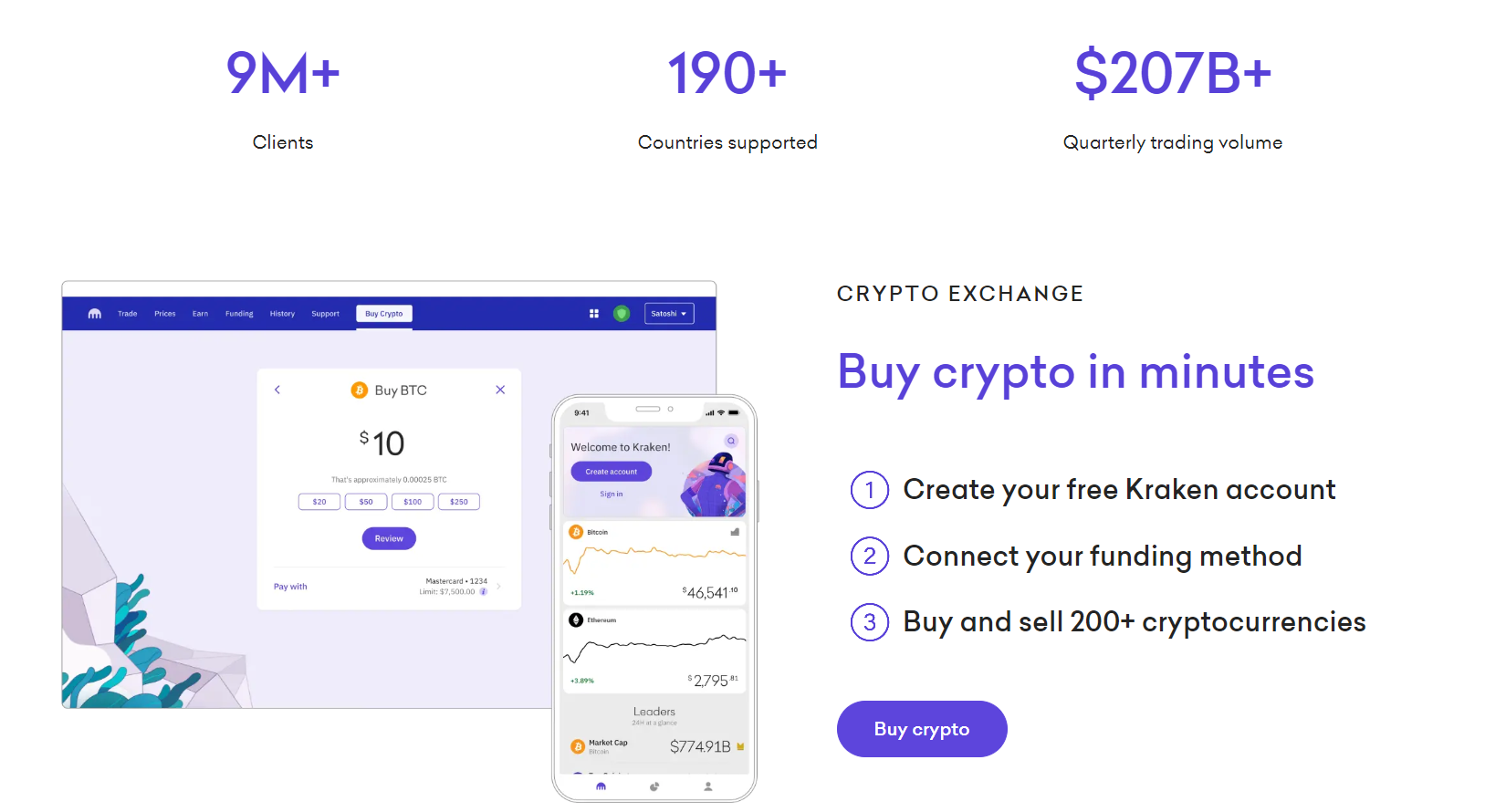 To achieve the highest level of security, Kraken stores a large portion of its funds in geographically distributed cold wallets across multiple countries. Kraken's servers are monitored and protected around the clock, and a team of cybersecurity experts regularly checks for potential vulnerabilities.
In February 2020, the exchange launched the OTC desk (over-the-counter trading) feature. With the OTC desk, you can make larger trades without the risk of slippage. In Kraken, the minimum order size for the OTC desk is $100,000, but if you have trades of that size, Kraken's OTC desk can provide you with high liquidity and a more personalized service. The service is primarily designed for high-net-worth individuals, institutions, and crypto firms that need to efficiently execute large orders. Execution and settlement services are discreet, secure, and highly competitive.
Kraken has a specialized team of 11 professional traders in North America, Europe, and the Asia-Pacific region, allowing the platform to "understand the geographic needs of your specific market" and trade and settle transactions quickly and efficiently around the clock. To take care of all your trading needs, the Kraken team in the EU also has a team of traders in London, as well as dedicated account management and customer support services.
Trading on Kraken
On February 4, 2019, Kraken also announced that it would allow trading of cryptocurrency futures on its platform. However, U.S. investors are currently unable to trade futures on Kraken. The futures trading was launched on Kraken after the company acquired Crypto Facilities, a trading platform they refer to as the "world's leading regulated firm for futures on cryptocurrencies." The purchase amount was not disclosed but likely exceeded $100 million, making it one of the largest acquisitions in cryptocurrency history. Thanks to this deal, you can now seamlessly transfer your funds between Kraken Exchange and Kraken Futures.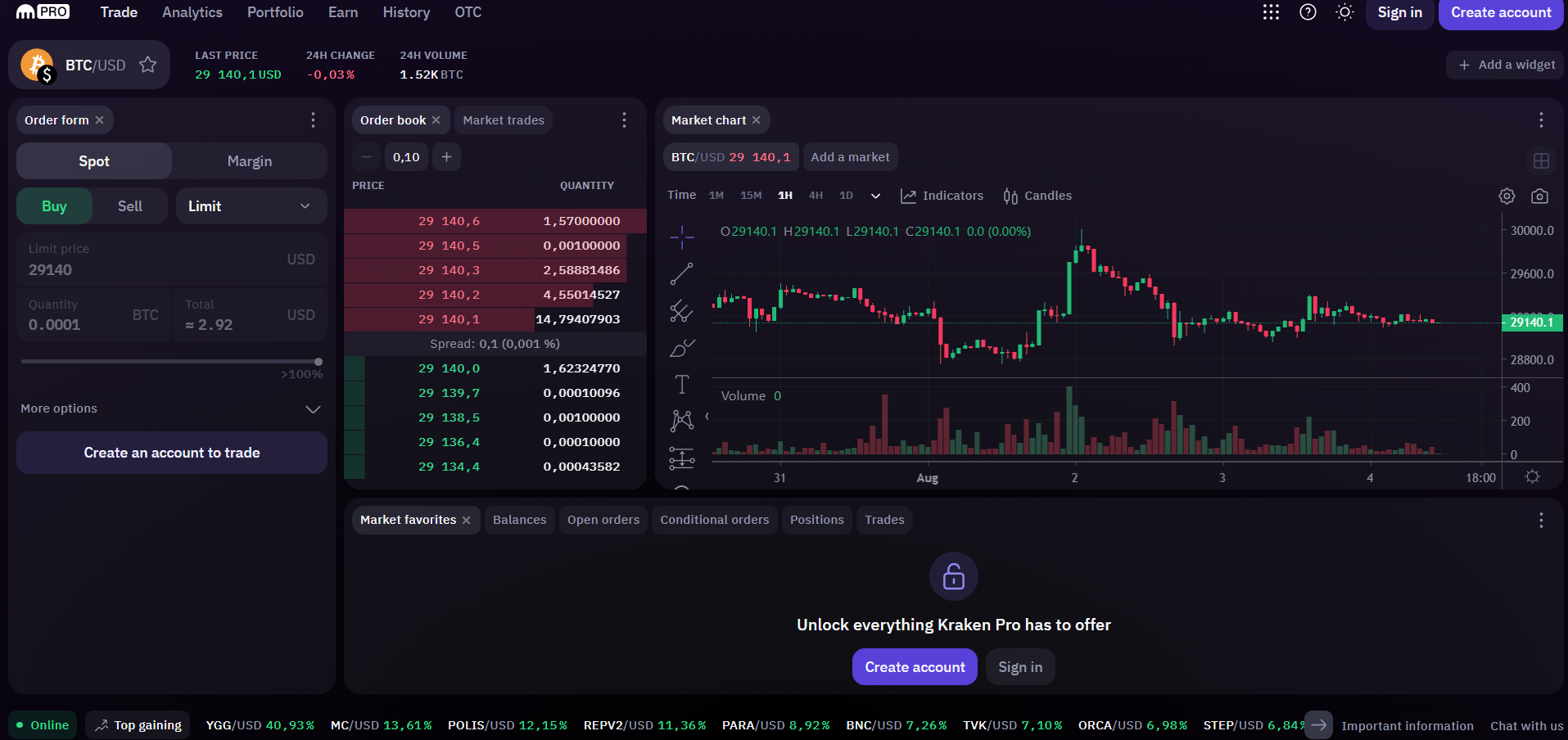 On Kraken, you can trade with up to 50x leverage on the top five cryptocurrencies. There are other platforms offering leverage up to 1:100, and Coinbase Pro even offers leverage up to 1:500. The exchange has no capacity limitations or interest charges for using borrowed funds. Kraken also emphasizes that they provide "smooth transfers between spot and futures markets" and that they have a 30% profit-sharing stake. This means that the exchange pays back 30% of all net fees they collect from their active traders to the traders themselves.
Referral Program
Kraken is among the platforms that do not support referral programs. The service's management aims to make their customer base more "high-quality," so to speak, as referral programs often attract less reliable individuals to the exchange. The essence of any mass referral partnership program lies in its massiveness.
Trading and withdrawal fees
Kraken's trading fee for takers is 0.26%. This figure is slightly above the industry average, which is around 0.25%. However, the exchange offers discounts to makers, thereby promoting liquidity on the exchange. The maker fee is set at 0.16%. This is a strong competitive advantage in the market, especially beneficial for investors who are not interested in taking existing orders from the order book but prefer to "pick off" makers' orders.
The withdrawal fee usually represents a fixed fee for the respective cryptocurrency you want to withdraw. This fixed fee remains the same regardless of the withdrawal amount. On some platforms, you can increase this fee to prioritize the transaction.
Kraken's NFT Service
In a recent interview, Jesse Powell, the founder and CEO of Kraken, announced that they have created a trading platform for non-fungible tokens (NFTs). This platform will allow customers to borrow against their NFTs. It's a service that calculates the liquidation value of an NFT and uses it as collateral to obtain a loan. The benefits of the NFT marketplace include:
Enjoy zero gas fees for trading on Kraken NFT.
Collect NFTs on multiple blockchains.
Reward NFT creators.
Security will be a key focus of the NFT market to provide users with "peace of mind and confidence." Additionally, the exchange stated that it hopes to stand out with a "high-quality offering" of NFTs, obtained through collection verification and "creating sufficient market liquidity."
Kraken is one of the few cryptocurrency exchanges attempting to enter the NFT market.
What is Kraken Bank
Security has always been a top priority for Kraken. Kraken Bank is built on best-in-class digital security methods. The Wyoming SPDI structure allows Kraken Bank to prioritize asset custody, data protection, security standards, and strict regulatory oversight. SPDI banks are required to maintain full reserves, meaning your funds will not be lent out without your permission.
Kraken's mission is to accelerate the adoption of digital assets for financial freedom. Kraken Bank will continue this mission, ensuring a smoother integration of cryptocurrency and the traditional financial system. This means you will have the opportunity to experience better customer service.