Ape Heroes — an NFT project on the BSC network, consisting of 10,000 NFT Ape Heroes and villains.
Contents: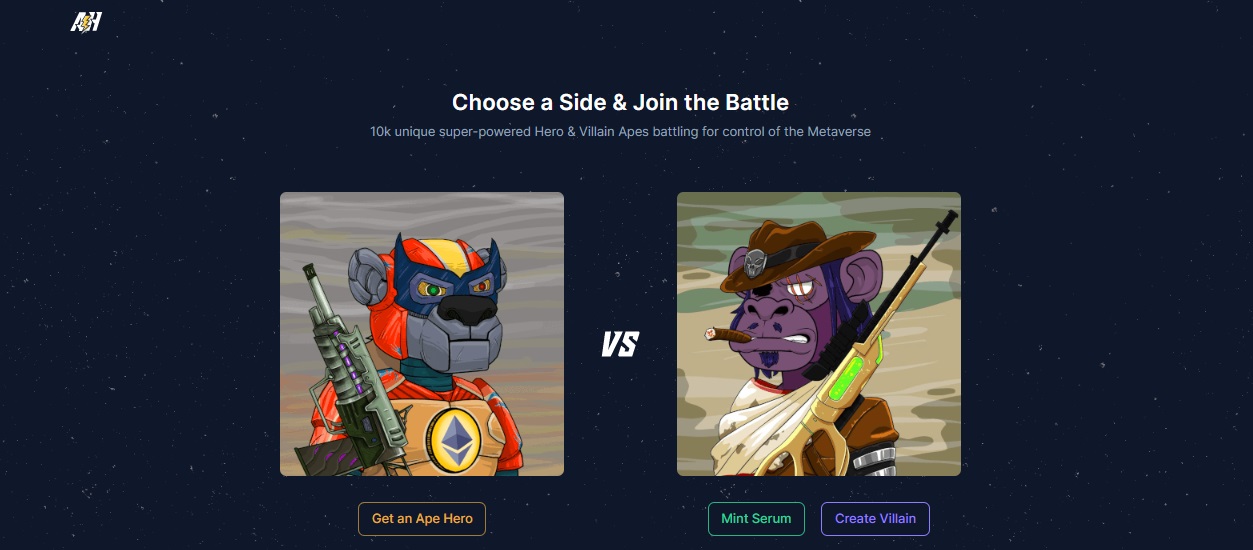 Description of an nft Ape Heroes
In October 2021, 10,000 Heroes were minted, but the number of Heroes is decreasing every day as they are constantly being burned to create monkey villains. Owners receive 3% rewards and exclusive access to alpha releases and giveaways.
Dinosaurs — faithful companions of monkey heroes and villains. Their ferocious nature makes them ideal partners in battle.
ApeHeroes
The serum allows you to turn ape heroes into random ape villains, regardless of the hero's rarity or traits. There are two types of serums: basic and enhanced.
| | |
| --- | --- |
| 1. | Base serums will randomly transform your Hero into a Common, Uncommon, Rare, Epic or Legendary Villain regardless of their current rarity. |
| 2. | Empowered serums ensure your villain becomes Rare, Epic or Legendary. |
Gloves increase the power of monkey heroes and villains. They are currently incentivizing $POW NFT staking, but they will have much more utility in the future. Only 2000 gloves will always be there. They cannot be minted and can only be obtained for free through contests and promotions or on the market.
Equipment such as gloves can be placed in each pool to increase reward production for that particular pool. Different types of equipment provide different percentages of gain. Each pool can have no more than 5 items of equipment.
The POW token — a utility token for the Ape Heroes ecosystem. It has a limit of 600,000,000 (600 million) tokens, which will be issued on a specific weekly schedule as described in MasterApe. This maximum supply will be reached within 8 years.
No POW tokens will be pre-released during the contract rollout, however, when staking begins, the number of tokens that will be issued each week will be released to the respective contracts and wallets on the 1st day of that week.
What is MasterApe?
The MasterApe contract is responsible for minting and issuing POW tokens for the appropriate distribution in accordance with the schedule. To ensure sustainable circulation as well as protect the interests of the community, the team has developed a POW token issuance schedule to work with the vesting, locking and unlocking strategy.
The issuance of POW tokens is intended to reward existing holders as well as any new investors who join during the first year. The Ape Heroes ecosystem needs a significant amount of circulating POW tokens to host future roadmap elements like IDO/Launchpad etc.